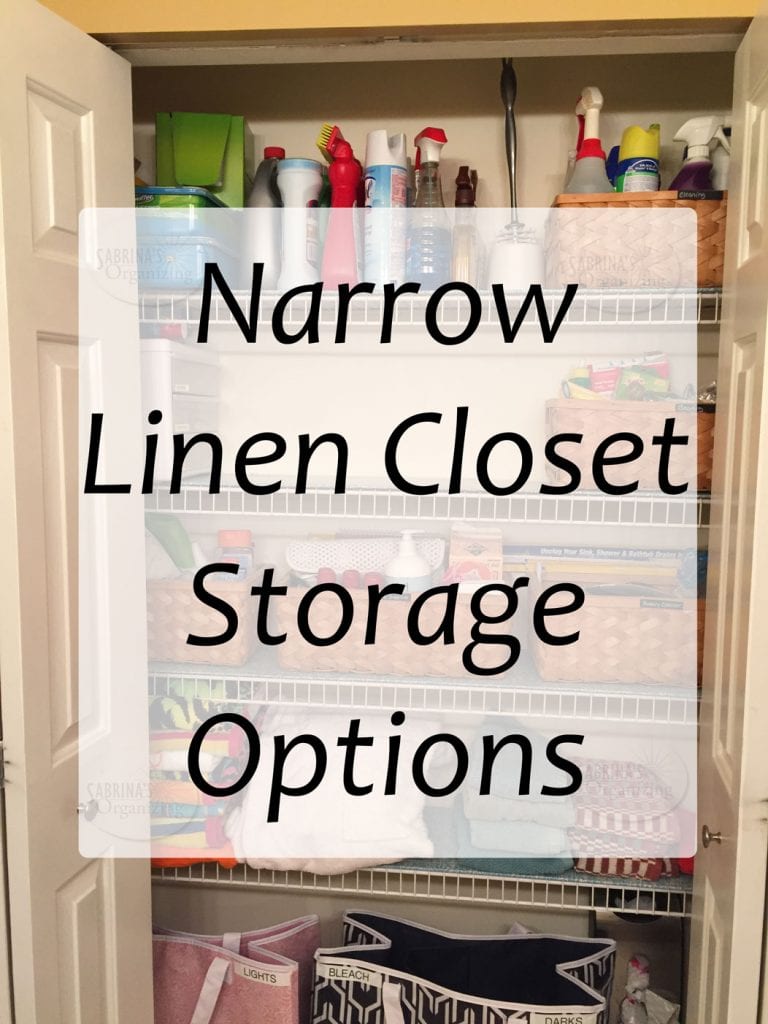 Narrow linen closet storage is great but can be a challenge to organize.  You can see everything at a glance and nothing is hidden but when you try to look for storage options in the stores, you need to have exact measurements to make sure the item fits properly.  It's a hassle to deal with this detailed step, but it can be done.  Here is how I found items for my narrow linen closet.
Organizing a narrow linen closet
First, I measured the depth of the shelf.  My shelves were 9 inches deep.  Since the shelves fit and the doors closed properly, this was a good measurement to use.
Then, I measured the width of the shelf to see how many bins I can use on the shelf.  I took this number with me so if I found a bin that worked, I would be able to read the label at the store and find out how many I can fit on my shelf.
Lastly, I measured the height of the opening.  I did this just in case, I found a really deep bin that would restrict me from removing the content easily. I didn't want to take out the bin every time I needed to get an item.
Off I went to the store with my measurements and tape measure in hand. These are the items I found.
Organizing small stuff in the linen closet
First, I found a Sterilite ClearView 3 Storage Drawer Organizer
: This would hold my extra toothbrushes, toothbrush tips, toothpaste, Q-tips Cotton Swabs, 500 Count (1 Pack)
, and sunblock. This storage drawer organizer fit either way but I preferred that it was easier to use so I did it this way.
Use bins to hold extra supplies
Secondly, there was the rectangle wicker bins. They look pretty and they fit the items better. I tend to buy supplies at a wholesale place so I have a lot of extra supplies that need to be stored.  I picked a bin that was a rectangle with no rounded edges because it doesn't allow maximum storage of items.
Here are some additional problems I needed to find solutions for.
How to fold towels on a narrow shelf?
I'm glad you asked.  With a narrow closet, I needed to fold the towels in threes. Check out my post about how I fold my towels by clicking here.
Where to put these items on the shelves?
Well, I'm glad you asked. Check out the picture below to see the entire linen closet.
The top shelf was for cleaning supplies. I wanted to keep these items away from the kiddos when they were little so I placed them on top.
The second shelf down was for extra cleaning supplies and the toothbrush storage bin. Since the drawers pulled out onto the shelf, I needed a cleared shelf.
The third shelf was for the extra supplies storage. I have a bin for dog shampoo and other misc. supplies, a bin for extra beauty supplies, and a bin for my jewelry cleaner.
And the lowest shelf was for beach towels, an extra robe, and hand towels. If you want to know where I placed my bath towels, check out my post on wasted storage spaces.
And of course, my laundry baskets on the floor. If you want to revisit that post, here is a link.
That's it. I hope this inspires you to tackle your more difficult spaces.
Let's continue the conversation, what area of your home is difficult to organize? Please share the area and how you managed to organize it. I would love to hear from you.
(Full disclosure: I receive a referral fee for any purchases you make from Amazon from this post.)
(Visited 2,989 times, 7 visits today)