Winterizing your home needs to be done before the winter every year. By not doing this, items will break from the cold weather.  By doing these tasks now, you should have plenty of time to do all the different tasks and be finished before winter.  Let's get started.
Here is a list of tasks to do to winterize your home:
Seed the lawn

Clean the Grill

Clean the mower

Put away pillows and cushions.

Put away lawn chairs

Cover tables and chairs

Clean outdoor tools

Take in plants

Clean herb and vegetable gardens

Cut back branches

Cut back bulbs and bushes

Throw away the dried flowers or put in a compost.

Hose down the air conditioner vents on the outside of the house.

Schedule to have your heater checked for the winter.

Great your driveway sealed (every two years).

Clear out the garage of any track that accumulated over the summer months.

Clear out the drains around the house.
Here is the checklist for you to use and share, there is even room for you to add customized tasks: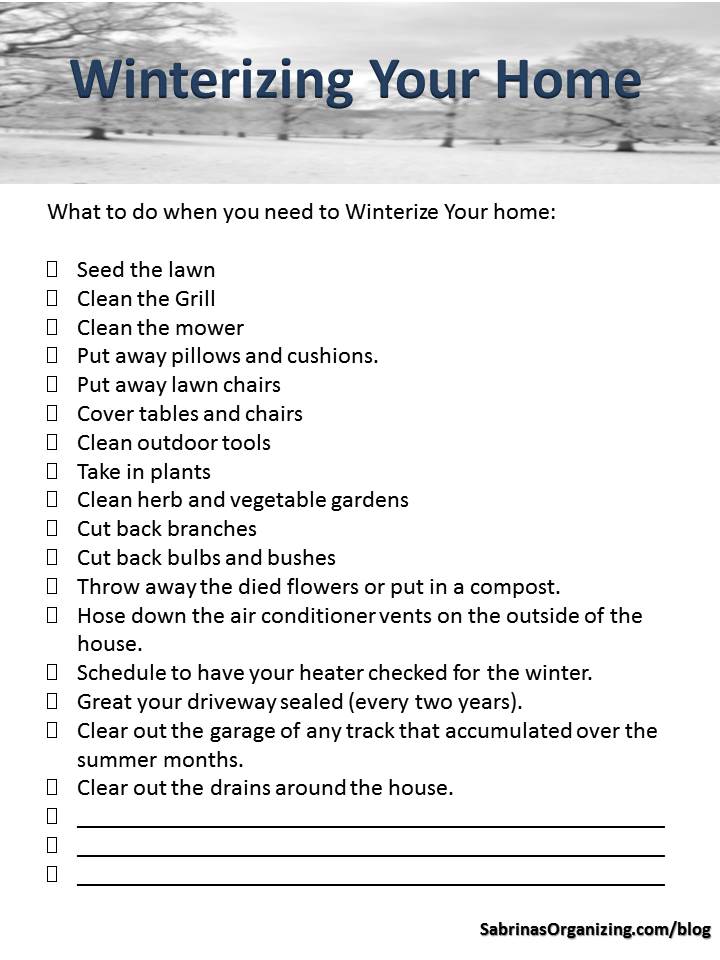 Take your time and move through the list.  Do a handful of tasks each week and you will be able to finish the entire list.  You can do it.
Please note these are affiliate links through Amazon, and at no additional cost to you, I will earn affiliate fees if you decide to make a purchase.
(Visited 271 times, 1 visits today)