****Visit our "Disclosure Policy and Cookies" for details. Affiliate links appear on this page from Google Adsense, Amazon, Order Out of Chaos, Impact affiliate members, Release, Repurpose, Reorganize, and Shareasale affiliate members.****

Is your new year's goal to save money? As this year begins, we are going to help you do just that! This post shares seven money management tips to help you get your personal finances in order and make this year your best saving year ever!
Jump to:
Review & Create a Simple Budget
How much money do you make? How much is going out? Do you know? Try making a list of all your payees instead of using the categories, then break down each by average monthly or fixed amounts. At the bottom, after you enter all your payees, Add up the outgoing amount and in a separate row, add up the incoming value. Do you have money left over? Maybe or Maybe Not? Try not to judge yourself. The point is to view the amounts and totals to help you get a realistic picture of your finances.
Visit our HOW TO TRACK YOUR EXPENSES AND CREATE A BUDGET - PART 1 and our HOW TO TRACK YOUR MONEY AND CREATE A BUDGET - PART 2 posts for easy to follow steps to review your expenses and make a simple budget.
Use Bill Pay through Your Bank
Save money on stamps by using Bill Pay services. Your bank usually provides this free service if you have a checking account. Make sure that is the case. Place all your payee information on the Bill Pay site and do your bills from there. Try blocking out time to do bills once a week. If it is a monthly fixed amount, set up automatic repayment through your bill payment.
Have a Receipts Filing System
File papers in different folders in your filing cabinet (Affiliate Link) near where you do your bills. Keep pay stubs, utility bills, canceled checks, any paid invoice you may need to reference in the future, credit card receipts, and bank statements in this area. Have a file for misc. bills for those random bills; however, only use this folder for those bills that do not have a folder.
If you use Venmo app, you may want to download your transaction history, here is the instructions for doing that through Venmo.
Gather together your important documents
Another money management tips is to gather your important documents together. Gather together your life insurance policies, wills, mortgage documents, credit cards unused, credit reports, passports, old driver's licenses, etc.... and put them in a fire safe or safe deposit box for safekeeping. See the document list below for help.
Use a Personal Finance Software or App
Start using money manager software like Quicken (affiliate). This will help you be true to yourself. Download your accounts from your bank, credit, and investment accounts to your app. Most banks are pretty aware of the main apps like Quicken, Mint, and QuickBooks. When you download the transactions, you can review them. This will allow you to decide on a category to pick before it gets added to your accounts. Then, you can start seeing your overall financial situation.
Store Together Tax-Related Paperwork
Set up a place for you to store your tax-related paperwork. Use an accordion folder (Affiliate Link) and label the different tabs. Some titles for income are 1099 & W2, Deduction Mortgage interest, Medical, Rental property, Business Income and expenses, etc... Then keep it near your other personal receipts for easy access and filing. Visit our how to make a HOW LONG TO KEEP TAX RECORDS AND HOW TO ORGANIZE THEM post to learn how to make a tax record accordion folder.
Store receipts in one place
Physical Receipts
If you need to keep all your paper receipts, an accordion folder (Affiliate Link) does a wonderful job. Here's how to set one up. Divide a small envelope size 13-tab accordion folder (Affiliate Link) into categories. Here is a list below you may want to use.
Food/Groceries
Beauty/Cleaner
Clothing
Gas
Gifts
Dining Out
Household
Misc.
Withdrawal/Deposit slips
Pet
Car Repairs
Vacation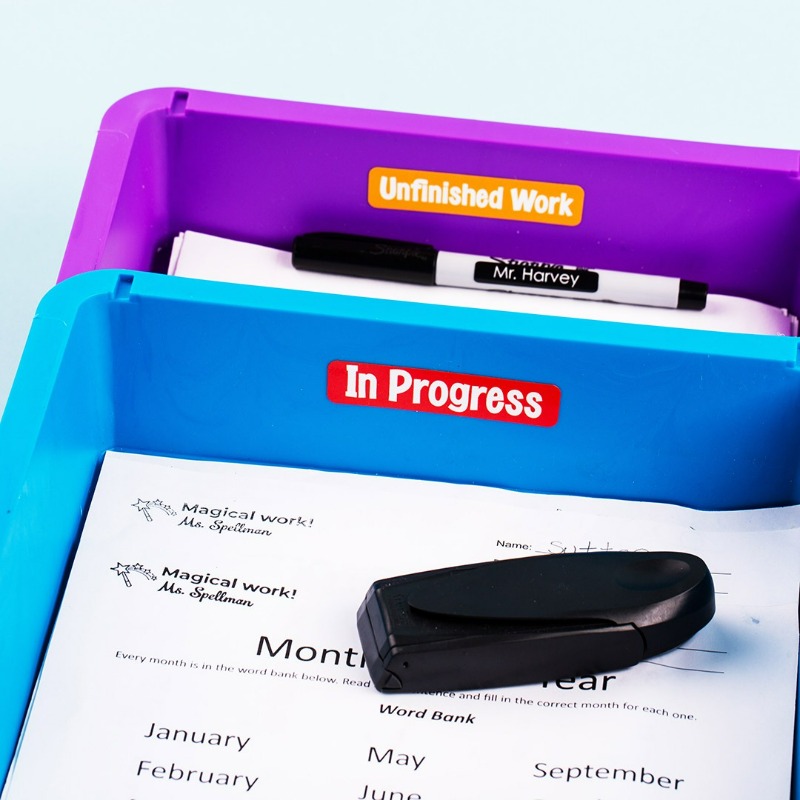 This will subdivide your receipts and will help you quickly retrieve any receipts.
7 CLUTTER-FREE WAYS TO MANAGE PAPERS
Digital Receipts
If you want to keep them digital, have a folder system in place that matches the categories you use in your money management app. This will help you match up the receipts with your transactions. If you decide to have all the files in one folder called Current Year Receipts, be sure to change the filename so that it includes the name of who you paid and the month you paid it. Stay consistent and you will be able to find the entire year's worth of receipts in one search. Visit our post about how to organize digital receipts and our free ebook for details.
Set up these seven money management tips at the beginning of the year, and you can manage your entire financial situation all year long. Having a clear picture of your finances will help you watch your spending more carefully and see where you can save money. I hope this year brings you many wonderful memories and lots of happiness.
Please note these are affiliate links through Amazon, and at no additional cost, I will earn affiliate fees if you decide to make a purchase.
(Visited 309 times, 1 visits today)