While swapping my son's winter comforter for his quilt in his walk-in closet, I realized that when I organized his custom build closet, I didn't get him something to hold his baseball caps. It was not a big deal at the time because we had lots of room to just place the hats on the shelf.
So, I went on a hunt for something cheap and that would function for my son's closet. You see, my son has a closet that has one entire wall is pretty much useless. If you put anything on this wall, it needed to be pretty flat or he would bang into it all the time. So, today I went at Marshalls and lucky for me (and him), they had a clearance sale.
Here is what I found. I got it for... $6.00. Yes, that's right, $6.00! As proof, I left the price tag on it so you could see it. It had lots of hooks great for hats and I thought the style and color worked for a boy's closet as well. He didn't seem to mind.
And, with two nails and a hammer, I installed it in a total of 5 minutes. Here is how it looks. Very simple, easy, and organized - my kind of project. Do you like it? I think it is great!
I hope this serves as a good example of inexpensive organizing. You do not have to spend lots of money or hours to get organized, you just need a little creativity, a purpose and patience.
Tips to Get The Best Deal On Organizing Supplies:
***AD*** The best academic planner for students! Order Out of Chaos Academic planner helps track time and tasks! Buy 1 or more today!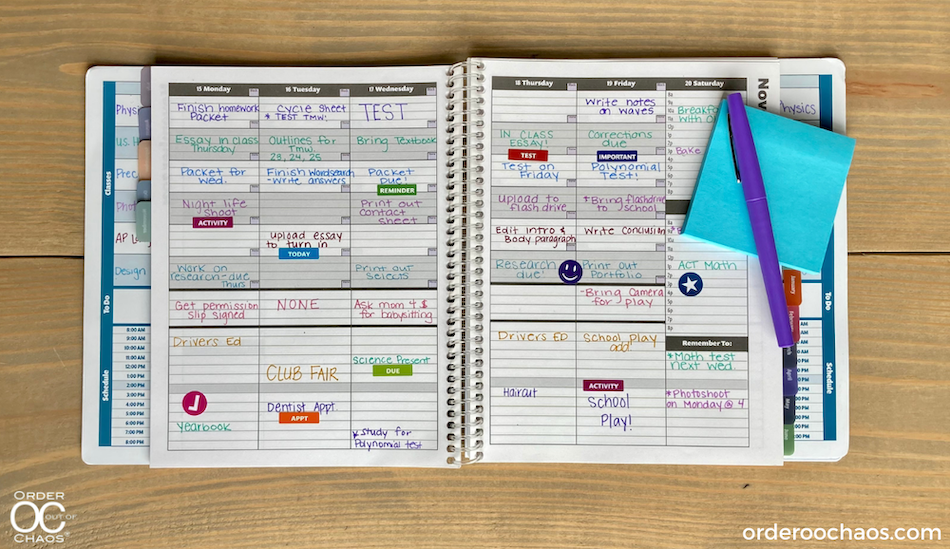 Going to discount stores work best to help you save money on organizing supplies. Walmart and Target are great stores to find organizing items but Marshalls, TJMaxx, and Ross stores get organizing items in all the time and you will probably find items there at a deeper discount.
Be patient when looking for these items, you may not find the item right away at these discount stores.
Write a list of organizing items you need and what room it is for. If you use a smart phone, write the list in a note taking or checklist app so you have it when you are around. Include details like the size you are looking for and what color or type of material you want.
Be flexible, you might not find the exact color or material you are looking for.
What tips do you have to get cheaper organizing supplies? Please share your tips in the comments section.
(Visited 281 times, 2 visits today)