****Visit our "Disclosure Policy and Cookies" for details. Affiliate links appear on this page from Google Adsense, Amazon, Order Out of Chaos, Impact affiliate members, Release, Repurpose, Reorganize, and Shareasale affiliate members.****
With all the craziness that is happening with the pandemic, students and parents find themselves sadly bringing their kids home early from college. Where we would have weeks to pick up stuff and take them home, we now have a matter of days.
Jump to:
Personally, my kids have been at home for a few weeks now because their schools chose to do a quick move-out. However, some universities are just now letting kids return to get their stuff, pack up the dorm, and convert to online classes instead.
It is quite a stressful process, and I hope this post helps you and your college student clear out their dorm room.
Before we get into the nitty-gritty of packing fast, we first need to talk about what to do to prepare for a quick move-out. The student should do these tasks before you get there.
What to do before you pack up the dorm?
Vacuum up carpets and roll them up. So, to not destroy the carpet, get it out of the way beforehand. Remove it from the floor, roll it up, and stand it up so it is ready to go.
Purge items that you don't want to keep. Do not take it home to get rid of it. There isn't enough room in the car.
Empty and clean out the trash cans. Getting rid of the trash that may have piled up in the trash can is essential because you can then use the trash can to store items for moving.
Remove any trash lying around. Don't pack debris. Be sure to have a bag hooked onto a wall to collect other trash that may accumulate when packing.
Pack your portable safe with stuff. Adding things like some cloth towels will help prevent the valuables from moving around or breaking.
Pull out the items that you will need to clean the dorm after it is emptied.
Clean out the vacuum cleaner. Moving a full vacuum cleaner can spread dust around your vehicle and home.
Wash clothes. Washing your clothes will make unpacking at home a lot easier. So do it before you leave, saving you time when you get home.
Decide who will be getting the shared items. Over the year, you may have bought something with your roommate. Someone needs to take these items back with them for the summer, so decide who is taking what item.
After you complete these tasks, it is time to do the actual dorm packing. Below is a list of packing tips to help you and your students pack up their dorms quickly.
7 Easy Tips on How to Pack Up the Dorm
Fill up bins like trash cans. Check under the bed for containers you may have forgotten, and start filling them up. Try to keep like items together. It will make it easier to unpack when you get home.
Place Press 'n Seal over open bins. Using a roll of this plastic wrap will help you keep the small items together while moving.
Use traveling air removable bags for blankets and pillows. These bags can be rolled up to remove the air. It will then be a thin 2-3 inch bag you can easily place in the vehicle.
To take down posters without tearing them, using scissors, cut the sticky part of the tape off the back of posters. Place them rolled up in a place to protect them from being damaged.
Use trash bags for clothes. If you don't have your luggage or zipper bags with you because you are rushing out of the dorm, you can use large trash bags for clothes. It will be flexible enough to move around and store in the car.
Reusable, collapsible zipper bags. Large zipper bags are great for moving into dorms. Nothing falls out of them, and they can easily stack in cars and carts to move them.
Bring a personal portable dolly for moving stuff quickly. Usually, colleges let you use a bin to put your things in, but you can only use one. Carrying your dolly will allow you to get more stuff out of the dorm quickly.
Remember, if you brought two cars on move-in day, you need to bring two cars for move-out day.
The items below are examples of the items I mentioned above. If you click through and buy these items on Amazon.com, I will receive a small referral commission at no additional cost to you.
***AD*** The best academic planner for students! Order Out of Chaos Academic planner helps track time and tasks! Buy 1 or more today!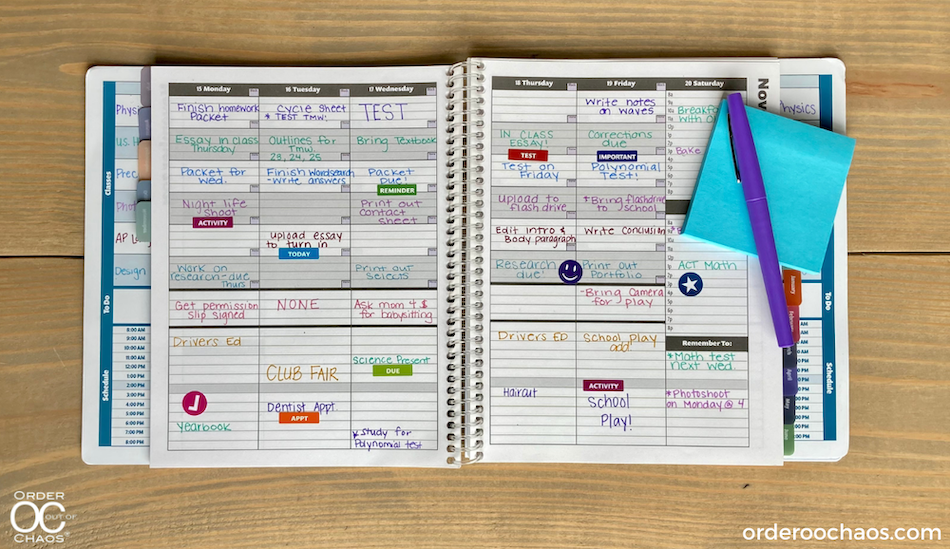 Visit our other College Success Posts for when your students are in college.
I hope these "pack up the dorm" tips help you make the move-out process more manageable and less stressful. Feel free to leave a tip or two below to help other readers. I hope you all stay safe and healthy in this time of uncertainty.
Need more tips? Check out these posts I found online.
Moving Out of the College Dorm, for the Summer or Forever
14 Efficient Ways To Pack Up Your College Dorm Room
Below are additional College Success posts to help you and/or your family!
(Visited 5,535 times, 18 visits today)