The enormous amount of stress each first-year student experiences this time of year can make anyone run and hide. If a child has ADHD, it can be even more overwhelming. This week I am sharing some tips on how ADHD Students Succeed in College. Follow along to learn how. These tips are not only for ADHD students; however, they can also help any freshman.
Jump to:
Read all the emails.
Take action on the ones that need a response. Place other ones in assigned folders as references for the future. It's OK to delete ones that don't matter. The less cluttered an email inbox is, the less likely the student is to lose important correspondence. If the student has a private email, they can forward their personal email to their school's email, so they only have to check one place for emails. Decide on the time of day to check the emails. Have a quiet place where there are no distractions. This could be at lunch or breakfast while enjoying a meal.
Print out the campus map after the course selection is finalized.
Circle the classroom buildings. Mark areas like the cafeterias and gyms. Take a photo of the key and the circled map just in case the student loses the paper copy. Use this marked-up map as a reference for the first few weeks of school. This particularly helps students who are on larger campuses.
Talk to your doctor.
Talk to the doctor and get a current evaluation from them to determine if any changes are necessary. Know the side effects of the medication and what would happen if the person on meds drink alcohol.
Be an advocate for yourself.
He or she should know what the evaluation means and how to express their needs to the doctor and professor. Meet with the professors early to get help before it gets out of hand. They should also find out what the campus has to assist ADHD students.
Determine the appropriate academic planner to use.
For an effective time management strategy, it may be important to have two planners. The first is a paper academic planner. Pick a printed time and date planner to minimize the amount to write on the planner. Creative journaling is beautiful, but when there is no time, the first thing to go to is the beautiful lines and decorative stickers, which make it more organized. Also, make sure there is a section for each subject for that semester.
***AD*** The best academic planner for students! Order Out of Chaos Academic planner helps track time and tasks! Buy 1 or more today!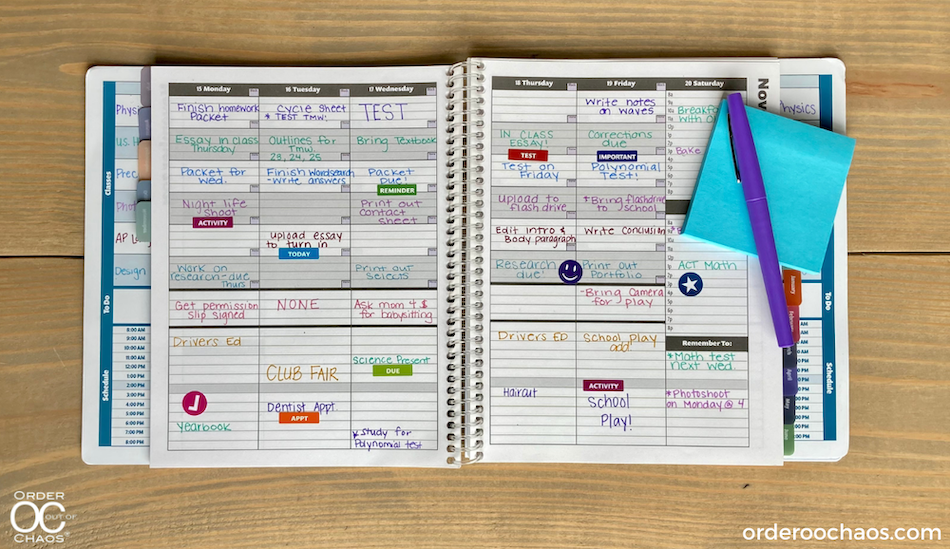 Then, a digital appointment calendar needs to be set up. It's also essential to make a digital appointment and use alerts to help stay on schedule with the different tasks. Add the entire syllabus' due dates to your digital calendar. If the professor has it available before classes start, do it then. Add an alarm to each deadline set for a week prior.
Visit the academic planner options from our affiliate below. These planners were designed by Leslie Josel, a Professional Organizer whose son had ADHD. She has a useful website to help parents with ADHD kids as well.
Determine beforehand what is needed for the learning process. Some lectures can be recorded. Purchasing an audiobook as well as a textbook may be an option. Rewriting notes to help ingrain the lecture also may assist an ADHD person. Set up a study group within the first few weeks if possible. This may help keep a student-focused while studying for tests or labs.
Determine what clubs and activities to do BEFORE starting school. Students get overwhelmed with all the work in the first few weeks then they either do not get involved or make a quick decision when joining a club.  That's a big mistake. Joining a club is super important to feel at home on a new campus. Feel free to visit "What I learned in College" post.
Discipline is essential in college. So, making an effort to stay healthy, sleep well, and control stress by finding things to do and enjoy will keep a student on the right track. Remember taking early action to improve a situation will help a great deal.
To help an ADHD College student with some direction on what to do for a particular problem, below, I listed scenarios and what a student can do to prevent them from happening in their first year.
Problems and Solutions for College Students with ADHD
Losing your keys: use a basket or a hook near the door. Stick with one place for your keys and bag. That one place should be near the room's door.
Hard to wake up in the morning for those early classes: It's important to have two or even three alarms. Go to bed early. Set the alarm on the other side of the room. Make sure the volume is up. Do not only use your phone. Try a regular digital clock too.
Keep track of time doing different tasks: Wear an analog wristwatch. You can actually see time fly. =) You can try a stopwatch to determine how long it takes you to do things like take a shower, get dressed, etc... When you know how long it takes you to do different tasks, you can use the stopwatch to time yourself for various daily activities to stay on schedule.
I hope this post gives some inspiration on how to improve an ADHD student's freshman year. Below I included some resources that are perfect for ADHD College students.
Resources for ADHD College Students
ADHD resources for college students: ADHD in College Page. The Attention Deficit Disorder Association offers many tips and resources to help a student successfully thrive in college. Visit their site to read more.
ADDitude Magazine website offers resources to help manage ADHD in college.
Visit Order Out of Choas student coaching if you need personal assistance before going away to college.
(Visited 1,845 times, 19 visits today)