****Visit our "Disclosure Policy and Cookies" for details. Affiliate links appear on this page from Google Adsense, Amazon, Order Out of Chaos, Impact affiliate members, Release, Repurpose, Reorganize, and Shareasale affiliate members.****
The College(university) years were one of the most fun and scary times of my life.  I met many new friends and explored many new places just in the short four years I was there.  I also learned many lessons. And, you will discover many experiences also.  To help you out, here are 12 organizing tips I learned in college:
Jump to:
Not everyone organizes the same way you do.
Your roommate may have a different organizing style than you.  She/he may like to have everything out when you want to put everything away. Try to be flexible and keep your space the way you like it.
Have a place for all the binders and reference books.  
It's not like high school; if you have classes throughout the day, you only have to take the books and binders you need for those classes. The night before, pull out and put your binders and books in your backpack for the following morning.
Have extra printer cartridges in my dorm room for my printer. 
Those last-minute mad rushes to the computer room do not need to happen. Yes, you can get an affordable printer. Stock up on color and black ink before leaving for college, and replenish your supplies over winter break. 
Have several thumb drives to back up your data if needed.  
Thumb drives are easy to carry around, but they don't last forever, so be sure you have at least 2. Pick thumb drives that have more massive storage so you will never have issues with not having enough space for a file.
Use a cable lock for the laptop
Use a Sendt Black Notebook / Laptop Combination Lock Security Cable attached to your laptop and desk to keep your computer from being taken. It's for those times when you need to do something but can't take your laptop with you.  After you unlock your computer from your cable, be sure to scramble the combination lock.
***AD*** The best academic planner for students! Order Out of Chaos Academic planner helps track time and tasks! Buy 1 or more today!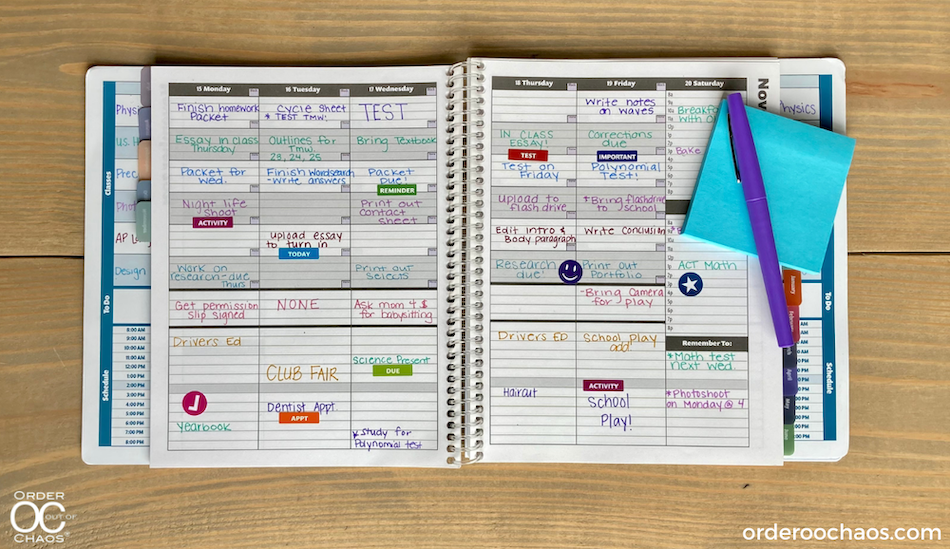 Bring two sets of sheets
Bring two sets of sheets so you can change out your sheets without having to wait for the cleaned sheets to dry before making the bed. Enough said. Change sheets every other week to keep your room fresh and clean. And wash sheets if you are sick. Extra long sheets are the best for college dorm rooms.
Have clocks everywhere.
Wear a watch, and have a clock in your bedroom and an alarm in the bedroom. If you have issues waking up in the morning for an early class, set at least two alarms about 15 or 20 minutes apart from each other.  Place one near your bed and one on the other side of the room.
Add a studying start and end time in your digital calendar
When scheduling a time to study, put the start and end time to study on the electronic calendar. This way, you can see actually, how much time you allocated for studying.
Use the Flashcard App for studying
When studying foreign languages, anatomy, or any other course that has a lot of memorization, carrying around written or any flashcards apps loaded with your terms will help you study between classes and at dinner.  An app like this one, StudyBlue, works nicely.
Don't take back all your older textbooks unless you need them for the new semester
Only bring reference books back to school if you are taking the next level in a class. Textbooks are useful, but after you finish the course, resell them.  They take too much real estate in your dorm, and the majority of the time, you will not look at them.
Use lid jars to store small things.
Have a lidded jar for paperclips, push pins, magnets, etc.… Anything small. You can also get one with dividers if you want to be organized.   This way, if you need a small item, you have one place to go to find them.  And, if it falls over, you will not have these small items all over the floor.
Use a small marker board to transfer notes to roommates
Have a dry erase marker board and a place to hold the things you take with you near the door of your room to jot down notes or reminders. I liked to place this area near the light switch in the dorm room. It is where I would put all the items I needed to leave with the next morning.  It would remind me what needs to go with me the next morning.
If you use any or all of these tips, you will be well on your way to organizing your college years.  As a reward, here are some fun links I found:
Have an excellent school year!  Keep in touch, please let me know what you learned in college. Please leave a message below.
(Visited 996 times, 1 visits today)