****Visit our "Disclosure Policy and Cookies" for details. Affiliate links appear on this page from Google Adsense, Amazon, Order Out of Chaos, Impact affiliate members, Release, Repurpose, Reorganize, and Shareasale affiliate members.****
This is the first post of a school success series that is geared to different ages students. This topic is near and dear to my heart. In this series, I hope to help students and their parents streamline their processes and help them make their school year that much easier to succeed. These days many schools do not teach organization options to students. So, I am going to go through various options, from apps to paper management. This series will be released on Thursdays only, so please come back each Thursday to check out another post to help your children.
Jump to:
Here we go.
Great assignment and note-taking apps for
a successful college year.
There are many students wanting to make life easier during their school year.  Below are apps that I found to be helpful. Keep in mind that each student must try the apps to see if it will work for them truly. They may want to add their class information when they get their schedule for the semester.
Keeping Track of Assignments Apps:
There are three apps that were interesting for time management and keeping track of assignments. (Note: These apps are NOT affiliates. I just thought they looked interesting and organized for a student to use.)
For Android: Studious by Brandon Young is an interesting one for people with an Android phone. It is a great way to manage your different assignments and additional information.  The app developer had a note stating: "***Do not use an app killer or task manager to kill Studious. Studious will not be able to silence your phone or give reminders if stopped by one of these applications.***"   I haven't tried this app personally. Click above and try it to see if it will work for your student. For IOS: There are 4 homework apps I like for student assignments. The only reason I have more IOS apps is that I have access to an IOS device. Feel free to click through and download to test out the free apps. Each app uses similar content that you will need to add.
Pocket Schedule - Class Schedule, Homework Planner & School Organizer By Appxy
***AD*** The best academic planner for students! Order Out of Chaos Academic planner helps track time and tasks! Buy 1 or more today!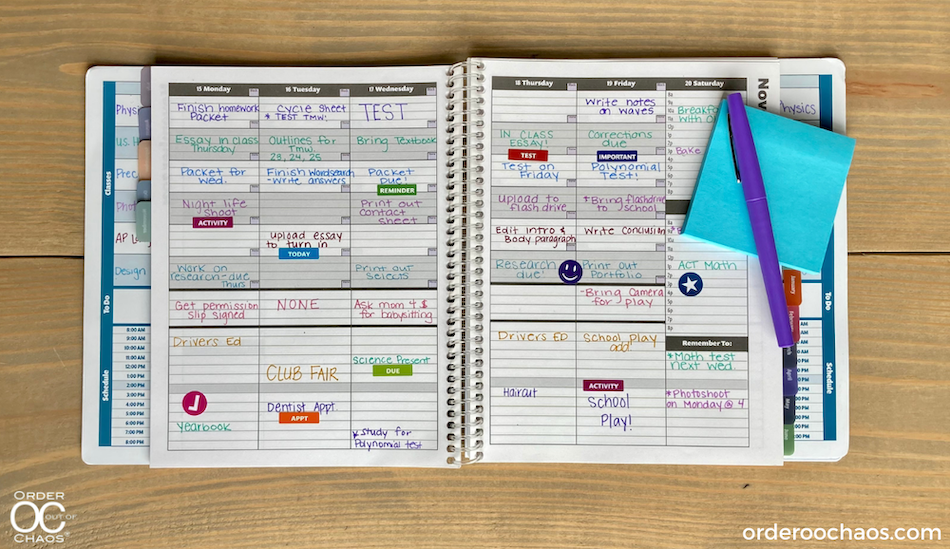 The Homework App - Your Class Assignment & Timetable Schedule Planner By Kerman Kohli
ClassManager - Student School Schedule Planner Tracker & Assignment List Homework Organizer App By Satyadev Mahalingashetty
Note-taking Apps:
I love using my tablet with the keyboard while on the go, meeting with clients, or just waiting for one of my kids.  It works great, especially if you have a data line or a good WiFi connection. These apps below are for creating notebooks, tabs, and pages and have a great search feature to find whatever notes you want.  You can also add checkboxes for easy list building too.
Here are some of the note-taking apps I enjoy using:
Microsoft OneNote App: I wrote about this app on my admin support blog for small business owners. Here is the link if you want to check it out for you. To understand how to use this app, here is a video from Microsoft on how you can use OneNote.
Evernote: I used Evernote initially, and it worked well too.  It is very similar to OneNote. They have a free version, just like Microsoft OneNote.  Here is the pricing for Evernote if you need more storage space.
These apps have free smartphone apps so you can edit on the go or while in class. Note: For both of these apps, you will need to set up a login account. And there is some setup to make it the way you want it.
Tip: Set up your note-taking app on the computer and then download it onto your smartphone or tablet.  It's just faster that way.
For college students using a PC or Mac:
Not all students feel comfortable using their small tablet or smartphone to take notes digitally. I recommend a good quality computer laptop with no more than 15 inches monitor. If you can afford it, try getting a laptop that turns into a tablet.
Tip: If the professor doesn't allow laptop note-taking in the classroom, type up the handwritten notes when you return from class. This way, it will help you add any additional notes you may have forgotten when initially writing and, hopefully, helps you retain even more of the information.
For laptop students, I like the Microsoft Office for Home and Student package for the PC computers. We purchased it for both of our kids. While some teachers like to use Google Classroom, Google Docs, and Google Sheets, does necessarily work properly all the time, so having a backup way to write reports is a good idea.
I hope this helps your student get organized and have a successful college year.  Please leave a comment below if there are any apps you have tried and recommend.  I would love to hear from you.
Please note these are affiliate links through Amazon, and at no additional cost to you, I will earn affiliate fees if you decide to make a purchase.
(Visited 484 times, 1 visits today)