While people like taking in-person college classes, some may want to take a different approach to learn. While they are working, they may want to take online college classes instead. If you feel that you want to take online college classes, follow along, and get powerful online college class tips for your successful college class experience.
9 Clever Online College Courses Tips for a Successful Semester
Find a quiet place to work each day. Schedule time each day to do the work. Preferably at the same time. This will give you a routine to follow and will keep you focused on what is going on at that point. It will minimize the transition to the material.
Review your perspective BEFORE the course starts. Usually, you will have access to an online course a few days before it starts. Start right away, getting things and papers organized.
Determine what your goals are for the class. Before starting the lesson, determine what you want to get out of the class. A goal could be getting enough information to help you move to the next level of the course.
Mark your calendar or print it out, so you know when the items are due. If you are a visual person, having a paper calendar may be better than a digital one. Forgetting to do something because it is not in front of you is easy for people who are visual learners.
Looking for a planner for your college course? Look no further! Order Out of Chaos has a planner for college students too! Click the image below and select the "Academic Planners & Accessories" and the size "8 ¼ x 8 ½ size". It's more geared to young adults.
***AD*** The best academic planner for students! Order Out of Chaos Academic planner helps track time and tasks! Buy 1 or more today!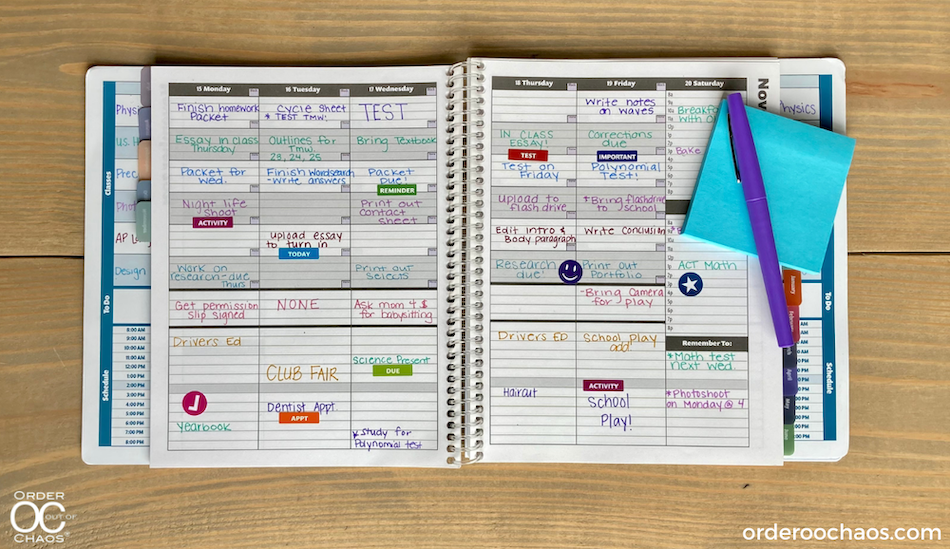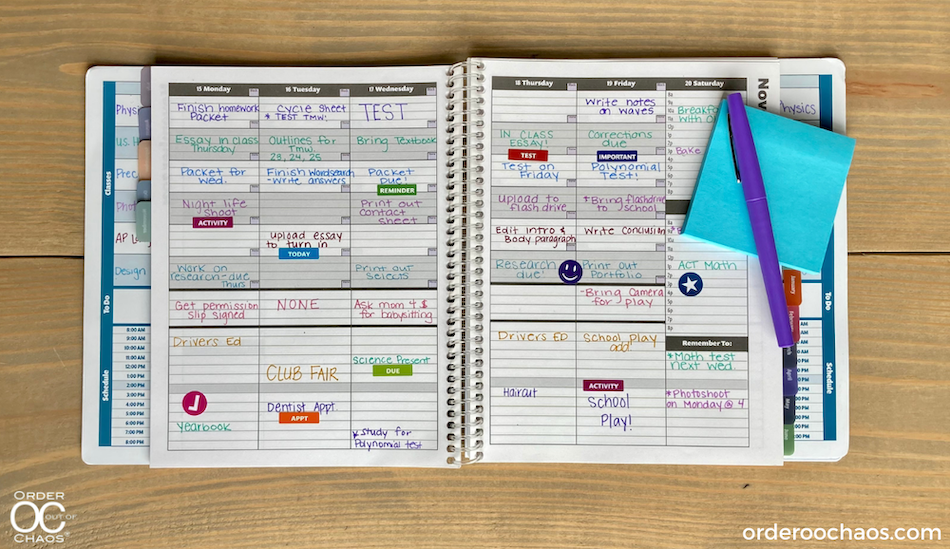 Always take notes even when you are doing an online college course. Be sure to use more sensors in your learning. It will help you keep focused.
Organize your papers for the online course. Write the section and work at the top of each page to help your notebook be more organized. So, when you reference your notes, you can match them up with that section of the textbook for studying.
Schedule time each week to work with the professor. At the beginning of the semester, schedule time with your professor each week so that you can review the stuff you learned, especially if you haven't done an online course before.
Allocating breaks during your sessions. If you have a session longer than 1 hour, schedule in a 15-minute break to help you stay focused.
Schedule additional study sessions for testing above and beyond the session times. Adding additional time to review assignments for tests works great. Plan at least a week ahead of a test some extra time to revisit sections.
By taking all these tips into account before starting your online college course, you will be ahead and ready to have successful online classes. Good luck to you and your future endeavors.
Don't leave yet! Below are some additional posts to help you get your online course organized.
4 Steps to Get Organized for Online Courses
How to Stay Organized While Taking Online Classes
A Professional Organizer's Guide to a Successful College Life
Please leave a comment below with your tips for taking a successful college course online. We would love to hear from you!
(Visited 258 times, 1 visits today)