There are so many areas to organize when you are away. You not only have to deal with your schoolwork but also handle your living facilities. Lucky for you, I have compiled this post with FREE Dorm Room Checklist and many tips for a successful college year.
22% of US students live in older on-campus dormitories.
Jump to:
Get a checklist from your university or make your own.
I made the below checklist, and you can add your items to it as well. It is a three-page checklist. The last page is blank, so you can write in whatever is missing. I made this checklist a few years ago when my kids went to college. I researched and made it with various other online lists to customize it for my kids. Feel free to print it out and use it.
***AD*** The best academic planner for students! Order Out of Chaos Academic planner helps track time and tasks! Buy 1 or more today!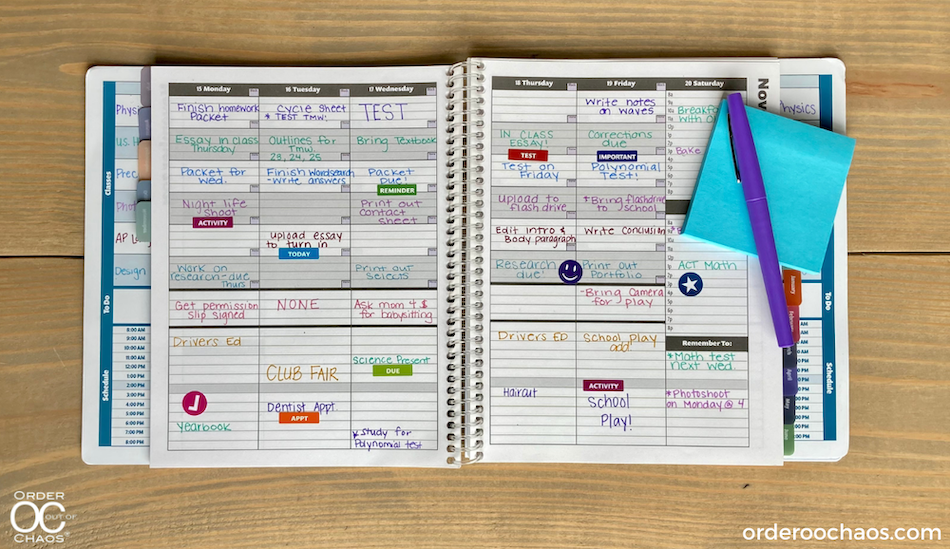 The first page includes the section Room needs, Linens/Laundry, Desk Supplies, Electronics, and Misc. items like home decor.
The following page has clothing. Have at least two weeks of outfits so you don't have to wash clothes weekly.
The toiletry column has a variety of things you will need that are most likely stored around your home. Gather these items using this checklist page to remind you.
If you have a kitchen or a kitchenette, you may need the next column of items. If you are looking for cleaning items, check out our new checklist of dorm room cleaning products here.
The next packing sheet is blank for you to add all the other items you may need. You can even add a topic header to it.
***AD*** from Released Repurpose Reorganize: My List Simplified journal is a wonderful organizing tool for planning a move or a renovation. Use it to corral all the to-dos.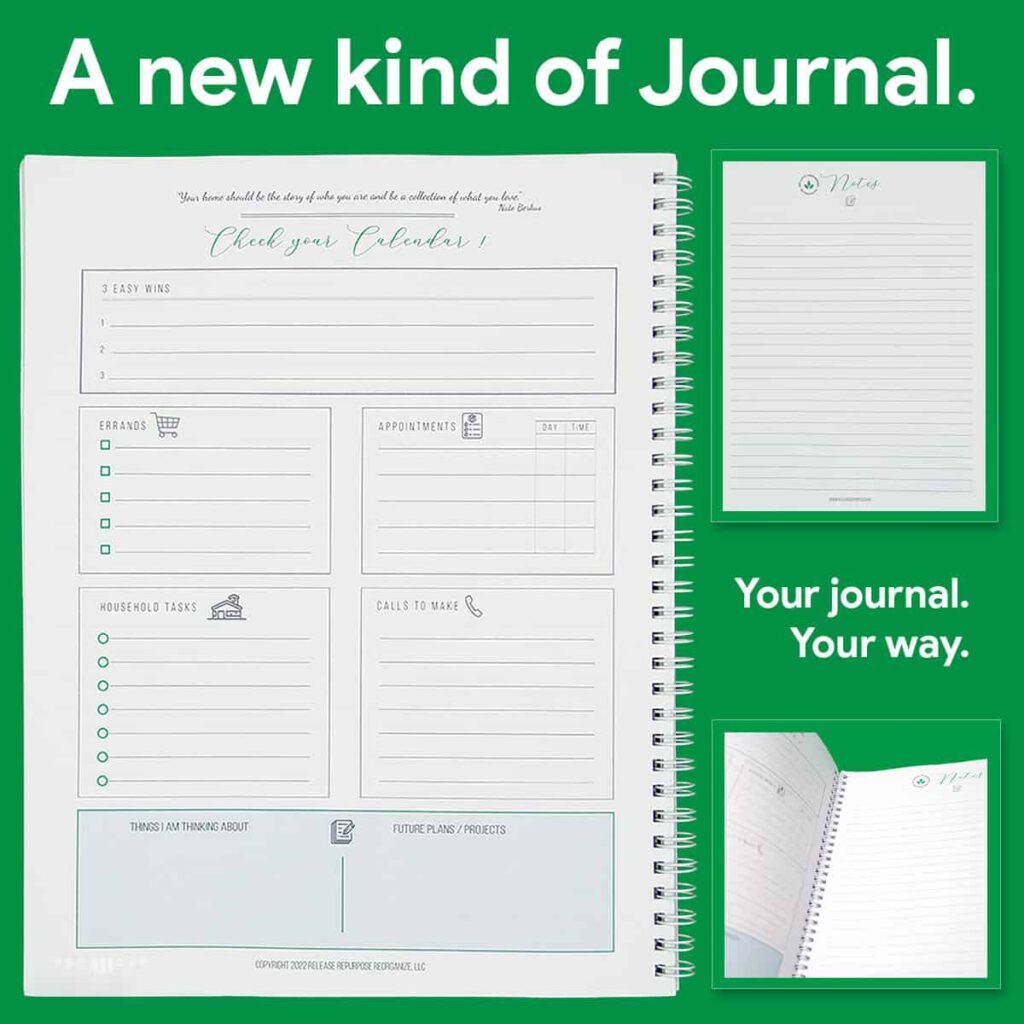 Then, check out these posts. Organizing College Dorm Room - Part 1 and Organizing College Dorm Room - Part 2. These posts include links to buy stuff through Amazon (affiliate). Easy peasy!
Before you buy all these items, another tip is to talk to your roommate.
Some people don't want to do this, but it makes it so much easier and less costly if you do. Reach out to your roommate at least a few weeks before to see if there are items they are bringing, like a TV, refrigerator, or microwave, that you can share.
Assign a place in your home to collect all these items.
Usually, we buy these dorm room items over time, so having a place for them, like the garage, basement, or attic, will keep them out of the way.
Decide on your study and relaxing spaces in your dorm room/university.
My son found it was critical to do his studying at the library instead of in the tiny dorm room. Getting a planner is also important. I love the small academic planner by Order Out of Chaos(R) (affiliate link) to help manage time. Visit THE REASONS I LOVE ORDER OUT OF CHAOS® ACADEMIC PLANNER post on why I love these planners so much. Adding these time slots for studying and relaxing into the planner or digital calendar will help you start the year right. You can always modify it later.
Update or upgrade your computer.
If you plan on keeping your laptop for college, ensure that the anti-virus and spyware are updated. Check with your college to see if they offer free software for students.
Cleaning your computer of unnecessary photos, apps, etc... will make the computer run more smoothly. If you visit the computer center on your university campus website, they will probably have a list of recommended software to installed.
If you need to purchase a new laptop, look for one that is common for your major. Visit the recommended things to bring on your college's website for more details.
Taking the car to campus, do these things first.
If you are taking your vehicle to campus, get your car serviced. An oil change, tire rotation, and brake check are essential. Ask them to check the tires and fluids. Make an appointment a few weeks before you leave, so they have time to repair the car if there is an issue. Then, your car will be ready to go with you.
Also, buy your parking pass sooner than later. A parking pass is required when you are on campus. The larger the campus, the more likely there will be commuters that need parking passes too, so they may sell out. Visit the campus security office, which is usually where you can buy the parking tag.
Plan Plan Plan
And lastly, create a timeline to know what you need to do before you leave home. Start with the move-in date and assign tasks to the days working up to the move-in date.
These FREE Dorm Room Checklist sheets and all these tips will help you from being overwhelmed during this new experience. Please let me know if you have any questions. I am here to help - lots of luck to you all.
Please note these are affiliate links through Amazon, and at no additional cost to you, I will earn affiliate fees if you decide to make a purchase.
Below are other College success posts to help you with your new year!
(Visited 2,150 times, 1 visits today)