****Visit our "Disclosure Policy and Cookies" for details. Affiliate links appear on this page from Google Adsense, Amazon, Order Out of Chaos, Impact affiliate members, Release, Repurpose, Reorganize, and Shareasale affiliate members.****
Last time, we talked about organizing college dorm room gadgets. I will be continuing this topic in this post to share even more dorm room things to help organize a small dorm room space. If you didn't read the last post, here is the link, You absolutely need when Organizing a College Dorm Room Part 1. Here are organizing college dorm room gadgets to make your year a successful one.
80% of students often feel stressed.
UNDER THE BED BIN:
In a dorm room, under the bed is the jackpot of storage space to maximize a room with minimal clutter. Under-the-bed bins with wheels make it easier to roll in and out from under your bed. Click on the images below to purchase from Amazon.
LAMP AND DESK ORGANIZER COMBO:
Buy a lamp and desk organizer that has a place for storing small items. Remember, when buying stuff for your dorm room, be sure that everything has at least two purposes. Click on the image below to purchase from Amazon.
DESK ORGANIZER SHELVING:
Usually, desks in a dorm are very simple, with a drawer or two. Having a way to organize the textbooks and other things on top of the desk helps make it easy to grab when packing your backpack or studying. Reaching out to campus life. They can tell you what the width and depth of the desk are standard in their dorm rooms. Below are some I found on Amazon (affiliate).
BATHROOM CADDY:
Be sure that the bathroom caddy has a handle and also has compartments to store individual items. Click on the images below to purchase from Amazon (affiliate).
***AD*** The best academic planner for students! Order Out of Chaos Academic planner helps track time and tasks! Buy 1 or more today!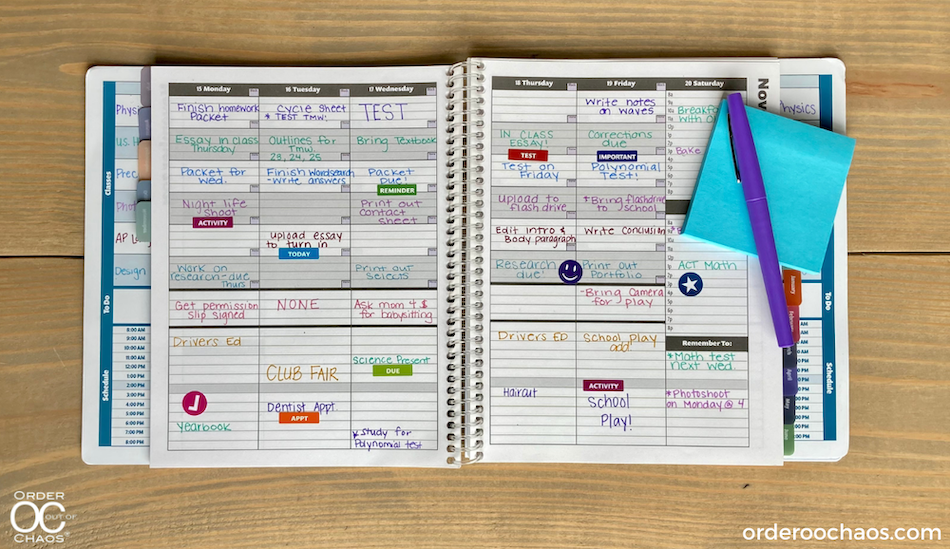 BATHROBE:
Another organizing college dorm item is a bathroom. The reason why this is on here is that you will most likely be sharing a bathroom down the hall or in a suite. I prefer Terry Cloth Robes like this one against my skin. This item helps if you do not have a bathroom in your suite and have to walk down the hall to take a shower.  It helps you dry off completely before getting dressed. Click on the images below to purchase from Amazon (affiliate).
SMALL APPLIANCES:
Any small combo appliance works well in dorm rooms and saves you space. Be sure to ask the residence life to ensure they will allow certain small appliances. Click on the image below to purchase from Amazon(affiliate).
FILING CABINET PORTABLE BIN:
If you can find a bin with a lock, that works too. There are always files that need to be kept organized, so bringing a filing bin with you is a good idea. You can buy a filing cabinet (Affiliate Link) with a lock, and they can even be fireproof if you want. Click on the images below to purchase from Amazon (affiliate).
I hope these organizing college dorm items give you some ideas on what you need in your dorm room. What is your favorite item to bring with you to college? Please leave a comment below.
Visit our other College Success Posts to help you and your child succeed in College:
Reminder: These items are visual suggestions for organizing things in a college dorm room. If you wish to purchase them from Amazon or any other store, you take full responsibility for these items. If you have an issue with any of these items, please contact the store where you purchased the item.
(Visited 1,132 times, 6 visits today)