Now that you bought all the things you need for college and your room is filled to the brim with piles and piles of small stuff that needs to be placed somewhere so you can have a quick college move-in. Where do you begin? I know it can be overwhelming. Move-in day will be stressful for all parents and their children, especially if it is their first year going away. I hear you! I've been you! I did this when I had to go off to college and move in by myself. Then, 28 years later, I helped my son move into college. And this year, moving my daughter into her dorm is another adventure altogether. I've become somewhat of an expert in the quickest way to move it. Today, I will give you practical tips on packing for a fast college move-in day this year.
Jump to:
Be in touch with your roommates.
Reach out and communicate with what you are willing to make communal items in the dorm or suite. The university will provide you with the email address of the other roommates. Discussing what each person will bring, like refrigerators, microwaves, bathroom supplies, bathroom organizers, cleaning supplies, etc., will save you money and minimize the amount of stuff you need to carry. It's a win-win for all. Also, ask them what time their arrival time is so you know if you will see them when you arrive and if it will be crowded in the dorm.
Have small tools handy.
Bringing a hammer
, screwdrivers
(Phillips and flathead), and maybe even an electric drill helped.  Also, having a supply of 3M Command strips
, recommended adhesives (like painter's tape
) for posters, suction cups that hook to the wall, and other things that help adhere objects to the wall makes for a faster setup. Carry extra batteries just in case you forgot to add batteries to something when you assembled it at home. Placing these items all in one go-to bag gave us a single point to find these items.
Move items in bins with lids.
If you have to drop off your stuff in a big bin and then move it to the dorm, it can be stressful with small things falling all over the place while transferring them into this bin. Storing items in containers where they will be staying for the remainder of the year works best. I like these large drawer bins that can be carried and stored directly under the bed for easy access.
Divide your stuff into zones before leaving the house.
Organize and sort the items into the following zones: cleaning, closet, drawers, cooking (fridge/microwave supplies), bathroom, and deck areas. If you can, do this in your home before leaving to see what you don't have. Gather the rest of the stuff from around the house and place it in these zones. Then compare your stuff to our checklist: TIPS FOR A SUCCESSFUL COLLEGE YEAR. Next, check off the items you have. And purchase the things you don't have. Remember, the list is complete, but if you don't need something on the checklist, cross it off to customize it to your situation.
Label your bins before you leave.
"Assign a place for every single item" is a mantra every organizer knows and teaches our clientele.  This mantra also applies to dorm rooms.  After you create zones, determining what goes in those zones is where you get more precise.  This step is where you ask what group will be in this zone. Then, you can determine what to label your bins. Using a label maker like these I found on Amazon, with a larger ½ inch or bigger label, works best so you can see it no matter where you are in the room.
***AD*** The best academic planner for students! Order Out of Chaos Academic planner helps track time and tasks! Buy 1 or more today!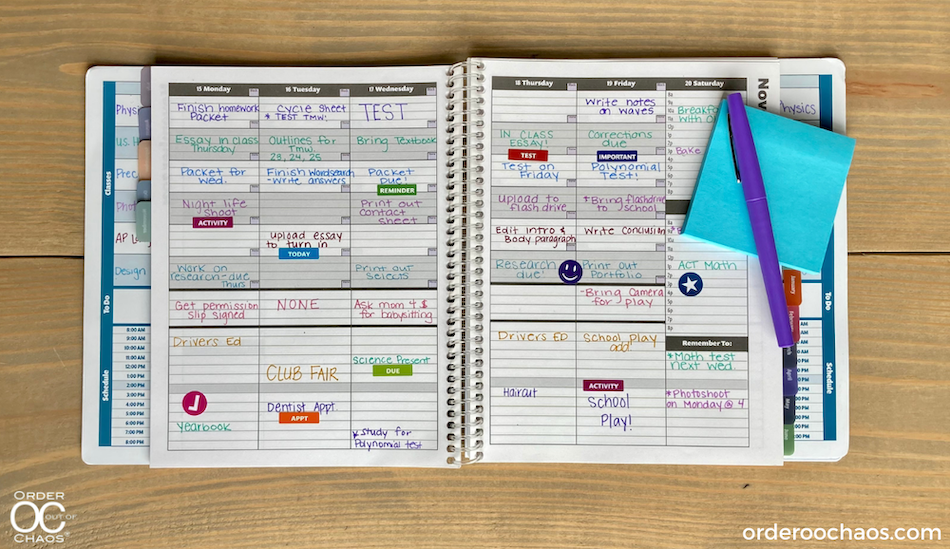 You can also make your labels by using Avery Templates. If you choose to make them yourself, they will most likely be paper and have extra glue on the back because they are intended for shipping.
You can also get sleeves and slide paper labels into them. Be sure you find tighter sleeves at the opening because they can easily slide the papers out in transit.
Check the website with the dorm information the day before your move-in day.
Sometimes things change. Checking the day before will give you a heads-up on what will be happening the next day. Visiting the floor plans and layout of the dorm also helps you know where you will be walking when you enter the dorm.
Get a safety box and security cables for valuables and place the valuables in them and secure them in a large bag to hide what they are.
It's better to be safe than sorry. Investing in a safety box and security cables is essential. Your roommates may be great, and you trust them. But, they may accidently leave the door open or invite someone in that isn't so honest. Before you leave, fill up the safety box with all your valuables. There is usually a large amount of space inside the safety box that you can maximize with stuff. If you don't have a lot, you can wrap the items in the towels you are taking and place them inside the safety box so the pieces don't rattle around and break.
Gather hanging clothes and add a kitchen bag over the clothes with the hangers showing.
Leaving the hanging items on their hangers and covering them up with a bag will save you time having to place items on hangers. Find hangers that are thin with grips to help keep the things on the hangers when moving them.
Have all your decorating items in one bag.
Have your posters and adhesives in one bag so it is easy to put them up immediately.  This can go near the tool bag you created to decorate the room quickly.
Take advantage of the rental opportunities for dorm fridges and microwaves.
Some schools require you to rent refrigerators and microwaves if you want them. This is an excellent option because you don't have to carry them in; they are usually delivered directly to the dorm room.
Purchase bedding packages from a third party and deliver them to the dorm. 
Many schools offer this as an option, so people don't have to carry bedding to the dorm. It contains the comforter, sheets, and other things. It tends to be bulky so it will take up a lot of space in a dorm. Using an extra-large vacuum seal bag with all the winter linens in it vacuumed down to about 3 inches thick works nicely to save space in the car. 
Set up the sweaters and winter accessories in bins before you leave home.
Having a bin (12 in. x 12 in. x 12 in.) with all the winter accessories is super easy to set up when you are home because you are not using these items. Filling up the bins with sweaters, fuzzy socks, gloves, and scarves allows you to easily transport them to the dorm with minimal disruption of the items.
Taking the time to do all of these tips before you move into your dorm at college will allow you the freedom to spend time enjoying the decorating process and the last few hours with your family. I hope this post helps you make your college transition smooth. If you have any tips from your experience, please leave a comment below. I would love to hear from you.
(Visited 2,065 times, 6 visits today)