If you have a child going off to college, you may have some mixed feelings and worries about what they need and where can I buy them. If you are visiting our site for the first time, I have been going through the college experience for the last three years with two kids and have shared several different tips that are necessary to help with the success of post-high school years. Feel free to visit our other college success posts for details for first-year students. This post is primarily for second-year students and upperclassmen who are experiencing for the first time off-campus apartment living.
Jump to:
Your sophomore or upper-level students may have decided to live off-campus so they can experience life a little more; it may come with some concerns to make sure they can survive in an apartment. This post will give you off-campus apartment guidance and show you how to make a shared spreadsheet for your kids to use to minimize cost. Whether the apartment is in a big complex or a small townhome, these items are necessary for them to help reduce the upfront cost of the things needed to have an apartment. Follow along and see what they need and how to gather them with minimal expense to you and them.
Most likely, if they were on campus last year, they have all the items they needed for their bedroom. But, if they need more of certain items or if you want to see the list of needed dorm things again, visit this post. 
Remember that some apartments do not come with furniture. Some items that they should have are a desk, bed, bed frame, sofa, coffee table, chairs, dining table, or bar area in the kitchen. These items were included in the furnished off-campus apartments independent of the university. But, some of the smaller homes that are owned by one owner may not be included. Be sure to review the contract and add these items to your needed list.
Now, let's talk about the "other" items that were not needed when your child was in a dorm.
The kitchen has a lot of stuff needed, especially if the roommates plan on cooking. 
***AD*** The best academic planner for students! Order Out of Chaos Academic planner helps track time and tasks! Buy 1 or more today!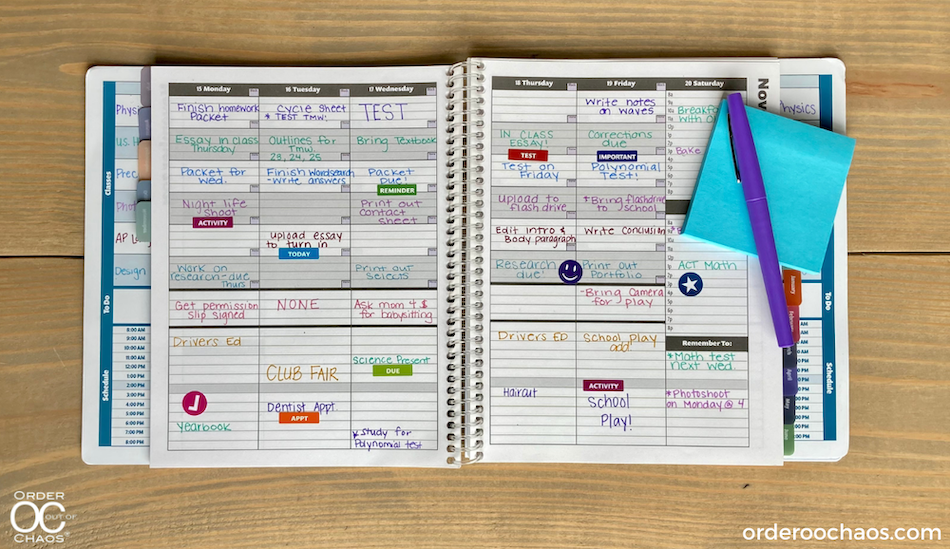 Needed Kitchen Supplies for the First-Time College Apartment
Below is a list of the basic stuff that will be needed in a new apartment. 
Kitchen appliances and cleaning things:
Coffee maker
Dishes
Silverware
Mugs
Glasses
Sponge
Dish soap
Dish drying rack
Dishwashing detergent
Tea Kettle
Tea Towels
Kitchen Baking Supplies:
Oven mitts
Pots and Pans
Whisk
Mixing Bowls
Can Opener
Bottle Opener
Pizza cutter
Baking pan
Cookie sheet
Aluminum foil
Plastic Wrap
Wooden spoon
Metal spoon
Knives
Blender
Colander
Cutting board
Food storage containers with lids
Spices, herbs, and other things for cooking
Baking staples (flour, sugar, baking powder, baking soda, etc.)
Spices (salt, pepper, red pepper flakes, paprika, oregano, garlic powder, onion powder, cinnamon, nutmeg, etc.)
Cooking oils (vegetable, olive, coconut, avocado, etc.)
Vinegar (red wine, white wine, balsamic, etc.)
Condiments (ketchup, mustard, mayonnaise, etc.)
Snacks
Sweet snacks
Salty snacks
This list also includes snacks and other ingredients that will most likely be needed in the apartment. The items above may vary depending on how much your child would want to cook.
Having these items duplicated would take up too much time and would cost a fortune for ALL the roommates. So, creating a spreadsheet to share with all the roommates will help reduce costs and minimize duplications.
Create a "Who is Bringing What" spreadsheet to share the cost
I found that creating a shared spreadsheet works best for all the roommates to write down what they can bring or have at home so there are not too many items in the shared area. Without talking to the roommates, they will most likely spend more money on supplies and not have enough room for all of them. Creating a spreadsheet in Google Drive to share with everyone works nicely.
Someone will need to lay out the spreadsheet in their Google Drive Sheets App. Be sure to include the kitchen area shared items above and these items below in the spreadsheet. Invite everyone to it, even parents if they may be donating or giving stuff to the roommates.
Living Room Area Items That Can Be Shared
For the common areas like Living Room and kitchen, adding a column for each roommate and labeling their name at the top will allow everyone to share their stuff. Inform each roommate to check off what they are bringing so no one duplicates the items. If there's an "X" in the box marked plates, you do not need more plates. See the example image below.
There are some items in the living room that can also be shared. See the list below.
Floor lamp
Curtain
TV
Clock
Seating 1-2
Wall art
Printer
Printer paper
Alexa
Light bulbs
Batteries
Area Rug
***AD*** from Released Repurpose Reorganize: My List Simplified journal is a wonderful organizing tool for planning a move or a renovation. Use it to corral all the to-dos.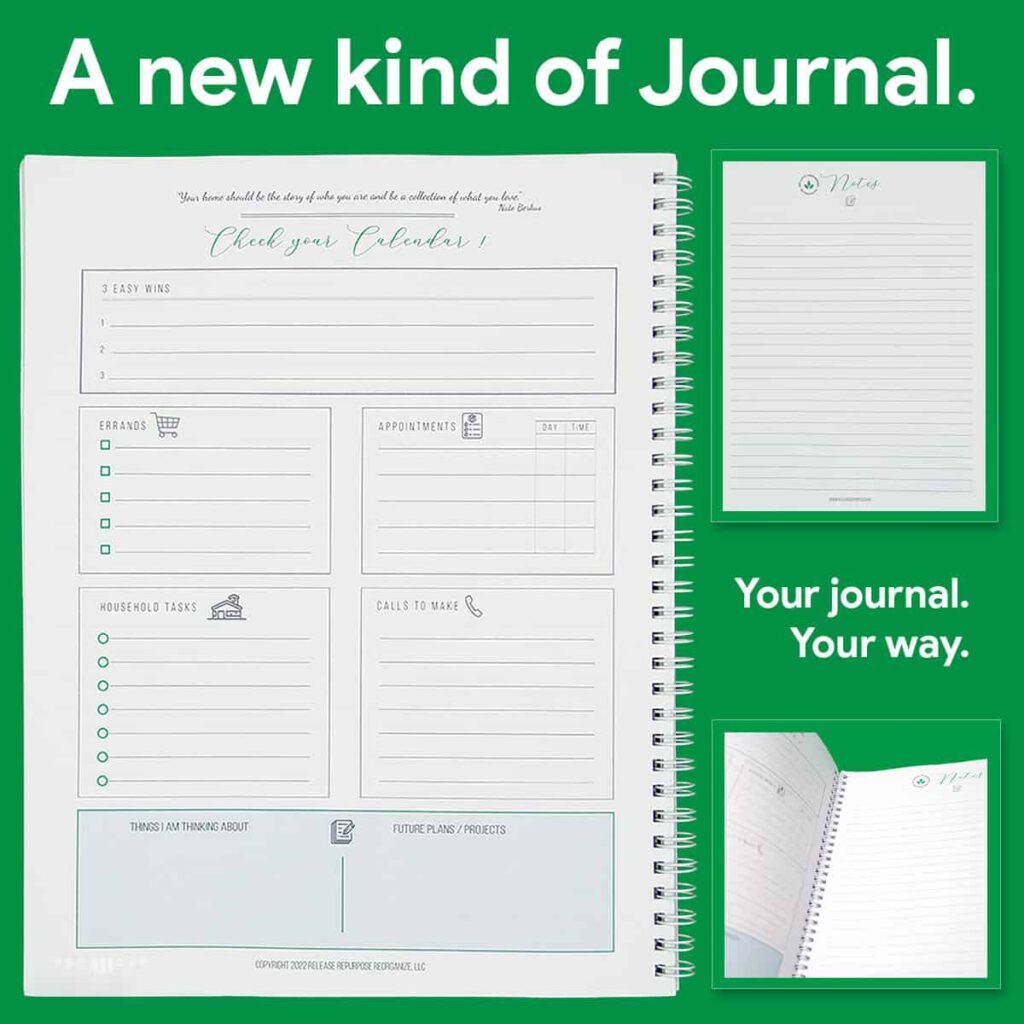 Kitchen Section of the "Who is Bringing What" spreadsheet:
See the list above for the completed checklist to add to the spreadsheet. Everyone can usually come up with most of these items. Some items can be given to them by their parents, while other items can be purchased by sharing the cost.
Bedroom 1 and 2 Items to Share the Cost
The bedroom list in the spreadsheet was the same, but there were spaces where the two-bedroom mates could write down their specific shared items. Below are some of the things the two-bedroom mates can share.
For the areas that are just shared by two people, you will only need two columns on the spreadsheet. So, separating them would work for this group of people.
Curtains
Rug
Shoe rack
Mirror
Fan
Floor lamp
TV
Clock
Wall art
Laundry basket
Bathroom 1 and 2 Items to Share the Cost
Some apartments have one bathroom per bedroom; others have a shared bathroom for all roommates. So, creating a list of items that people can bring to share works well for everyone because bathroom items may get pricy. See below for just some of the things they can share.
Shower cleaner
Toilet cleaner
Toilet Bowl Brush
Rug
Glass cleaner
Shower curtain
Toilet Paper
Trash bags small
Trash can
Hand soap
Shampoo
Conditioner
Body wash/soap
Face wash
There are also other items that can be shared to reduce the cost for everyone, so I added this to another section.
Other items that can be shared in a First-time College Apartment
Other items you can share are cleaning and paper products. Visit the list below to review these items. These things are a great start for these roommates. Then as they run out, they can make a list and rotate so everyone will buy the pieces once or twice a semester.
Cleaning Shared Products
Glass cleaner
Disinfectant wipes
Vacuum
Trash can (large)
Trash bags (large)
Deodorizer
Laundry detergent
Fabric softener
Paper Shared Products
Paper Towels
Tissues
First aid kit
Sewing kit
Tool kit
Small Fire Extinguisher
Napkins
Adding an area on the shared spreadsheet for the move-in date is useful too. Each person may move in at a different time over a few days, so documenting on this spreadsheet when each of them is moving in will help everyone know what to expect on the move-in day.
And, for the items that need to be taken for each person, they can have their own list of items. You can create an additional tab on this spreadsheet to add personal items if you want. Below is a checklist of what you may need to create this personalized packing list. TIPS FOR A SUCCESSFUL COLLEGE YEAR There are three pages to this dorm checklist available for you to print.
While these are general packing lists, you can always customize them so everyone can add extra items to the areas. I hope this post helps you get a grip on the massive task at hand. The best thing about doing this now is when you use it again next year; it will be much easier.
Additional posts about College Apartment Tips I found Online:
College Apartment Checklist For All Your Essentials
Your College Apartment Checklist: The Ultimate List
What to Buy if You're Moving Off-Campus
(Visited 512 times, 1 visits today)