Last week, we discussed apps that would help college student stay organized. But, not all students prefer to use a device for their time management.  So, if your student prefers paper calendars, here are tips on how to improve time management with an academic planner.
Time management tips for your student
Be sure the planner gives enough room for the student to write down all their class assignments.  I prefer a weekly two-page calendar. It gives you enough room to help you write a detailed description of what homework needs to be done.
Make sure the calendar has time slots on it. This is the best way to manage time.  If there are no times, you won't be able to schedule out blocks for studying.
Make sure your planner has preprinted dates. If you have to write in the dates the entire year, it may take up more time than you prefer and you may stop using it because of time constraints.
Use a highlighter for priority order. You can use yellow as most important, pink as 2nd priority, blue as a 3rd priority. By highlighting your assignments, you will know what you need to do first, second, etc....
Use a pencil or erasable pen to write your assignments. Being able to move tasks around in a planner is crucial to use a writing tool that will work for you to do this.
Create a code system for your classes. I like to use the first letter for each class. If two class letters are the same, I will use a few more letters so I could distinguish the difference.
Have small square sticky notes to help you quickly jot down any assignments.  Stick them to the day you need to do the work. 2in x 2in Post-it sticky notes work nicely for the two pages per week planner.
I hope these tips help you get the planner in order and ready for a great school year.  A planner will make your student's life a lot easier and less stressful. Read below about a planner that my kids enjoyed using last year.
It helped them manage their time and determine what tasks need to be completed and when they need to be done.  This year, Leslie from Order Out of Chaos offers an even smaller planner, and I wanted to share the differences between the larger and smaller Academic Planner - A Tool For Time Management®.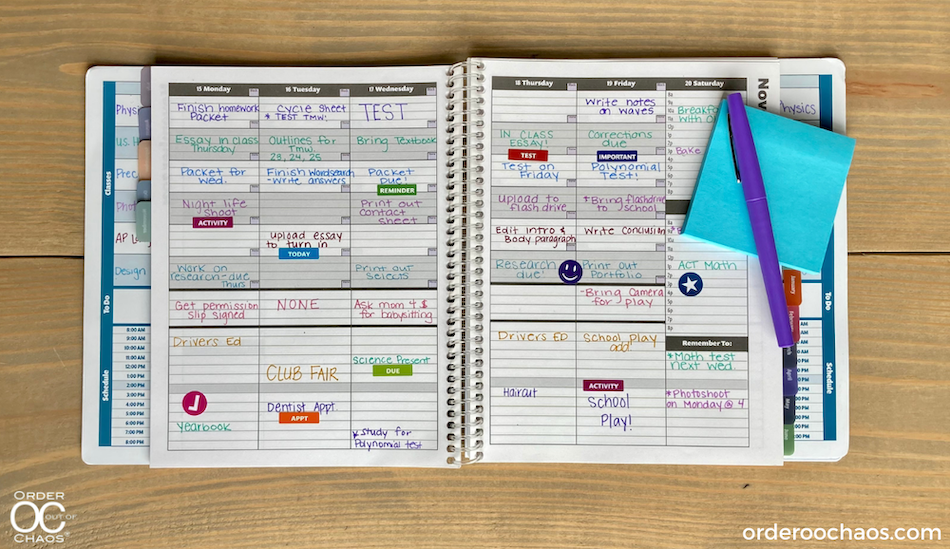 The similarities between the large and small Academic Planner by Order Out of Chaos:
In the planner, each book includes a section on how to use the planner.
It also talks about tips for homework helper tips.
There is a project planner guide for longer-term projects that help you organize your time accordingly.
They both have a school year calendar to help you mark those days off each month and other activities like standardized tests, placement exams, etc...
Each section has a monthly calendar and a Notes section at the beginning of the month to hold other papers you may have.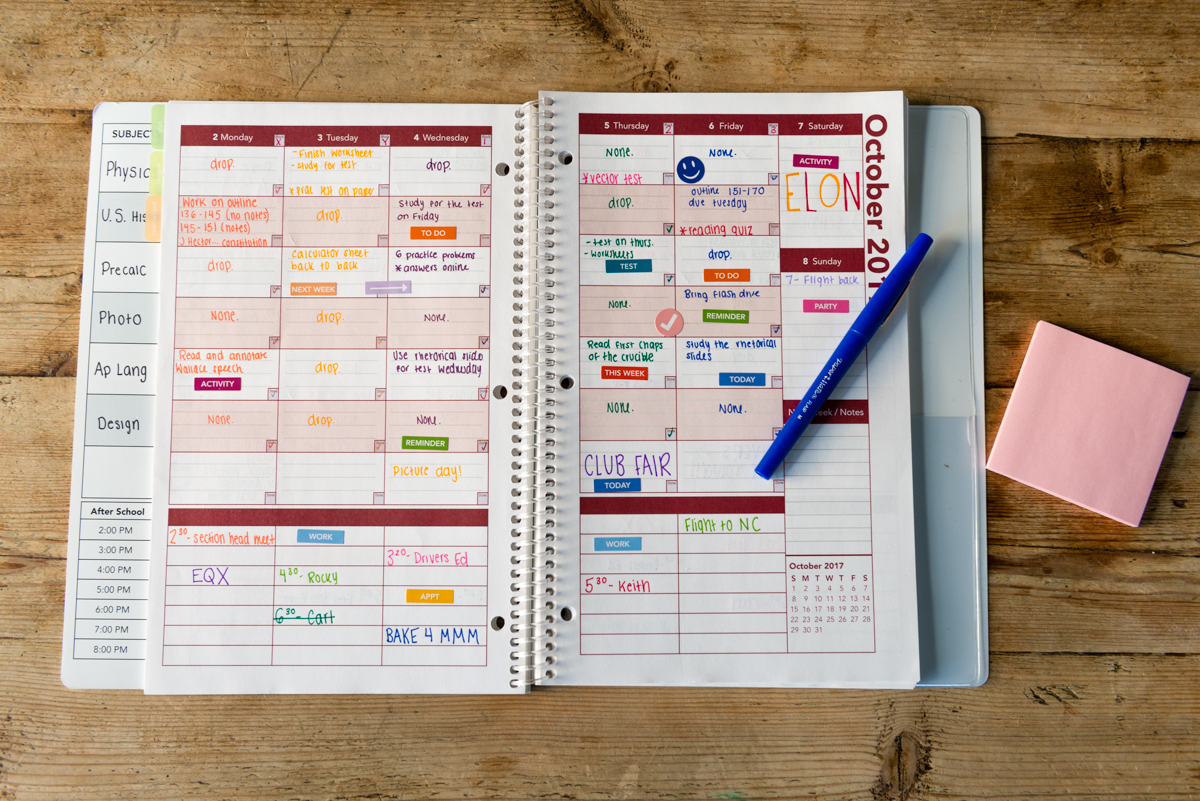 The differences between the large and small Academic Planner by Order Out of Chaos:
In the smaller calendar, there is a To Do section which is not in the more extensive planner and the time slots start at 8:00 AM and goes until 8:00 PM. It also has one less subject row.

Tip: The smaller one would be great for college students to help them manage their entire day.  Since they tend to have classes that aren't all day long, they can write in where they need to be from early in the morning to late in the evening.  It helps truly see what time of day they have available to them.

In the more extensive planner, the time slots go from 2:00 PM - 8:00 PM. This planner has seven (7) subject rows.

Tip: The more extensive planner is great for high school and middle school students that need to manage after school activities and assignments.
*****This is an affiliate post. If you decide to click on the link above and purchase this planner, please note that I will receive a small referral fee.*****
I hope these planners and the tips above help you and your student start the year off right. Remember: Not all calendars are created equal.
Now, it's your turn. Do you have any tips for organizing an academic planner?  Please leave a comment below.  I would love to hear from you.
Please note these are affiliate links through Amazon, and at no additional cost to you, I will earn affiliate fees if you decide to make a purchase.
(Visited 761 times, 1 visits today)