****Visit our "Disclosure Policy and Cookies" for details. Affiliate links appear on this page from Google Adsense, Amazon, Order Out of Chaos, Impact affiliate members, Release, Repurpose, Reorganize, and Shareasale affiliate members.****
I have looked for a teen academic planner for years. And, when my kids were starting high school, I wanted them to be more in control of the time. This planner did the trick! I am so relieved because I was sick of being their secretary and setting up appointments for them. They can manage their own themselves. This teen academic planner is great for middle schoolers through high school.
***UPDATE 2023***
This post was written when my kids were starting high school. They are now in college and one out of my two children still uses the planner. There are now two versions, a larger 8 ½ x 11'' size, and a smaller version, 8 ¼ x 8 ½'', (which has been great for my college student). Both have the same interior just smaller in the font size.

Today, I am updating this post with additional products you can now buy on "Order Out Of Chaos' store." The additional accessories are very helpful when using this planner and make the process more effective for teens. Follow along and see the way my kids set up their planner and what the new products are to accompany this planner.
Jump to:
Tips on How to Use the Order Out of Chaos' Academic Planner from the Prospective of a Boy and a Girl
This post will show you tips on using this academic planner from the viewpoint of my son and my daughter. See how they transformed their planner into their own style. First, let's start with the layout and how they added their classes to the planner.
Tip 1: Transfer your schedule to the academic planner.
This step helps you memorize the order of your classes and where they are in school. If you can, get a map of the entire school and where the classes are and mark the classes on the map as well. This will reinforce where you need to go for each class, and you can plan out your route.
If you want your class schedule to stand out a little more, you can color code the different classes the way my daughter did it below. Instead of writing A through F day, my daughter wrote ALL. She also put P.E and health on the same line since they were in the same period of the day.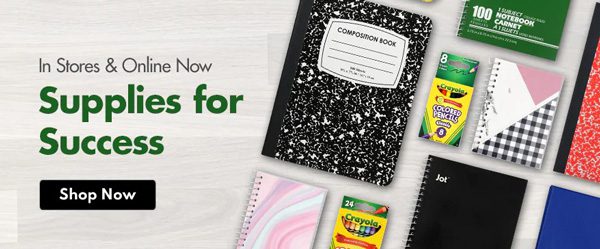 Tip 2: Use a black sharpie marker to write the subjects so it helps them stand out.
My son liked to use a sharpy marker, so the row for each class stood out a little more. He also included the room numbers to remind him of what classroom to go to next.
***AD*** The best academic planner for students! Order Out of Chaos Academic planner helps track time and tasks! Buy 1 or more today!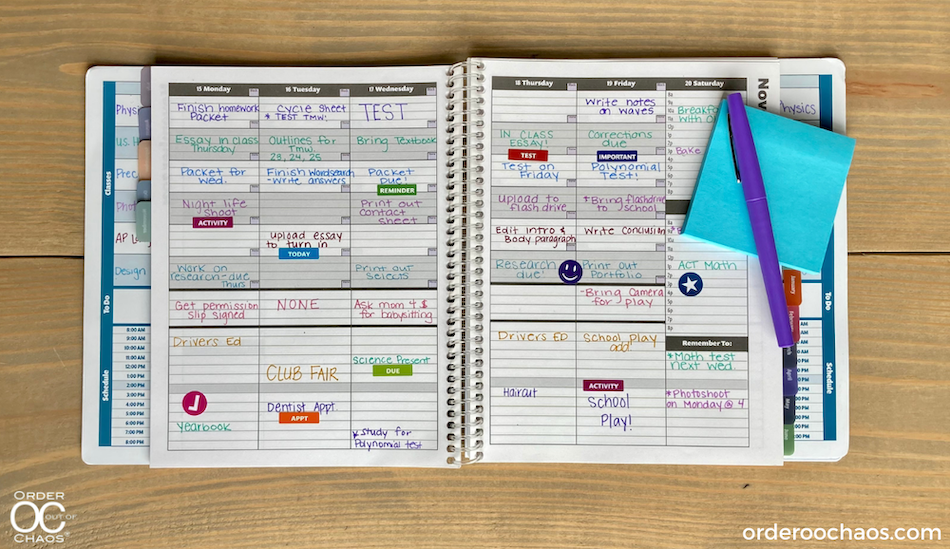 My daughter is into fonts and calligraphy, so she wanted to write each class as a different font style to make it her own. Here is what she did with her academic planner.
Tip 3: In the Year at a Glance section, mark the days off for the entire school year from the district's academic calendar.
If you have a year-at-a-glance section in your academic planner, color on the off days, and other essential dates from the school's calendar for the entire year. They usually have it available on their website.
Tip 4: Don't forget to write in your after-school activities.
This will help you figure out when you are free to study and do homework. Block out those areas and write what you will do in the blocks.
Tip 5: Always have a pencil with an eraser attached to the planner.
By keeping a pencil that hooks onto the planner at all times, you will always have a way to write something down quickly. Planners are intended to hold all your tasks, not just your school assignments, so get into the habit of writing down everything, and you will be ready for what comes your way.
Tip 6: Have some sticky notes in your pencil case so you can jot down homework information.
Some assignments are not due the next day. So, you can write them on a sticky note and move it from one day to the future to make it easier for you to transfer the task.
If you do not have time to place it in the right section, place the written sticky note on the front cover or inside the front cover of the planner. Then, when you have time, like at lunch or study hall, put the sticky notes inside the planner on the day you need to start the project or task.
In front of the academic planner, there is a Study Planning Guide as well as a Project Planning Guide to help you with future planning of tests and projects. Make copies of these pages to use in the future or download free copies using this link.
While this planner works great on its own, some additional accessories will add to the effectiveness of this planner. Check it out below.
Additional Accessories To Accompany The Order Out Of Chaos' Academic Planner
You can easily use a paperclip or a binder clip to keep your page, but the hard plastic divider works nicely because it attaches to the spiral rings.
This divider is a separate cost but well worth the purchase. Click here to buy it! (affiliate)
And, the monthly tabs also help keep the academic planner divided into monthly sections so you can easily go to different sections of the planner. It looks like this after I added them to the planner.
These monthly tabs can be added to the beginning of the month, facing forward. Note that they are one-sided, so be sure to add them to the right side of the page. You can also attach them starting from the top and working your way down and lining them up next to each other while placing them on the corresponding monthly page. Doing it like this will allow you to flip forward or backward in the planner as needed. Be sure to place it exactly where you want it because removing it is difficult. Feel free to click here to purchase these monthly tabs.
If you are a fan of stickers, you can buy stickers for the planner as well. It has a variety of words on the sheet as you can see below.
This cost for the stickers is separate from the planner also. Feel free to click here to buy these stickers also.
Feel free to visit all the products and courses for the Academic Planners and the accessories on this page.
I hope these tips help your kids keep their academic planners up-to-date and organized. Click on the image below to get your copy today!
Full disclosure: If you decide to purchase this academic planner or any of the products on Order Out Of Chaos's website, I will receive a small commission from your purchases.
Looking for more tips for back-to-school organizing? Feel free to check our other posts here!
(Visited 5,310 times, 53 visits today)