Summer is coming to an end, and school will be starting sooner than you think. To get you prepared for the busy season of running around and helping your kids with school work, today's post will talk about the three areas to get organized. Doing this before school starts will help keep the mayhem to a minimum.
3 Areas to Organize to help your kids succeed in school this year
1st Important Area: Create a space for your child to do their homework.
First, let's answer a few questions to determine what they need in the area.
Where does your child do his or her homework? Is it a convenient space? Can it hold everything your child needs during the school year? Or, are you go from place to place finding items for their projects?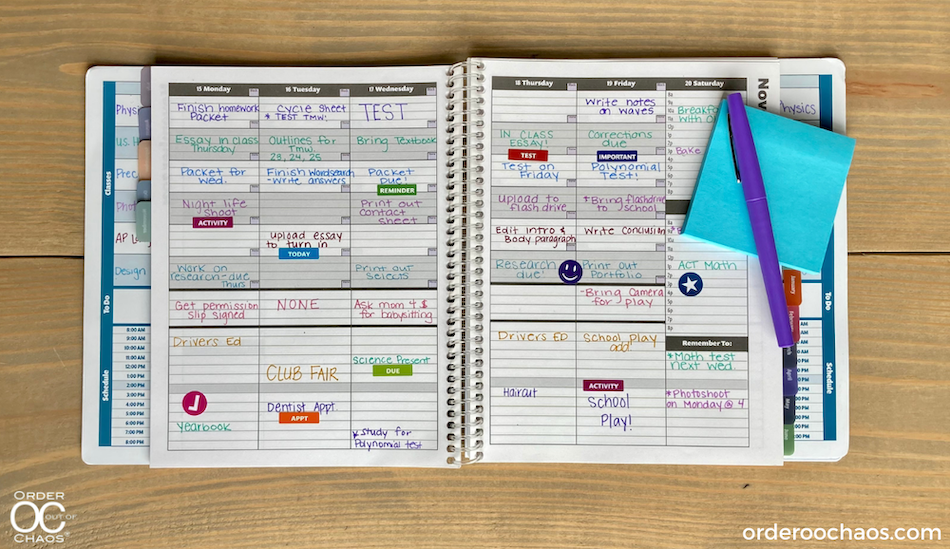 Make sure it is a quiet space and includes all their supplies, papers, and resource material to save time. Below are several posts to help you get your child's homework space and desk organized.
Here are some examples of desks from Amazon (Affiliate).


If possible, the desk should have at least one drawer for files or supplies. If not, look for desks with shelves. It will help with keeping the papers, books and other items needed for homework organized.
And, don't forget to get a comfortable chair. An ergonomic chair is ideal for the student but isn't necessary unless he or she is home schooled and will be in the chair for a while. A padded chair works best for daily sitting. Select a chair without arm rests. It doesn't allow the person to get close to the desk which may create back issues later. Here are some examples from Amazon (affiliate).


Supplies can get out of hand too. So to make them more manageable, check out these posts about organizing kids supplies.
SCHOOL SUPPLY ORGANIZER FOR HOME MADE EASY
HOW TO UPCYCLE PLANTERS INTO A DESK PENCIL HOLDER
2nd Important Area: Purchase the right weekly calendar/agenda book for them to use.
Now, on to the time management and tracking projects end. Answer these questions to help you determine what your child needs in a planner.
Do your kids like to write things down on paper to remember what they need to do? Or are they a digital personal and prefer to have an app planner to use? Do they like to see their entire week or just the day? Do they prefer to see all their activities (todos) in one place or prefer to have different sections to lay it out separately?
I recommend one that has the entire week to two pages. It should have checkboxes, a place for after-school activities, and a place to write the classes' homework assignments. To save yourself from hand cramps, you can type labels with the subject names, room number, and teacher's name, and make it easier for the student to stick them on the calendar days and binders to help speed up the process of collecting their books and writing their homework.
Full Disclosure: This is an affiliate link for these weekly planners by Order out of Choas.  I receive a referral fee if you click on the image and purchase time management tools on their site. 
While having a great planner is important, it's also important to know how to use it effectively. Here are some posts to help with time management.
HOW TO IMPROVE TIME MANAGEMENT WITH AN ACADEMIC PLANNER
ACADEMIC PLANNER FOR TEENS TO MAKE THEM A TIME MANAGEMENT EXPERT
3rd important area: Be sure there is a great support system for your kids.
You and your child will not know everything that will happen this year so assure them that you are there for them and reassure them that they can come to you when they are having problems or concerns about school, social, or anything else. Also, remind them that their grandparents, teachers, and the counselor are also there to help them. Kids forget that they are not alone easily so keep telling them. Your children will appreciate you telling them that you are there to support them.
Many stressors happen in specific years throughout your child's education, I have included several other articles to give you even more information.
Elementary School Back To School Organization posts:
HOW TO ORGANIZE AN ELEMENTARY SCHOOL STUDENT FOR SUCCESS
Middle School Back to School Organization posts: 
HOW TO REDUCE ACADEMIC STRESS FOR MIDDLE SCHOOLERS
5 MIDDLE SCHOOL STUDENT ORGANIZING ESSENTIALS TO HELP THEM SUCCEED
Well, there you have it. Keeping these three areas organized and maintaining these areas throughout the school year will help your child succeed.  Now it's your turn. What areas do you organize before your child starts school? Please leave a comment below. I would love to hear from you.
(Visited 533 times, 1 visits today)