With all the sales on school supplies and school starting now, August is the best time to go through your child's supplies. But, we are not just talking about the school supplies here, we are also talking about the areas your child uses to perform tasks for before, during, and after school. So, let's do the student organization challenge! Go through the different student organization areas to help them succeed this school year.
Note: Pace yourself and your child and create a plan to do these areas. Share a calendar so they know what task will be taking place before the appointment. Kids will appreciate the heads up, especially the older teens in your life.
Areas to organize before school starts
First, try on and gather any unwanted clothes and shoes in the closet.
Check to make sure their clothes fit.  Do they need new shoes?  As you go through your kids' clothing, make a list of items that are required. It could be undergarments, socks, pants, or other pieces of clothing. Be specific, so you remember what you need to buy. If you have a particular store you visit for the item, write the name of the store as a reminder next to the article.  Get rid of things that are worn or don't fit.
But, clothes are not the only area to organize before your child goes back to school.
Then, work on their desk or their study area where they do their school work.
Do they have a place to call his' or her's study zone? Each child should have an area that has minimal distractions and has enough surface space for easy setup. If this area is not cleared, take the time and clear out that area of any clutter and distractions.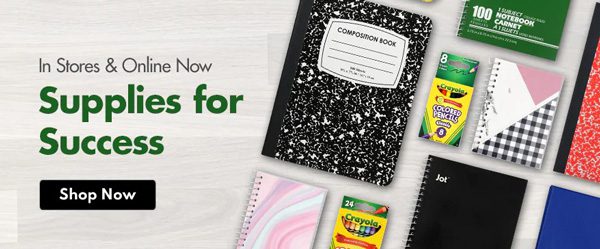 Does the desk or space have all the supplies they would need? Having supplies nearby will give your kid a go-to place for anything they need. Walking to another room to just get some supplies will surely be a waste of time and may distract them.
***AD*** The best academic planner for students! Order Out of Chaos Academic planner helps track time and tasks! Buy 1 or more today!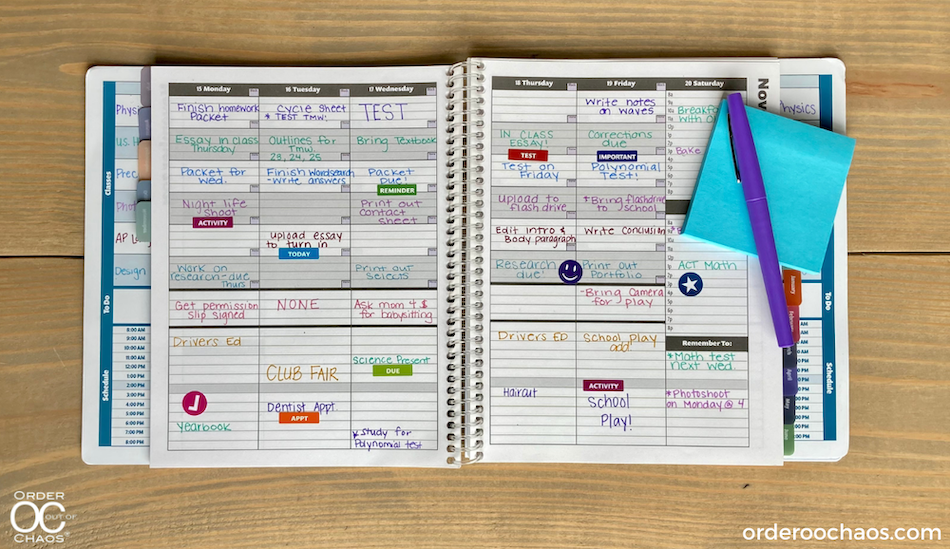 How is their chair? Is it a comfortable one? Have your child sit on the chair and adjust the height on it so that it is ergonomically correct for your child. Visit Creating the Perfect Ergonomic Workspace- The ULTIMATE Guide for details on how to do this step.
Next, it is time to work on the binders and gathering textbook materials.  
Schools usually give a suggested list of supplies.  But, it is very general and always has way more supplies. Then, they actually use.  So, use this list with caution.  If they are middle schoolers, ask your child what they binders they like from the previous year and help them create a system that works for them. This step is unique to each child.
If they are taking classes at home, ordering the supplies they need a few weeks before gives the school and other bookstores time to get the books to you.
If they are doing online learning and have online websites to visit, as well as gathering content, prepare the computer so they can have the website saved as bookmarks to make it easier for them to know where their resources are located.
Going back to school? Go through their backpack, empty, and clear it out.
Make sure they have items they would need in there.  My kids carry their backpack around all day, so they usually use the front pocket for pencils and supplies.  Make sure all the binders and supplies fit in the binder.  Is it too heavy? Visit our post about the backpack organization for tips.
Go through old paperwork and material to minimize the unwanted clutter in a study area.
If they have been working virtually, taking the time to clear the clutter in their studying area from the previous semester. All the paperwork from the last semester may be distracting. If they want to keep it, have them go through it and minimize it to only the essentials and place the entire batch of papers in another area like a bookshelf or cubby.
Well, there you have it. How do you do? Some of these steps may be omitted if it doesn't apply to your child. It's important to remember that doing these steps will get your child and you in the right frame of mind for back to school. I hope this student organization challenge motivates you and your kids to get and stay organized this school year. Feel free to visit our vast selection of back to school organizing tips from elementary to higher education.
(Visited 447 times, 1 visits today)