****Visit our "Disclosure Policy and Cookies" for details. Affiliate links appear on this page from Google Adsense, Amazon, Order Out of Chaos, Impact affiliate members, Release, Repurpose, Reorganize, and Shareasale affiliate members.****
Soon college students will be heading back to school. Emotional and physical health is essential, especially in their freshman year. As a Professional Organizer, I love sharing tips on time management and space planning this time of year for successful college life. I am going to share with you tips to help students succeed under the pressure of college. This post includes various tips about organizing college life so students can enjoy this point. Feel free to share it with your favorite college students.
The Ultimate Guide to a Successful College Life
Jump to:
Dorm Life Happiness when Living on Campus:
Making your dorm a home away from home is essential. The straightforward tips below seem simple but are useful to make your dorm a home away from home.
Keep wet towels off the bed. Always, always, always hang up wet towels/robes. Mold will grow. Yuck!
Make sure you have plenty of toilet paper, especially if your bathroom is in your suite.
Keep your stuff on your side of the room. Dividing the room down the middle helps keep your things on your side.
Remember, everything in your room should have a home. Before leaving your home, assign a bin or container for different tasks. Some examples of groupings you can create are cleaning and extra personal care supplies.
Keep the door open when you're in your room and not studying or sleeping. Especially when you first start school. You can see who is walking by. Discuss it with your roommate before doing this so you both agree.
Check the weather the night before so you know what to wear next.
Don't be surprised if you miss home more than you expect. Call home to schedule a weekend away. Pick a day to call home with your parents.
Having company in your dorm, straighten up before they come over. Your guest will truly appreciate it.
Visit our posts below for organizing the dorm ideas:
5 ITEMS EVERY COLLEGE FRESHMAN MUST HAVE TO SUCCEED
THINGS YOU ABSOLUTELY NEED WHEN ORGANIZING A COLLEGE DORM ROOM – PART 1
THINGS YOU ABSOLUTELY NEED WHEN ORGANIZING A COLLEGE DORM ROOM – PART 2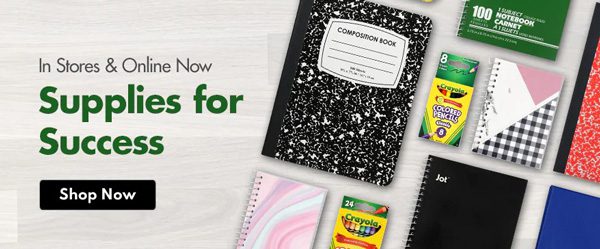 8 HELPFUL ORGANIZING ESSENTIALS FOR DORM LIFE
***AD*** The best academic planner for students! Order Out of Chaos Academic planner helps track time and tasks! Buy 1 or more today!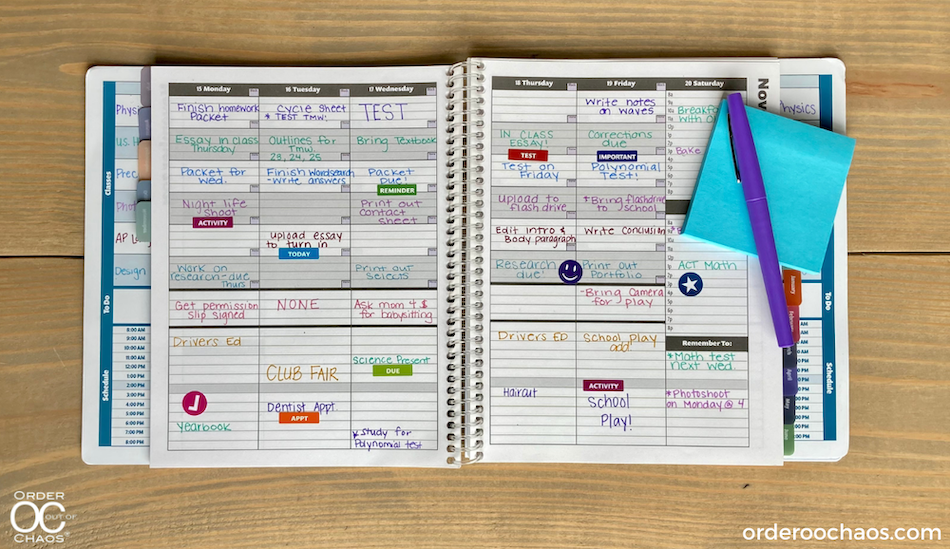 Tips on Completing Tasks in College:
Completing tasks will empower a student to do more and gradually create a successful college life.
Check your school email every day. Don't forget to check your personal email also. Reply to important emails. Delete unwanted emails. It's OK to delete emails you don't need.
Pay attention to the class syllabus. All critical dates will be there. Add due dates to the calendar and an alert one week before.
Have your Class syllabi handy. Look at it every day. Before school starts, add all the due dates to your electronic / paper calendar and set an alert reminder (or written reminder) a week before.
Get your papers started early. Give yourself a week or two for research papers.
Visit this post about getting the right Academic Planner.
Check out this planner for college students to help them manage their time and tasks for successful college life. (affiliate)
Self-Growth Tips for people going to College:
College is a great time to learn about yourself and strengthen your view of yourself.
Take pictures of yourself with friends. But keep intimate photos of yourself off social media and Snapchat.
Travel whenever and wherever you can but be safe and always be in a group. Call your mom to tell her about your experience.
Don't hesitate to ask your teachers, your RA, and your adviser for help.
Be kind and helpful toward others. Be the type of friend you want to have.
Don't allow others to steer you away from your goals.
You can never say enough "please" and "thank yous."
Take risks, but be smart about it.
Recycle plastics and glass when possible. Follow the signs on the trash cans on what to do.
Stay current with all your college events.
Volunteer weekly to get involved and meet new people.
Sometimes you need to cut your losses and move on. You can't change everyone.
Failing is part of the learning process. Learn from your mistakes. Try not to beat yourself up about the experience.
Say you are sorry if you make a mistake.
Visit this post for more self-care tips:
Controlling Stress in College:
Stress is going to happen. How you deal with it is going to help or hurt you.
College Socializing Tips in College:
Go ahead and socialize, but always be careful. Most people will be kind, but it doesn't hurt to be cautious.
Never leave your drink unattended when you are at parties or small gatherings.
Experiences are way more valuable than things. You don't need to buy something to be happy.
Use the buddy system at parties. Three to four people is a group works well.
Plans change. Be flexible with the changes.
Coolness is overrated. It's OK to show your vulnerable side.
Everyone does embarrassing things sometimes. Learn to laugh at yourself.
Remember that people love to talk about themselves. Ask them questions and see where the conversation leads.
Sometimes you will have to pretend you are interested. Smile and nod and ask questions to show you are interested.
If you are drinking, call Lyft. NEVER drive.
Don't smoke or do drugs. It's a bad habit to start, and it is super hard to quit.
Make an effort to eat with other students. If you have the same free time, make it a routine to eat in a group.
Listen to others when they say "no."
Pick your battles. You don't need to win every discussion.
Creating Good Money Spending Habits in College:
You may not think it is essential now, but it will be in the future!
Don't overdraw your bank account. The fees are high. Always have your checking linked to your savings in case of an issue.
Don't let the salesperson talk you into buying the stuff you don't need. Create your priorities before going shopping. Determine how much you want to spend on something before finding it. Don't buy it if it is more expensive than you think it should be.
Create a budget and stick with it. You don't need software or an app to do this. Simply use a spreadsheet and write down the amount of money you make, and determine how much you need for your fixed (regular) expenses and your variable expenses. Don't forget to put money in your savings account.
You are a college student. Ask for a discount! There are many student discounts, don't be embarrassed to ask for them. You deserve it.
Feel free to visit this post to help you save money.
Well, there you have it. Taking these tips into account when a student is in college will keep them on track for successful college life. I hope these tips help you stay focused on achieving your goals. Do you have anything to add? Please feel free to mention it in the comments. I would love to hear from you.
(Visited 572 times, 1 visits today)