****Visit our "Disclosure Policy and Cookies" for details. Affiliate links appear on this page from Google Adsense, Amazon, Order Out of Chaos, Impact affiliate members, Release, Repurpose, Reorganize, and Shareasale affiliate members.****
This time of year, we are all exposed to different ailments because we are usually indoors most of the day. Germs and viruses are all over the place, especially for students in college. I noticed that there are specific self-care remedies we use at home that my kids completely forget about when they are away in college. So, I wanted to remind them and you that there are things you can do to take care of yourself while away from home. I broke these self-care remedies into common ailments like sore throat, cough, fevers, jaw tightness because of stress, stress migraines, neck tightness, problem sleeping, sinus congestion, and lower back pain.
I always recommend going to the student health center first, but if you don't have the time, you can try these. Remember that these suggestions are just that; I am not a doctor, but I found these remedies helped me and my kids take the edge off of the ailment so I could function until I had the time to get to the doctor in a day or two. Let's begin.
Jump to:
***I added Amazon links that are examples of products you can buy for these ailments if you have stronger remedies than the home remedies below. If you click through and buy something on Amazon, I will receive a small referral fee at no additional charge to you.
For a Sore throat:
Gargle with salt dissolved in a cup of lukewarm water.
A teaspoon of honey mixed with one squeezed lemon juice. Use a spoon and swallow it slowly.
Take throat lozenges.
***AD*** The best academic planner for students! Order Out of Chaos Academic planner helps track time and tasks! Buy 1 or more today!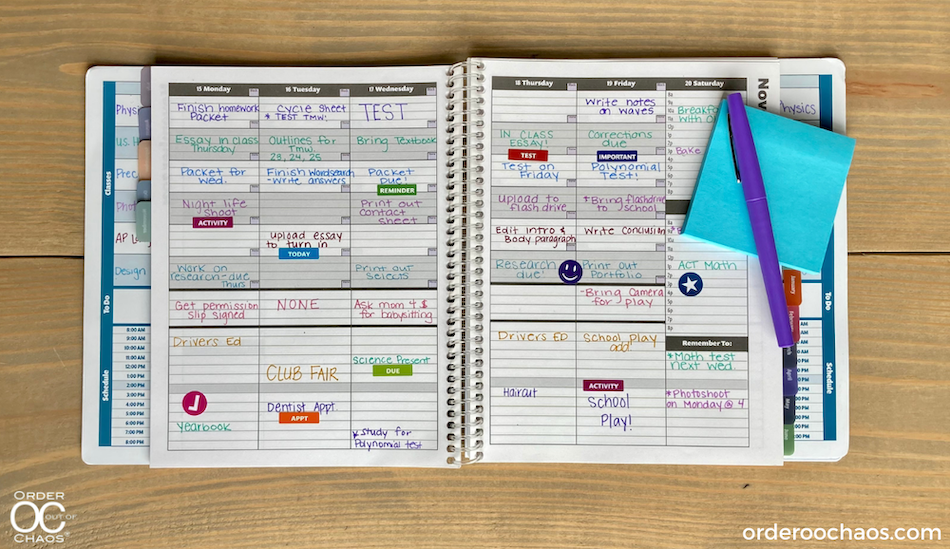 For a cough:
Drink water throughout the day.
Drink herbal tea with honey.
For fevers:
Take your temperature.
Use Advil twice a day as instructed.
To bring the temperature down, use ice in a baggie, and place it on your forehead for an hour or so.
Stay covered under lots of blankets to force your body to sweat it out.
For jaw tightness from stress:
Press your tongue to the roof of your mouth to force your mouth not to lock closed.
Massage the sides of the jaws near the ear for 5 minutes.
Use a mouth guard at night.
Chew gum.
For stress migraines:
Do it in a circular motion using your pointer and a middle finger placed on your temples and massage for a few minutes.
Press with your thumb between the top of the nose and the eyebrows for 1 minute.
For sprained wrists and ankles:
Other self-care remedies are for strained wrists and ankles. This one comes up often in our home because of too much typing or walking around campus.
Add ice for 20 minutes 3 times a day.
Then, alternate between heat and cold twice a day for 20 minutes.
For neck tightness:
Massage your left side with your right hand by crossing the front of your body to get to the opposite shoulder of the left side. Do it for 5 minutes. Use the left hand to do the right side.
Heat the heating pad for a few minutes in the microwave. Add to shoulder for 20 minutes at a time. Do it a few times a day.
For problems sleeping:
Turn off devices at least 1 hour before going to bed.
Write down your to-dos for tomorrow.
Stay away from caffeine (coffee /black tea) and sugar afternoon.
Pray (if you do that).
For upset stomach:
Eat candied ginger cubes.
Drink Canada Dry ginger ale.
Stay away from spicy foods.
For sinus congestion:
Another ailment is sinus congestion. These self-care remedies are great for feeling better again.
Take a hot shower that has steamed up.
Use the Netipot or saline once or twice a day.
Eat spicy buffalo chicken wings for quick relief, then blow your nose.
For lower back pain:
Bend down and touch your toes for 30 sec 3 times.
Do some leg stretches by twisting your midsection by crossing your leg over the other leg. Hold for 30 seconds on each side.
While these ailment remedies are wonderfully helpful, it's essential to prevent these ailments from happening in the first place. Here are some things you can do to help your body stay healthy throughout the year.
Preventative care to stay healthy all the time:
Take vitamins daily.
Get plenty of sleep.
Eat a combination of veggies and meats. Avoid starchy foods, like potatoes, bread, pizza, etc…
Do exercise 3 days a week.
Do meditation or yoga at least once a week.
Clean your room weekly with wet cleaners like Windex or white vinegar with water on paper towels.
Hang out with friends and family. Stay connected with others in person.
Well, there you have it. I hope these self-care remedies help you and your college student stay healthy this winter. Below are some additional self-care posts to keep you healthy this year. Feel free to visit them as well.
TOP SPOTS TO CLEAN IN YOUR HOME TO STAY HEALTHY THIS WINTER from our website
EASY HEALTHY SNACKS FOR COLLEGE STUDENTS DORM LIFE from our website
8 Quick Self-Care Strategies for College Students
21 Easy Ways to Practice Self Care
(Visited 365 times, 1 visits today)