Elementary school can be stressful for your little student. But it doesn't have to be. To help you organize your elementary school student, I put together tips and had my fellow Professional Organizers community share their content as well.  I hope it helps your child feel less stressed on their first days of school.
Here are ways to organize an elementary school student for success:
Set up a student study area for your student. It could be the dining room table or a table in their living room. Wherever it is, make sure to have all the school supplies they may need nearby and organized. Here is a school supplies caddy DIY project I created for my kids and have used it for years.
Have a place in your student's backpack for papers to come back and forth from school. Sometimes the kindergarten and first-grade teachers will provide this. If your teacher doesn't provide it, make sure your student knows where to put the papers for homework and communication for school.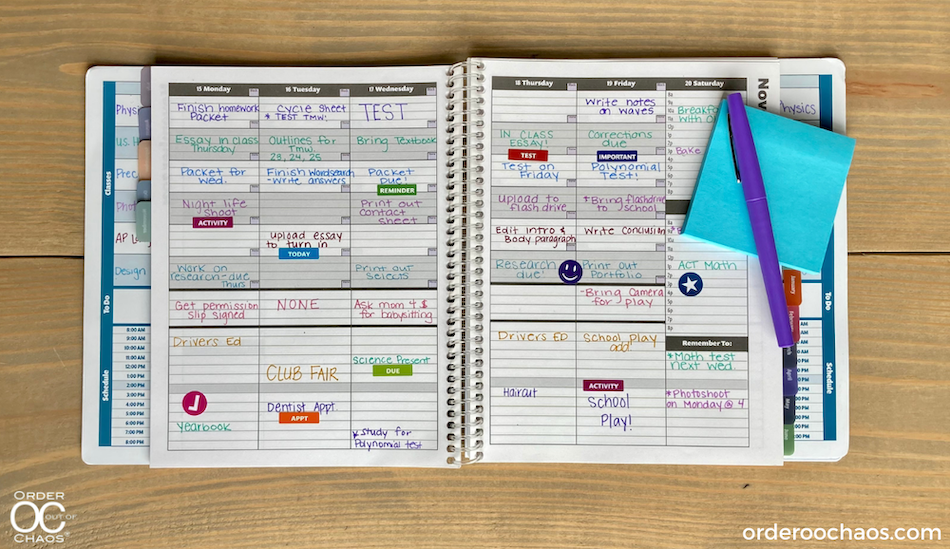 Have a system in place to help you manage the incoming school papers. This could be a filing cabinet or just a portable accordion folder. Click on the image below to see my paper filing system.
Create a weekly paper sorter in your command station. This would be a place for weekly paperwork that needs to be taken to school or placed in a backpack. I created a few of these current weekly organizers. You can check them out to see if they work for you. Click below to see how I made this DIY weekly paper sorter that can be made quite easily.
Here's another weekly paper sorter I created out of large wood clothespins.
Not only do you have to organize the papers at home, but you need to instill good habits with your elementary school kids now while they are still learning how to manage their time and stuff. Below are great tips from other Professional Organizers to help you get your elementary kids organized.
Elementary School Student Tips from Professional Organizers
"This is probably not your typical tip - but I feel that it is an organized parent is one of the best lessons that we can teach our children. Elementary are students are totally impressionable and will follow our lead in the areas of time/schedule management. Some of the things that we put into place when she went off to Kindergarten were - Consistency in storing: backpacks, shoes, jackets, and lunch boxes every day. Creating routines will save everyone time, frustration, and stress. And, it helps create organizational habits at a young age." ~Linda Clevenger from Organization Direct
"Have a homework caddy and school supplies at the ready wherever your child does homework. Mine worked at the kitchen table so I had a three drawer Sterilite organizer in my pantry for paper, scissors, pencils, pens, colored pencils, crayons, index cards, etc. It saves time and stresses not having to search for what they need to do their homework and projects. I'd also say it's so handy to have a place in the refrigerator and in the pantry for kid snacks and lunch items. This way they can help prepare their own lunches. Teaching independence is so important." ~ Daria Harvey from Your Organized Life
Want to Organize Your Home But Are Stuck? Check out this product! You can do one card task a day and get it done!

Visit Release Repurpose Reorganize (affiliate) website to purchase these motivating deck of cards.
"Always keep graded school work until the end of each grading period. If there is a question about a grade, you have something to carry into the conference. At the end of each grading period, cull most of the work keeping only the best." ~ Jonda Beattie from Time Space Organization
"Create a landing pad near your main entry/exit door for backpacks, shoes, lunch boxes, and other activity related items. This way everyone will know where things are and they won't be searching around the house looking for lost or misplaced items. Near your landing pad, have a master checklist for the kids to check before leaving each day. The list can include things like: Do you have your homework, signed papers, lunchbox, lunch money, after school activity/necessities, keys, gym clothes, band instruments?" ~ Liana George from By George - Organizing Solutions
"When you save those precious school moments, don't forget to date them with the month and year!" ~ Stacey Anderson from Life Gets Organized
"Simplify your lives by being intentional about how many activities each person participates in." ~ Hilda M. Rodgers from From Overwhelmed To Organized
There are so many things that come about during the school year that you may want to keep, We are sharing a few of the apps to stay organized with all those keepsake items.
GREAT KEEPSAKE APPS AND WEBSITES FOR ELEMENTARY SCHOOL STUDENTS AND THEIR PARENTS.
Below are two apps to help you organize your students' memories:
Cool Product - Artkive App post by Stacey Agin Murray - A really neat app to help you manage all your elementary school student's artwork. See how Stacey used it.
Review of Keepy App To Organize Kids Momentos by Sabrina Quairoli - This app gives you different opportunities to keep your kids stuff. See how I used it.
I hope this post helps you and your children stay organized this school year.
Do you have any tips you want to share? Please leave a comment below. I would love to hear from you.
Labeling made fun! The website below, Mabel's Labels, customizes labels to help them look cute, are affordable, and help your kids enjoy labeling their own stuff. (affiliate)
Below are Amazon (affiliate) links. If you click through and buy something on Amazon, I will receive a small referral fee at no cost to you! Happy shopping!
(Visited 1,054 times, 3 visits today)