I have two great kids, and both of them are in high school.  At their high school, the kids carry around their backpacks. Last year, they needed a 1-inch binder for each subject, and my poor son carried around five binders and two folders that were never used except to hold a spiral notebook and the pockets (filled to the brim of handouts and tests all jammed into one).  By the end of the year, when he had to gather his papers to review for finals, he was so overwhelmed that he never decided again. We needed a better way for him to manage all the papers so he can refer to them at the end of the school year.
So, to help him organize his backpack, we decided to do something different this year.  Here is how we created his bag organization.
First, we determined how many sections (tabs) would be needed for each subject. This is what we came up with.
For English and German
Notebook
Vocabulary
Handouts/Worksheets
Quizzes/Tests
For European History and Algebra II
Notebook
Handouts/Worksheets
Quizzes/Tests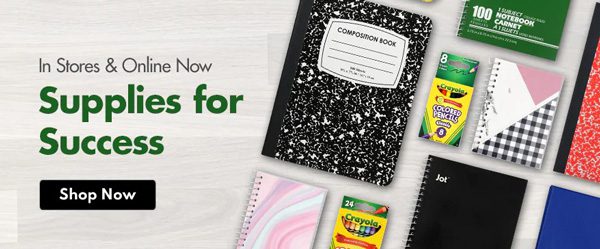 For Biology
Notebook
Lab
Handouts/Worksheets
Quizzes/Tests
***AD*** The best academic planner for students! Order Out of Chaos Academic planner helps track time and tasks! Buy 1 or more today!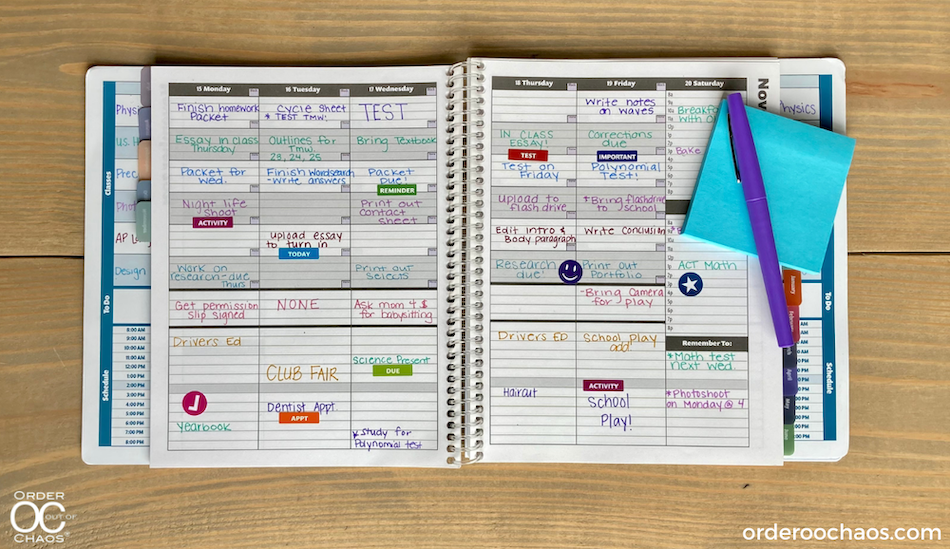 For Chorus and Health
A Folder with pockets and loose leaf paper attached in the center.
We washed his backpack from last year.  This bag lasts two years, and we keep buying them because they are durable and can handle a boy.
The key to successful paper management is to have an easy system to maintain & retrieve.
Then, I found these backpack accordion folders with six tabs and seven spaces from Target. I used a black marker to write the sections on the tabs inside the accordion folder for each subject. I used the label that came with the accordion folder and folded two of the labels together so it wouldn't slide out when the accordion folder turns on its side. It's so annoying when a tab slides out of an accordion folder.
I labeled each accordion folder in the front and on top with 1-inch label maker labels.  As a Professional Organizer, I have a professional label maker, but if you do not have this, you can write the subjects on tape and make your labels.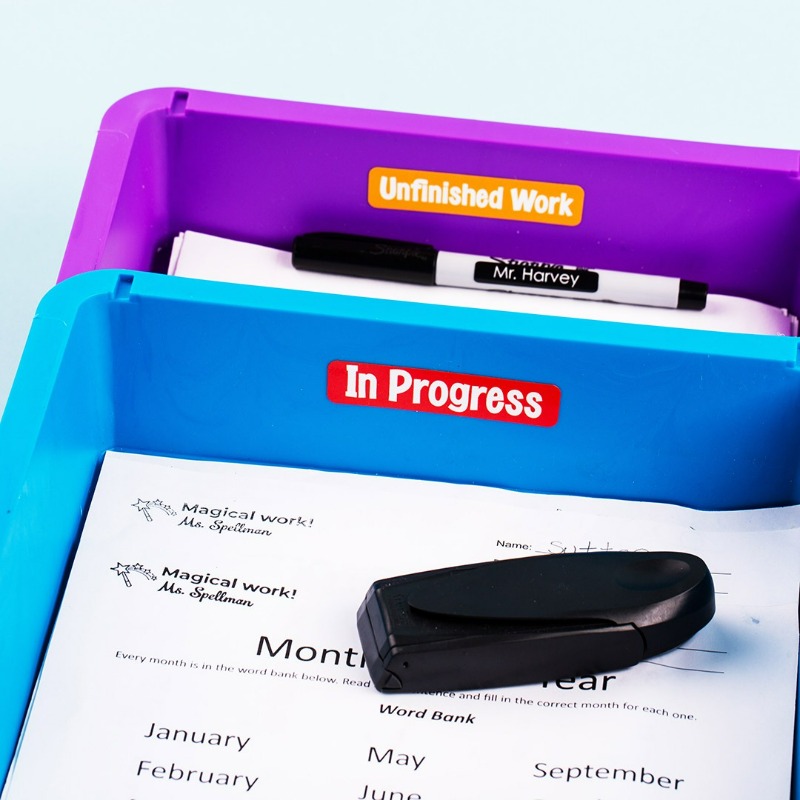 We then placed the accordion folders in the backpack in order of his schedule so my son would first use the front section in the morning and the second section in the afternoon. Here is how it looks from the top.
If you are looking for an academic planner, check out the most recent post for purchase options and details on how we used this academic planner.
The front smaller pocket became his pencil case.  This section holds his calculator, pens, pencils, erasers, dry erase markers, index cards, and stick notes.  By the way, the index cards are in a small index card spiral notebook so he can tear them out and they don't get lost in the pocket.
This entire setup took one(1) hour.  It didn't take long and hopefully; this secure system will help him throughout the year.
At the end of each semester, we store the older semester paper into a large accordion folder.  This accordion folder stays home in his study area.  And, at the end of each marking period, he will take those papers and organize them by the subject and by handouts/worksheets and quizzes/tests. So, hopefully, this will help him find the appropriate documents he needs to review for the finals at the end of the year.
I hope this gives you some inspiration on how to organize your child's backpack.  I will update this post from time to time with the process of how he is maintaining his backpack.  Come back and often visit to see if he can keep it organized.  Let's continue the conversation.  If you have any questions about paper management, please leave it below.  I will do my best and reply as soon as possible.
(Visited 3,447 times, 21 visits today)