Like most parents, my kids are in after-school activities as well as activities during the school day so to make my foyer a little neater and my kids stuff a little more organized, I wanted to create a space for them.  The area needed to be hidden when I have company over yet still be functional for them when they need it. After doing some thinking and visiting my nearby Target, this is what I came up with. It was an open shelf cabinet with bins.  But, it really looked quite messy and there was no room for the backpacks.  I lived with it for a while until the backpacks got even bigger when they went to middle school.
I went back to Target and found a cubby bin unit that would fit the backpacks nicely.  The different color bins helped the kids distinguish between each child's bins since they couldn't see in them anymore. The bins were able to hold all the after school clothing and uniforms easily and had extra room.  The kids back up now had a home, which I loved even if the backpacks were hanging over the cubby a bit.
The unit even fit in the 24 inches of space I had between my railing and my powder room door.  Woo hoo! I haven't decided what labels to use yet but informed the kid which color was theirs. Hopefully, it will all fit when school starts. Only time will tell.
***AD*** The best academic planner for students! Order Out of Chaos Academic planner helps track time and tasks! Buy 1 or more today!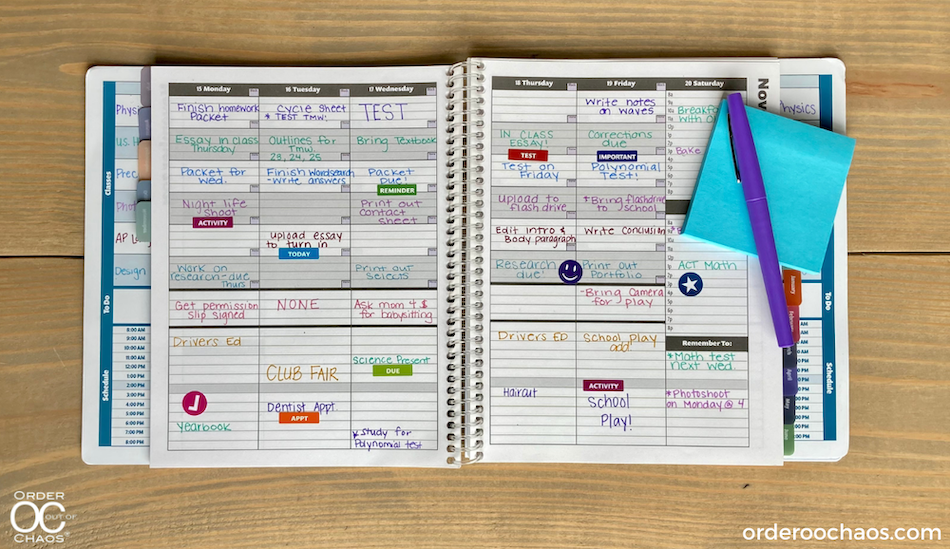 UPDATE:
This system worked great for years, until recently when my daughter got involved in activities that involved instruments and large sabers. We have gotten rid of the cubby unit and now made room in our double closet to store the backpacks on a shelf that is mounted to the wall. Since the equipment are temporary, I don't mind it being out as much.
Thank you for stopping by and checking out my foyer story.  Do you have a situation like this? Please share your experience and what you decided to do below. I would love to hear from you.
(Visited 324 times, 1 visits today)