Living in a dorm can be very cramped, and it can be downright uncomfortable if there are two people or more with all their stuff. Keeping the dorm room clean is critical for keeping germs at bay and minimizing sickness. Today, we will talk about 15 easy tips to keep dorm rooms clean.
Jump to:
Make sure you have everything organized in a dorm room.
First, let's make sure the dorm room is organized. Stuff on the floor can easily be in the way of allowing you to clean effectively.
15 Tips to Easily Maintain and Keep Dorm Rooms Clean
There are simple ways to clean your dorm rooms without too much effort. Many of these tips are done before or during your move-in. Near the end, we discuss how to make cleaning easy and maintainable and what supplies you need to do this task easily.
Store the small things in clear bins.
The more piles of small things you have, the less likely you will want to clean under them. So, storing small items in a larger container will allow for easy moving so you can clean them.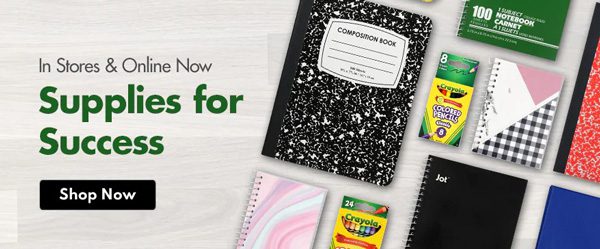 Put things away when you pull them out.
Remember the rule, return something when you take it out. This applies here. Getting into the habit of returning things to their home will make for an easy clean dorm room.
***AD*** The best academic planner for students! Order Out of Chaos Academic planner helps track time and tasks! Buy 1 or more today!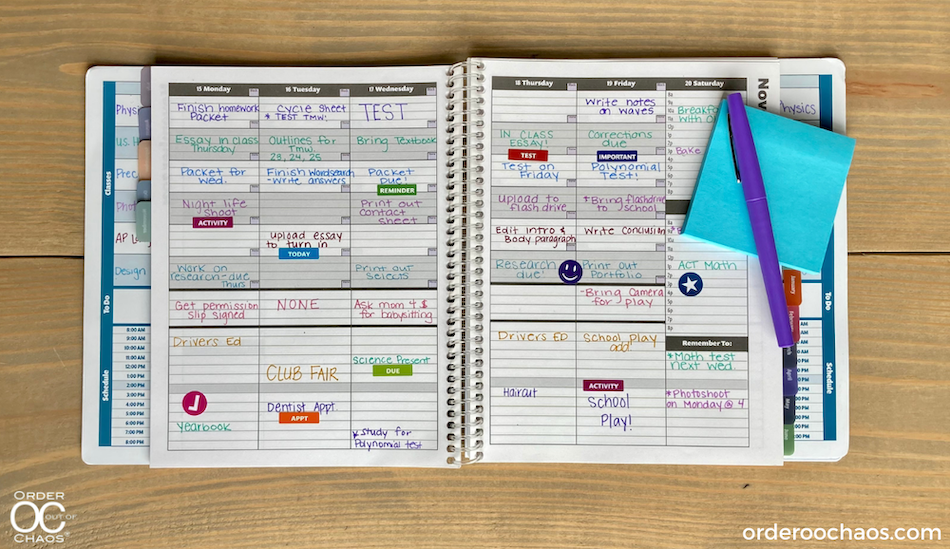 If you borrow something, return it right away.
In dorms, you may want to borrow something from another dorm mate or a friend down the hall. Returning these items will remove clutter from your immediate place and allow you to clean where that item was placed.
Remove empty boxes when you are finished with the content.
Whether the boxes are food containers or just boxes from devices and other things you bought, these items should be recycled and removed from the room as soon as possible. It will clutter the space and make you less likely to clean the dorm.
Minimize the amount of stuff in your dorm. Use items that are multipurpose.
Finding items that are for multitasking is very important in a dorm room. You will cram many things into one room, so think about how you will use that item before bringing it and ask yourself, "Does the item have another purpose?"
Go vertical on the wall with storage by storing the things on your desk in vertical shelving.
Most dorm rooms are small. The trick that all Professional Organizers know is to utilize the vertical space in a room as much as possible safely and securely. Tall bookshelves or open shelving help store items in a small room and minimize the things you have to walk over to get in and out of the room. Instead of dusting all the items, you only have to wipe the very top and shelf areas that are exposed, resulting in less time cleaning each week.
Make a home for everything.
When setting up a dorm room, don't just place things in areas "for now." Make a conscious effort where to place the items. For example, putting food/plates and mugs near a refrigerator works better than storing these items in a closet when the fridge is on the other side of the room.
Organize the closet from top to bottom.
Using all the areas of the closet is key to a well-organized space. If you have more than 2 feet of space on the shelf in the closet, you can turn some sturdy rectangular bins on their side and use the side of the container to hold extra sweaters. Simple changes like this will help maximize your space. Below are some examples of bins for the shelf you may want to use that will also maximize the space.
Then, when you need to store shoes, you can use an upright bin to hold all the shoes in one place. A shoe organizer may not function well in a dorm closet because you may lose some space for other things. Below are some shoe bins that you can use at the bottom of the closet.
Keep the plants and other hobbies to a minimum.
Taking too many things with you can make your space cluttered and dusty. Reducing the plants, while they are great in a dorm room, will help keep the collection of dust at bay. I love plants, but dusting them is something you need to do every three months. Minimizing the plants will save you time too.
Hobbies are great to get your mind off the new school and life. But, they can easily clutter the dorm room. Try picking your favorite hobby and reducing it down to the essentials. Keeping some of the supplies at home will allow you to do your hobbies when you return home over break.
Pick up after yourself.
Another tip to keep your dorm room clean is to pick up after yourself. Throwing things down without thought will create a pile of items that will take way more time to clean up. Assigning a place for different objects and remembering where they go will keep your space clean, not having to move certain things all the time to clean.
Minimize how many kitchen items you have.
You don't need a serving box of plates. One or two plates, two bowls, and two forks/knives work perfectly well. It forces you to clean them more frequently too.
Do laundry every week or two.
Another tip is to do laundry every week or two. This will help you keep your clothes clean and reduce the number of piles around the dorm room. Finishing the action by folding them and placing them in drawers or closets will keep your laundry basket empty and reduce the risk of overflowing clothing.
Eat everything before buying new food.
Schedule a week not to buy any meals/food. Make it a point to finish off all the snacks, beverages, and meals once a month to ensure no food has a chance to go to waste.
Do not have too much fabric in your room.
A blanket or two and a few pillows work great in a dorm room. Adding too much fabric to a space will add more dust to the area. Look for posters instead of fabric tapestry. Try these magnet poster hangers with command hooks for easy assembly.
When taking a break from school work, take a damp cloth and whip down things like a desk, bed frame, dresser, and refrigerator. You can even clean out the inside of the microwave.
Visit our other posts to help your student have a successful college experience.
And now that your dorm room is organized to stay clean, you can set these habits to make the process easy and quick.
How to Keep Your Dorm Regularly Cleaned
Routine maintenance is critical.
Make sure to schedule a time to clean your room. To remember when you need to clean the room, pick a time over the weekend or in the evening and add it to your calendar with a reminder notification. Once a week works great, but if you can't, every other week works. Areas you need to clean each week are door knobs, floors, bathroom sink, tub, toilet, refrigerator, and microwave.
Changing the sheets is essential. If you do not use a top sheet, you will need to clean the blankets you use.
Clean the handles and shared areas. Some areas are constantly touched like the door handles—a quick wipe with a paper towel and window cleaner. Then, after drying, use a disinfecting wipe or spray. Keep in mind that these areas should be cleaned often to minimize the spread of germs.
Remote controls on shared devices. If you share a TV, computer, or anything electronic in your dorm room, clean those items thoroughly. NEVER spray directly on these items. Always spray on a paper towel, then clean with the paper towel. Visit our How to Clean Home Electronics for more tips.
Dusting is important.
Now let's get to dusting. Does each surface in the dorm room? Things like lamps, bed frames, desks, and dressers, can easily be dusty. Check out the window treatments and window seal too. If you have seasonal allergies or are allergic to dust, you may need to do wet dusting, which involves wetting the paper towel or cloth and dusting the pieces of furniture and maybe even the walls.
Mirrors and windows need cleaning too. Don't forget to clean the mirrors and windows with window cleaner and a cloth or paper towel. Mirrors are not just full-length ones; they are also the makeup mirrors you may use.
Clean the bathroom tub, toilet, and sink. These areas are the most shared areas in a dorm room. If you have a shared bathroom in your dorm, take turns cleaning it with the other dormmates.
Empty the refrigerator and microwave. Cleaning these areas is critical in a dorm room. They can easily be forgotten. When you return from break, you will surely regret their state just when opening them and have to clean the inside of them.
Clean under your feet often.
Dust under the bed. This area is usually forgotten, but it can get super dusty. A quick grab with a mop of all the dust bunnies will help you breathe better in your room.
Vacuum the rugs and floors. This should be the last thing you do when cleaning your dorm room. When it falls off of other things you cleaned, they will land on the floor, so vacuuming should be done last to pick up all the dropped crumbs and dust.
Supplies to Have in the Dorm Room for Easy Cleaning.
While there are lots of things you can use to keep your dorm room clean, it is important to only stick with the best possible options to minimize clutter. Below is a list of items you can get that will not only do a great job cleaning your dorm but also will not take up too much space.
Cleaning wipes or Cleaning multipurpose spray for the furniture - a pack of 2 is plenty.
Toilet bowl cleaner brush and one bottle of liquid.
Reusable cloths for cleaning - these can be microfiber ones. Have about four works nicely - two for one week and two for the next week when the first two get washed.
Vacuum cleaner - Small compact one that can be cleaned out quickly.
Swiffer wet pad and mop or something similar.
Window cleaner - This can be used to clean several items around a dorm room.
Trash bags - large and small - The small ones are great for bathroom trash cans, and the large ones are great for quick pickup and decluttering.
A shower brush and shower cleaner spray - The brush is great for reaching high places in the shower. The spray can be used weekly and rinsed to help keep the bathroom shower clean.
Two Air fresheners - With two people in the dorm room, an air freshener may be needed.
Disinfectant Spray - one bottle is plenty.
Dish soap and sponge - this helps quickly clean off used plates and other things.
Gloves for cleaning - These can be plastic ones or disposable ones.
Please note these are affiliate links through Amazon, and at no additional cost, I will earn an affiliate commission if you click through and decide to make a purchase.
Well, there you have it! I hope this post helps you get your dorm room organized and clean during your stay. Feel free to leave tips below to help others.
Visit these posts I found online to help you keep your dorm room clean.
What needs to be cleaned in a dorm room
The Complete Guide To Keeping Your Dorm Room Clean and Tidy
How to Clean Your College Dorm
(Visited 347 times, 9 visits today)