Each year, I focus on back-to-school success for younger and college students. This year, I am starting out with something different. Motivational Quotes help us all get perspective on our lives. As parents, we want to help our college students succeed and work past the pressures that come with going off to college. Motivational quotes can help with this. A great way to help your kids is to place motivational quotes around your student's college dorm. The below quotes were found over a year ago when my son went away to college for the first time. I held on to them to share here for other parents, like me, who are looking for some subtle ways to show their children you are there for them and are rooting for them. Adding one or two quotes to their college dorm is a wonderful option. Which one is your favorite?
Jump to:
"Excellence is not a skill. It is an attitude." by Ralph Marston
"You've got to get up EVERY MORNING with determination if you're going to go to bed with satisfaction." ~ George Lorimer
"You can't use up creativity. The more you use, the more you have." by Maya Angelou
Your time is limited, so don't waste it living someone else's life." by Steve Jobs
"Courage doesn't always roar. Sometimes courage is the quiet voice at the end of the day saying, 'I will try again tomorrow.' by Mary Anne Radmacher
"Find something you're passionate about and keep tremendously interested in it." by Julia Child
"The voice that tells you 'you can't is usually lying. The one that says you can't do it all at once usually isn't." by Marsha Wright
"Change your thoughts and you change your world." by Norman Vincent Peale
"Things work out best for those who make the best of how things work out." by John Wooden
Now that you have the quote you want to use, let's give you some options for displaying these quotes in your child's dorm.
How to make a motivational sign for your child's dorm?
First, start by finding the foundation for the quote. You could use a picture frame. Plastic instead of glass works best for transporting. Some other items you can use are wood, paper, and foam core boards.
Then, determine your writing method. If you have a Cricut, you can use vinyl adhesive paper. Have good penmanship? You can use a thick Sharpie Marker (affiliate). If you are wondering about the Cricut Maker and what it can do for you, click on the affiliate link below and check out the Cricut Maker! I have one, and boy, is it fun to use for my craft projects!  After you write the quote, you can decorate it with the colors of her room so it doesn't stand out too much. This is a wonderful gift for your daughter or son to give them on the move-it day. 
I hope you find that these quotes help your child when they feel down. Bookmark this post and feel free to share these quote images with them throughout the school year. What is your favorite quote that you shared with your college student? Please leave a comment below. I would love to hear from you.
Feel free to visit our other College Success posts, where you can find suggested dorm stuff and other tips for success. 
***AD*** The best academic planner for students! Order Out of Chaos Academic planner helps track time and tasks! Buy 1 or more today!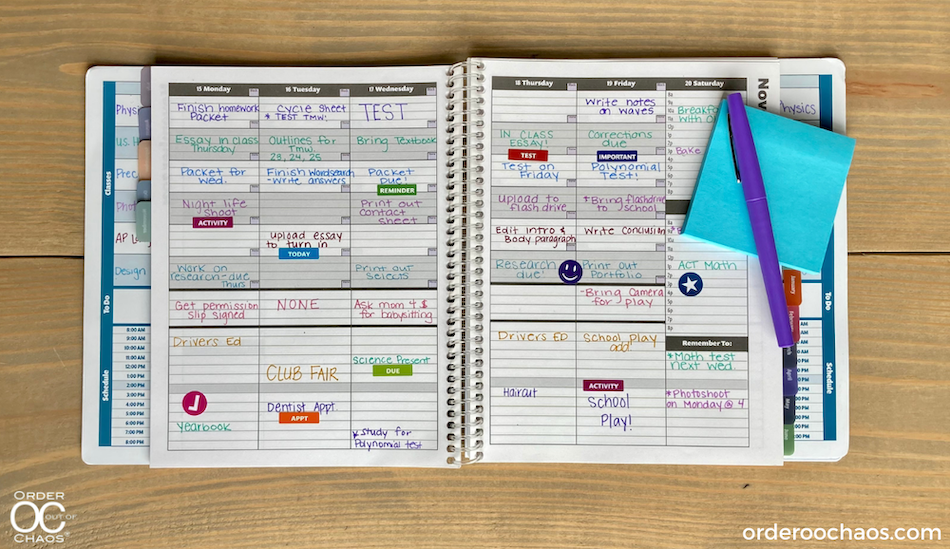 (Visited 1,538 times, 10 visits today)