Last time we talked about how to take care of clutter that you woke up to in the home. In part 3, I will discuss the sorting process to help you when reviewing the items kept. This part of the process will help you see the light at the end of the tunnel. The initial preparation is the most critical part of this process. The following steps will make the actual sorting process much more comfortable.
Jump to:
Now that you cleared out the donated and given away items, you should have the space to sort your kept items. If not, clear a space for sorting.
Create categories that are descriptive and not too general.
Instead of using the words ―Spices and Herbs, use 'Spices' for one group and 'Herbs' for the other group. Here is a list of descriptive titles for your categories:
Gardening tools
Gardening soils
Fertilizer
Beads
Ribbons
Markers
Pens
Hats
Shirts
Pants
Winter shoes
summer shoes
Pots & pans
Forks
Knives
Spoons
Tea
Breakfast things
Bread
Kid's hair supplies
Using the different colored 8 ½ x 11 papers, write one of the specific categories on each piece of paper.
Place them in various areas around your space. If you are dealing with small items, you can sort them on a large countertop or table, so you don't have to travel too far, and the process will be quicker.
Sort those "like" items!
One by one, place the items in the appropriate category. It will present itself in this process if you need to add or subdivide a group. You may have to modify the sorting process while doing the work because doing it clarifies how the process will work most efficiently. Be flexible in your system. If you get stuck, ask a family member or friend what they think of the process. A fresh look at your work will make the system work even better.
Need accountability while going through your decluttering and sorting process, check out my Virtual Organizing Service!
After completing the sorting process, measure the area of each category.
This step will give you a good indication of how big and how many bins you will need. For several smaller items, consider storing them in a tiny container with dividers. Be sure to decide on a place to store the bin or drawer. Make a list of categories you used, where they will be stored, and what size bin is needed for that space. Mark the depth, height, and width of the area as well. Take this list with you to the store to purchase the needed bins.
There are many places to purchase affordable containers.
I like places like discount stores like T.J. Maxx and Marshalls, Dollar stores, online discount stores like Overstock and Wayfair, and even yard sales and flea markets. Be creative in finding these bins. You may also have them in your home already. Check-in those storage areas. We tend to have them holding items that have not been used for years.
Place the items in the new or repurposed container and store them in the assigned place.
This process may take some time. Work through one room at a time and get it the way you want. If you have smaller items to organize, try sorting them while watching TV or listening to music to help make the time go faster.
Label each bin.
To help you maintain the space, you can use a labeler or just handwritten stickers for your labels. It will help you and everyone using the area to know where everything goes. I like using pictures and putting words under the images for children who do not read yet. Full sheet labels for your printer work nicely. After they are printed out, cut them into squares and affix them to the front of the box. Here are examples:
Have a family meeting!
After you finish each room, have a family meeting and explain where everything goes. You may have to explain it a few times. This happens to every family when one person initiates the organizing process, and the others aren't wholeheartedly involved.
That's it; congratulations on getting rid of the clutter! You completed the organizing process. After the three phases of ―Awaken to Your Clutter Blindness, your home and you will feel more calming. Be proud of all the work you did. Modifying the space in the future will not take nearly as long. So, revisit each area once a year to see if it will still work for you.
Visit these pages first before doing the sort kept items step.
How to Awaken From Clutter Blindness – Part 1
How to take care of clutter in the home – Part 2
Fill out the form below, and you will receive a FREE copy of Awaken to Your Clutter Blindness ebook and workbook I made.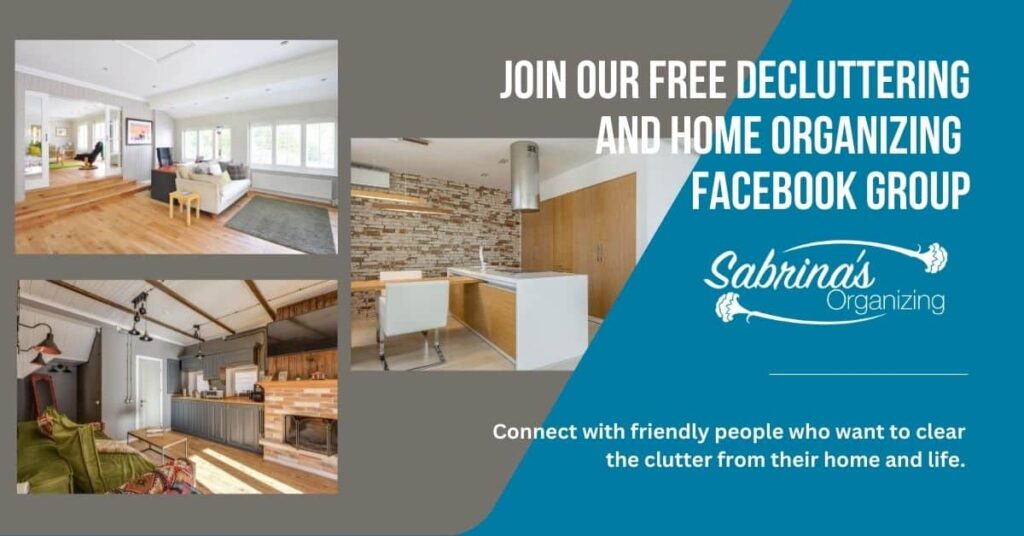 Visit our recent posts!
Please note these are affiliate links through Amazon, and at no additional cost, I will earn affiliate fees if you decide to make a purchase.
(Visited 1,576 times, 1 visits today)