****Visit our "Disclosure Policy and Cookies" for details. Affiliate links appear on this page from Google Adsense, Amazon, Order Out of Chaos, Impact affiliate members, Release, Repurpose, Reorganize, and Shareasale affiliate members.****
Are you wondering where the clutter is in your home? Have you ever walked around your home and couldn't find clutter you didn't want or need? Did you ever walk around your house and not see the clutter? You could be walking over things and not realize it. This is clutter blindness. Indeed, it is a massive obstacle before you start the decluttering process.
I will help you awaken to clutter blindness in your home seamlessly. So, in this three-part series, I will share how to awaken to clutter blindness and keep the clutter at bay once and for all.
Jump to:
Clutter blindness definition
Clutter blindness is defined as unseen clutter, even though it may be right in front of you. Your brain doesn't process these items as clutter because it has become a fixture of your home or office, and you forget what these items were used for in the first place. The result of clutter blindness is cluttered homes and stressful lives.
11 Signs you have clutter blindness.
There are numerous signs that you have clutter blindness. Below are just some of them.
You have many incomplete tasks around your home.
Feeling unhappy with your home or life.
The items become hazardous in your home. There are areas of paths to get through the room.
Friends and family offering to help you clean could indicate that they see that clutter you do not see.
Looking for things becomes an issue.
You may have piles of things all around your home collecting dust, which doesn't bother you.
There are no assigned places for things.
No systems in place for papers.
Spouses or family members are annoyed that the house is a mess.
You feel like the house is never cleaned.
You always say 'yes' to free stuff.
If you can relate to these signs, you probably are clutter blind. Now, what to do about it? This three-part series will show you how to awaken to the clutter blindness that occurs. Read on, and get the free book and worksheet to awaken the clutter in your home.
Awaken to the Clutter in your home - Part 1
Since this clutter blindness process doesn't happen overnight, I have derived a way to reconnect to the clutter in a home and office.
Here are the first steps on how to awaken to the clutter in your home:
First, pick a room and start with a notepad marked with 5 columns and write the following header at the top of each column:
Assign a Task Name - be specific and make sure it isn't several tasks. The way to keep tasks manageable is to break them down into small steps. It may seem like many steps, but you can handle them easily because it is more realistic.
Tasks take 15-30 minutes - check if this column can be completed now. This task would take less than 15 minutes or ½ hour to do.
Tasks take 1-2 hours- check this column to see if it can be completed in two hours.
Tasks take 4-6 hours - Check this column if a particular task has several steps and involves planning.
When should I have it done? - Add the date that you want to finish it by. Nothing else. Remember, this is only to help you awaken to the clutter.
Next, write down how you are feeling during this process.
Ask yourself these questions while finding the clutter in the room to help you determine how you are feeling.
What room should I work in first and why?
What is the most important task in this room?
How do I feel while looking at these unfinished tasks?
Are there tasks I listed here not going to help me reach my room/life goals?
Will I be able to do these tasks myself, or will I need help? If I need help, who will I ask?
Now create a roadmap.
Now it is time to create a roadmap for the room. Write down the list of tasks you have to do for this room. This part is where you will break down the list of tasks above to be even more specific.
To organize the tasks, you can write down specific tasks on sticky notes and organize them from the first step to the last step. I included a Roadmap and Even More Tasks pages in the free Awaken to Your Clutter Blindness ebook.
If you want a free instruction ebook and workbook I made for you and all my other ebooks, please add your information here, and I will send you the one I made.
Where should I start to find this clutter?
Start at the entryway of any room in your house that you wish to awaken to the clutter.
Close your eyes and take a deep breath and let it out. Open your eyes and walk into the first room.
Then, slowly start from the right of the doorway and look around the room. Look for signs of incomplete projects like: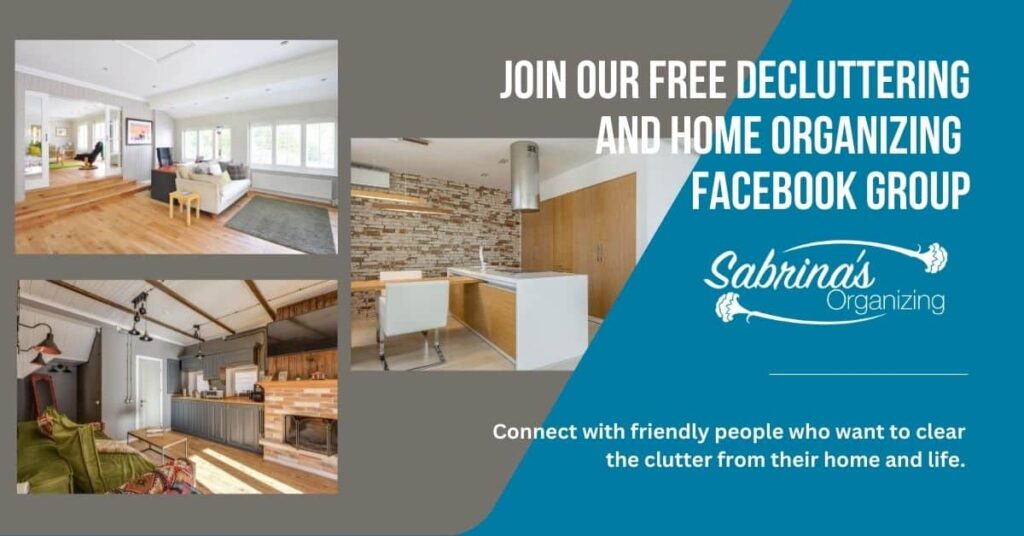 Items that are out of place
Items that need to be taken care of
Trash that may need to be thrown away
Items that need to be given away
Projects that need to be started
Projects that need to be completed
Write down the uncompleted projects and items that need to be removed and corrected on your notepad, and assign 'a deadline' for every task.
Remember to pretend you are in someone else's house to help minimize the judgment you may have about the clutter you see.
Schedule the time to complete these tasks.
With your checklist, detailed tasks, and your planner, assign a time for each task. This may take some time to do, so don't be discouraged.
***AD*** from Released Repurpose Reorganize: My List Simplified journal is a wonderful organizing tool for planning a move or a renovation. Use it to corral all the to-dos.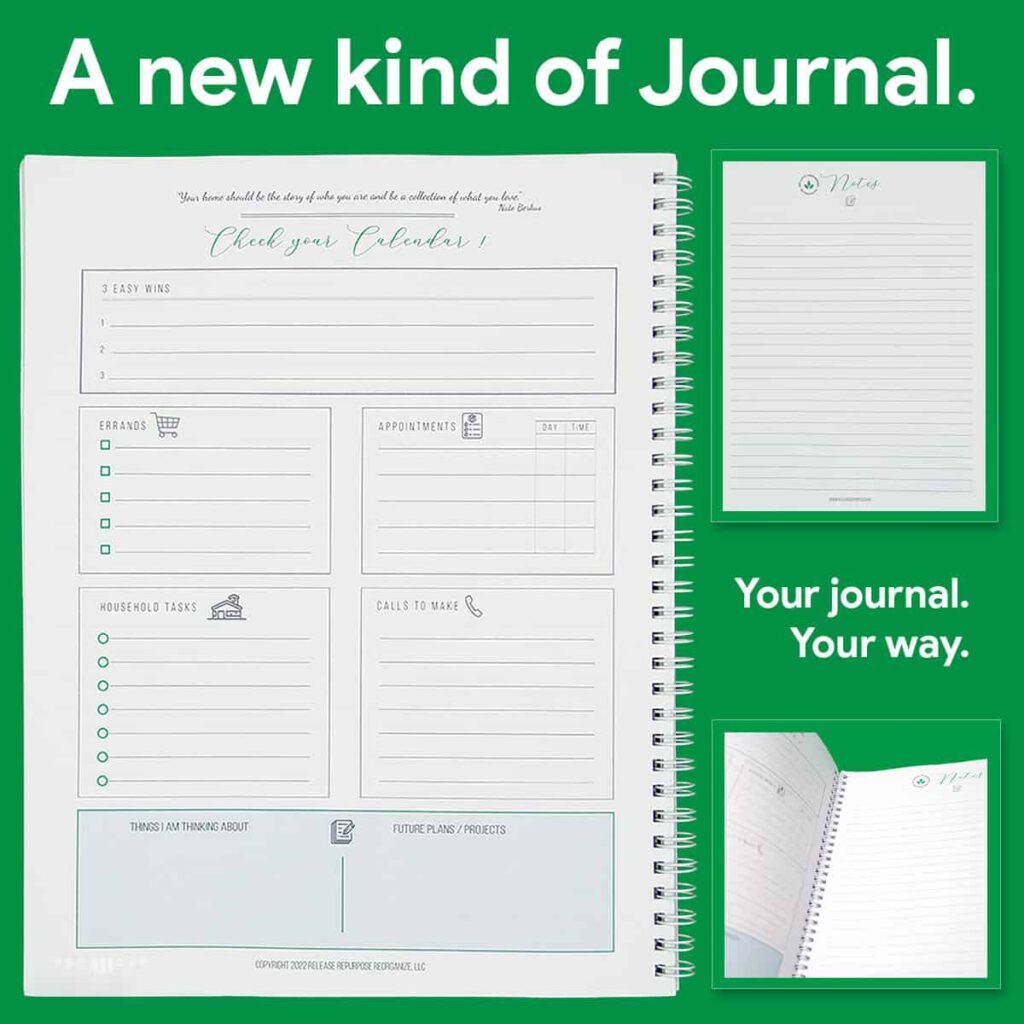 Another note: I recommend only doing one room at a time. Completing all the tasks and then moving on to the next room. If you create too many to-do lists, you will feel overwhelmed and not want to do any tasks. The goal here is to awaken from clutter blindness and NOT judge yourself for incomplete tasks.
How do you feel after doing this process? Did it help you look at the room differently? Did it help you determine what tasks you should do first? Please leave a comment below on how this experience affected you. I would love to hear from you.
Next step: is the purging process. Then the fin
Visit these posts for the rest of this awakening to clutter blindness series:
How to Take Care of Clutter in the Home - Part 2 of this series
How to Sort Kept Items – Part 3 of this series
A quick note before you go.
Are you ready to define the clutter and simplify your life? This clutter-blindness process is the best stepping stone to our Virtual Organizing service! Reach out, and let's talk about action-oriented tasks to do weekly while you lighten your life.
Please note these are affiliate links through Amazon, and at no additional cost, I will earn affiliate fees if you decide to make a purchase.
I found this article to help further you clear the clutter in your home: How to Get Rid of Clutter in Your Home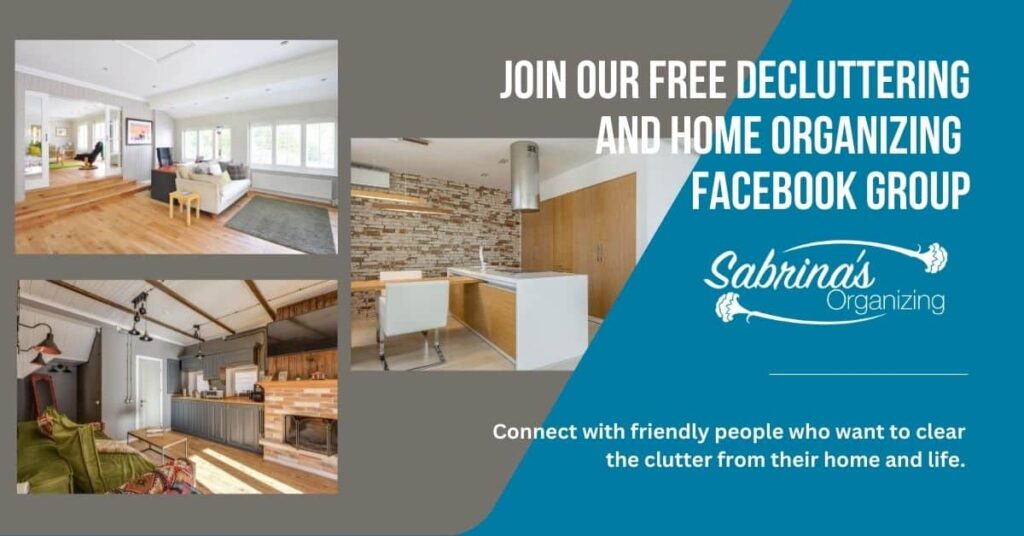 (Visited 3,770 times, 7 visits today)