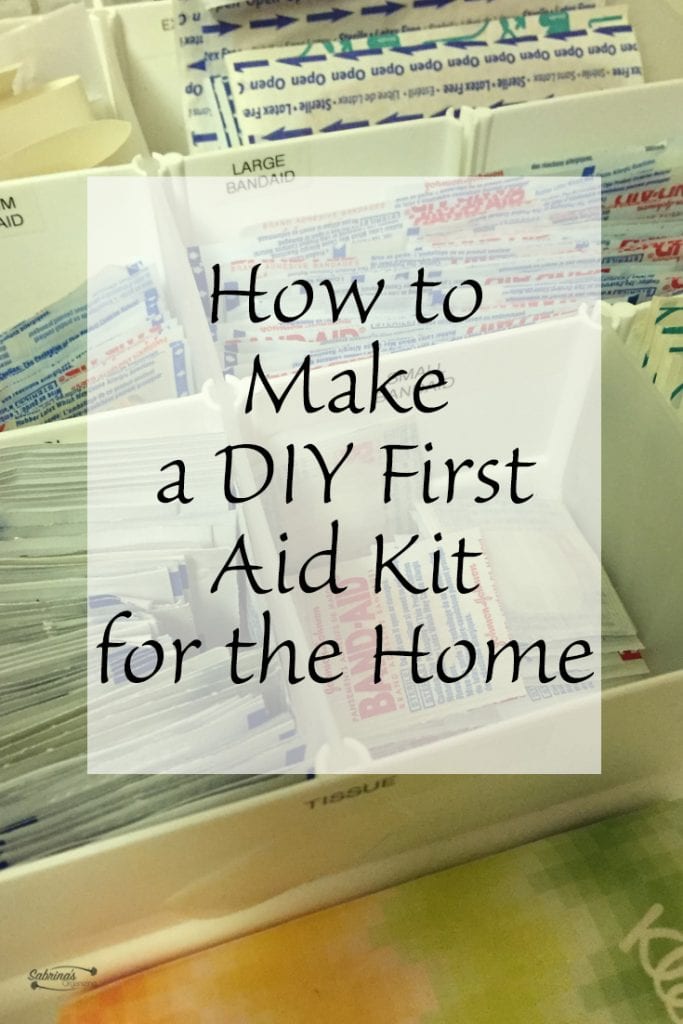 Recently, my daughter injured herself, and if not for this First Aid kit, it would have been much harder to help her. A DIY First Aid kit for the home gives you the peace of mind that if something happens, you can at least take care of it immediately without worry. I will share with you how I setup my home First Aid kit and hopefully it will give you the guidance you need to create one for your family.
DIY First Aid Kit Made Easy
First, we will start with the case.  The case I used looks more like a briefcase. The handle makes it easy to move around.  I also like that there is an additional compartment at the top. Here's an example of one you can purchase from Amazon. Make sure the compartments are adjustable.  Having it adjustable helps when organizing the different items because some allotted compartments may be too small for some of the items.
Tip: Find a small shallow adjustable divided space for all the small First Aid Stuff.
The left section is where I store the ointments. They usually come in small tubes, so they fit nicely and stay in place. The thermometer fits perfectly in these dividers as well. Because this case only has about 1 inch high of space, it keeps everything in the right compartment with ease.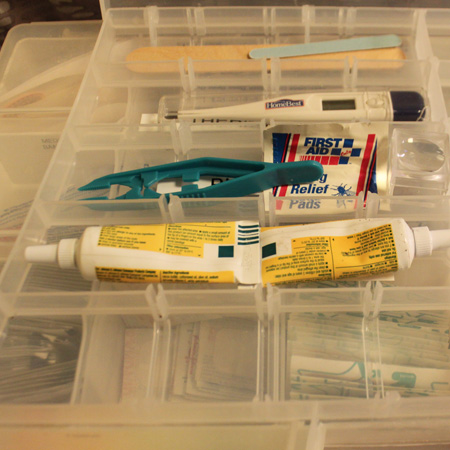 On the right side top, I stored the scissors to cut the tape and vapor inhaler for stuffed up noses. As you can see, there are lots of compartments that I didn't use.  And that's OK. You just never know when you will need to add something. 
Now, the inside holds all the other things.  Here is the left side.  I liked to divide the different bandages into separate compartments: small medium and large.  I also had a section just for the figure bandages that are so very useful.  We have had many a scraped knee so having the extra large bandages worked great too. 
And the right side looks like this. The instant cold packs are great for when you are on go and want to take the case with you.  The burn ointment is useful for the kitchen or grilling outside. The abdominal pad came from another first aid kit I purchased. Hopefully, I will never need it, but I do have it if I need it.
There are many other items in this kit. To make it easier for you, I have listed the items below.  Feel free to add other products to your particular situation. Feel free to share the below image to help remind other people.
What to keep in your First Aid Kit
Thermometer
Antibiotic ointment
Antiseptic wipe packets
Sting Relief Pads
Tweezers
Inhaler (optional)
Scissors
Burn relief ointment
Different side bandages – Small, medium, large, extra large, and finger
Bandage rolls – Self-stick or regular (3 and 4 inches wide)
Adhesive tape
Instant cold compress
Nonlatex Gloves
Abdominal wrap 

Other articles about First Aid Kits
While hopefully this helped you get started on your emergency kit, you may want even more information. So, I added additional articles that have tons of tips on this topic. I hope it helps answer your additional questions.
Emergency Preparedness articles
If you are looking for more preparedness articles, feel free to click below.  I like to be prepared in case of emergencies. I rather be safe than sorry. Don't you?
Challenge: Set Up Your Emergency Supplies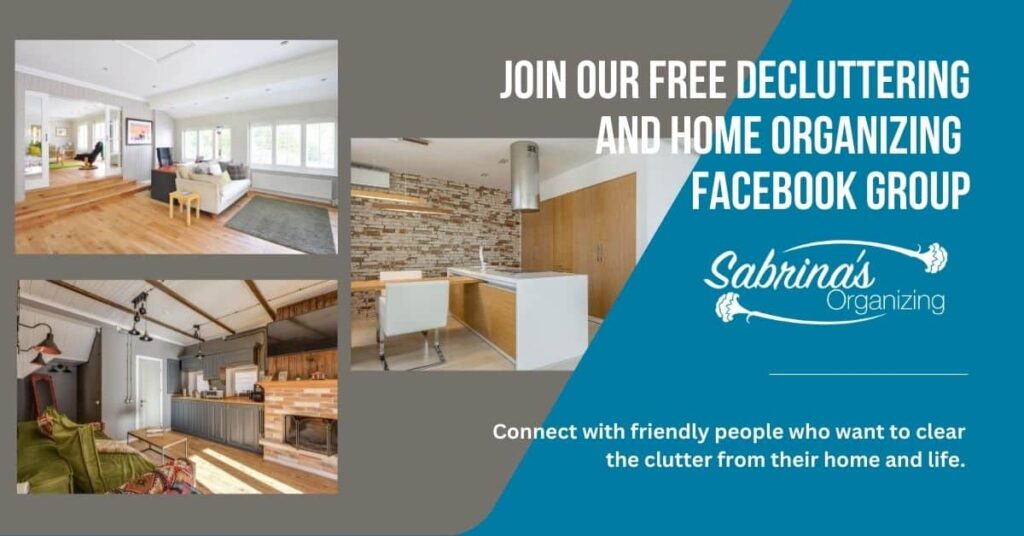 Well there you have it, my DIY First Aid Kit for the home. I hope this inspires you to set up a kit for yourself. Let's continue the conversation. Do you have a custom DIY First Aid kit? Please share what you have in it below.  I would love to hear from you.
(Visited 2,991 times, 3 visits today)