These days, it is important to have an emergency kit that you can use if there are power outages or if you have to leave your home for a short length of time. The Ready.gov/kit site talks about how to create these such Emergency Kit. It is quite detailed and can get a little overwhelming.
Jump to:
How to make an emergency kit for the home
After 9/11 and some major storms in our area, I decided to create this easy emergency kit that I updated and added items to over the years. This kit holds three days' worth of supplies. Note: I also have extra supplies, like a first aid kit and other supplies, in my cars as well. This helps distribute where I have to store the time in my small home. Also. I had a backpack with 1-2 days of clothes for each member of the family in it stored in the garage. These clothes get updated over the years as my kids get older.
Food items List for your Emergency Kit
Here are the items I added to my emergency kit. I looked for items that last for more than 1 year so I don't have to review the kit often. Like items that are canned and powdered. I also purchase food that I can be prepared quickly in a saucepan that I keep inside the bin.
A detailed list of stuff for your emergency kit
Here is the list of items I have in my easy emergency kit. Be sure to have at least a week's worth of all these items. And, the more people in your home, the more likely you will need more of these items.
Toilet paper
Solar powered radio and their manuals
Napkins, Plastic forks, knives, paper plates, and cups
Water gallon bottles (at least 3 large bottles)
Canned food: Stored at least 3 days of supplies of food for all four members.
Cash should be added to this area. You don't need to leave it there but needs to be pulled from wherever you do store it.
I like to have a variety of canned fruit, legumes, pasta, soups, and vegetables just.
Powdered Milk/sometimes pineapple juice if I find it on sale.
Small saucepan
Salt/pepper
Sugar
Tea bags
Band-aids
Plastic bags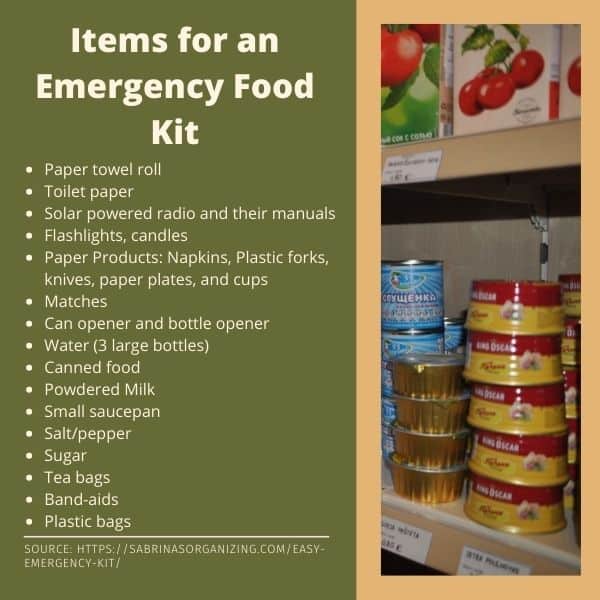 To save money, I created this emergency kit over time. There are some emergency items like flashlight headbands
for each person, a hand crank self-powered radio
so to distribute the cost of setting this kit up for our family. Every year, I go through the canned items and get rid of any food that is way past its expiration date. If it is only a few weeks past, I make a meal with it. If it is way older, I open them and empty the content, clean it out, and recycle the can.
That's pretty much it! Not too bad.
Additional tips to set up your emergency kit
If you are planning on making your own emergency kit, here are some additional tips:
Pack food that your family would eat.
For seniors, be sure to get extra supplies, like batteries for wheelchairs, oxygen, medication, food for service animals, manuals for equipment, etc...
Pack for kids, be sure to have extra diapers, extra bibs, and other extra clothing.
For your pets, Keep extra food /snacks and even an extra leash for your pets in your emergency kit.
If you pull smaller items throughout the house to make a kit like this, zip-top bags work great to keep everything organized.
Do you have an emergency kit? What do you store in your emergency kit that is unique? I would love to hear about it. Please leave a comment below.
**AD from Cricut Maker**
Here are some emergency kits you can purchase on Amazon (affiliate) if you don't want to make your own customized kit.
Visit our other Emergency Preparedness posts.
(Visited 1,172 times, 1 visits today)