It is National Preparedness Month (NPM) here in the U.S. It was designed to help people get prepared for disasters in the home or in their area. We will talk about setting up an emergency plan and how to set up a to-go bag and emergency food kit.
With the increase in catastrophic weather, it is a great time to prepare your home for emergencies. So, this challenge will be to get your emergency supplies for easy access, just in case you need them. This is a great opportunity for my visitors from outside the U.S. to determine your emergency plans. After all, we all have emergencies pop up every so often.
Jump to:
What is National Preparedness Month (NPM)?
If you never heard of NPM, here is a brief background. National Preparedness Month(NPM) was created by the Federal Emergency Management Agency (FEMA). It was established after 9/11/2001, and it's the US government's way of reminding citizens to be prepared for any emergency that may occur. Feel free to check out the NPM page by clicking here.
Let's Begin Creating Your Home Emergency Plan.
Let's figure out the "what if" scenarios that might happen in our home, community, etc... The list below is not complete. Feel free to make up your own questions from experiences you had and what your particular area experiences.
Answer these questions to decide on your emergency plans and what to take with you or what you will need:
Where I live, do I get lots of rain or snow? Are there bridges and rivers around me that may make it difficult to leave?
If the power goes out, how will I get communication on what to do?
When do the roads get impassable in my area? Is it during the winter or during hurricane season?
What if my house was flooded or fire? Where would I go if I can't say home?
And what if there was a fire in our home? Who should I call? What should I do? Where would we go? And what would we bring with us?
If I need to evacuate from the area, what roads should I use? What will I need for my car?
Now, write down the possible scenarios that would affect your household.
Other important notes for your planning:
Reflecting on your past experiences will really help with determining your direction. I found that certain things happen in my area that we always need to be prepared for, like, a nuclear power plant meltdown. Yes, I live about 9.5 miles from a nuclear power plant, and there are preparedness instructions that are printed and set every year on what to do if there is a nuclear power plant meltdown. If you need these instructions, here's a link from the Ready.gov site.
Also, make sure you have apps on your phone, like FEMA. This link is on the Android Store. And this link is for the FEMA app on iOS.
Next, determine what items are needed for these scenarios for your emergency plan.
What do those scenarios have in common? Are there items that are going to be needed in all the scenarios? Create the checklist and decide on emergency to-go bag items for those scenarios.
To make this checklist, add a check box for you to use when collecting these items in an emergency.
Write at the top of your file, "What to bring if we have to leave," then list all the items you plan on taking with you and where they are if they are not all in the same place.
Add a column that reads, "Expiration Date for this Item." Some items expire before you use them, so having an idea of the items you may need to replace will help you when you need to revisit these items each year.
Some items will be items you use every day and will not permanently go in your to-go bag. Use the checklist below for those items. In this case, you need to know where these items are in your home. Adding a column called "Where are they located" will remind you when you are under pressure to leave.
You can also create this through Google Sheets, Apple Numbers, or Microsoft Excel. Pick whichever one you are most familiar with. Keeping this document on the cloud will make it easier to access when you need it on the go.
Keep both of these items online and make them printable for your household.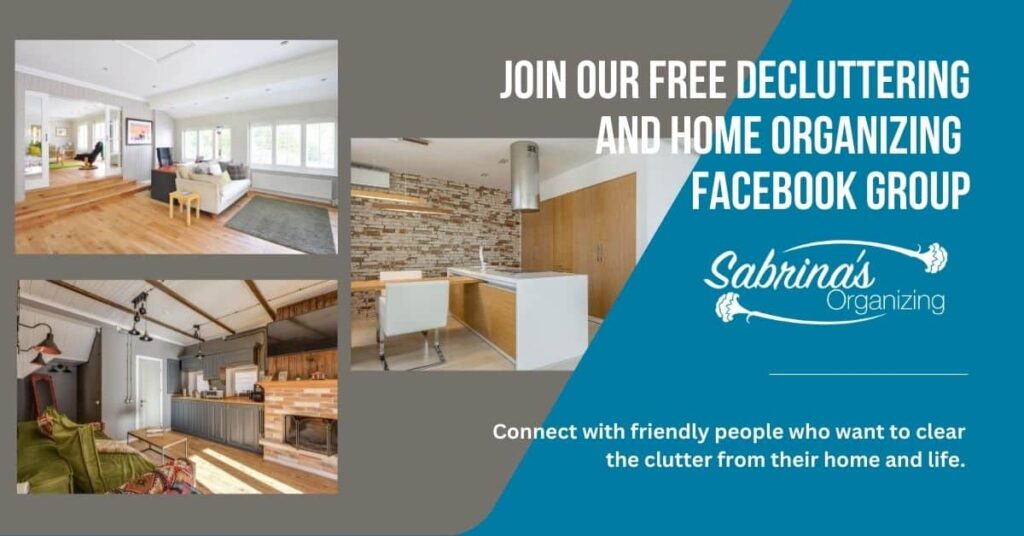 Ask yourself these questions before adding items to this emergency to-go bag list.
What would you need to take with you? For clothing, how many days of clothing will you need?
Now, for food, how many days of nonperishable meals would you need?
And, for Cash, how much money would you need for those days?
Would you need anything else for your household, like medicine or special equipment?
Do you want to take an item to help you relax? It is a stressful time, so taking one item for your well-being is important.
What important papers would you need? Remember, documentation may not be on the top of your list, but you may need things like, birth certificates, passports, etc... for after the disaster. Remember, having all the phone numbers and contact information on your phone is important. If you prefer paper and adding it to the go-bag, check out our HOW TO CREATE A COMPLETE BANK ACCOUNT LIST and our HOW TO MAKE AN IMPORTANT PERSONAL ACCOUNT INFORMATION LIST.
What items would you want to bring because you don't want to lose them? This will need to be a small list since you will not have that much room. If you have your photos backed up on the cloud, you don't need to take the actual photos with you. Pick items that are small and can easily be carried.
Share this to-go bag and emergency plan with your family.
With all the online collaboration services (cloud services), like Google Drive, OneDrive, and Dropbox, you can easily find one that works for your whole family. Share the to-go bag checklist and the emergency plan in this area so everyone knows what to do.
And, now it's time to gather the supplies from your emergency to-go bag.
Pull items that can easily be stored in a tote or easy-to-carry bag. If you have four people in the household, each person can have their own bag. You can pull items that are not often used from closets. But, leave the important documents in one location. Visit our post about HOW TO ORGANIZE IMPORTANT DOCUMENTS IN A FIREPROOF SAFE for tips on organizing a fire filing box of your important papers. You can also get a free copy of our home management plan and binder ebook.
Take time and make an emergency kit containing food and other items you may need to take with you.
A first aid kit is also important to have in your emergency to-go bag. Or, you can create one and leave it in the vehicle you would be using. Here's how to make your very own First Aid Kit. HOW TO MAKE A DIY FIRST AID KIT FOR THE HOME
But what will you eat while you are away? You will need to create an emergency food kit. Here's how to make it.
How to Create an Emergency Food Kit for Your Emergency Plan?
People have used large trash cans and bins. I prefer a few small bins or one waterproof tote if it is not too heavy. Keep in mind that you want to leave quickly and only have so much room in your vehicles. The Red Cross has a list of all of the supplies that should be in your survival kit; check it out for some more help.
The image below shows the content of our emergency food kit. Feel free to check out the list of items and post details here. This is about three days' supplies for a family of four.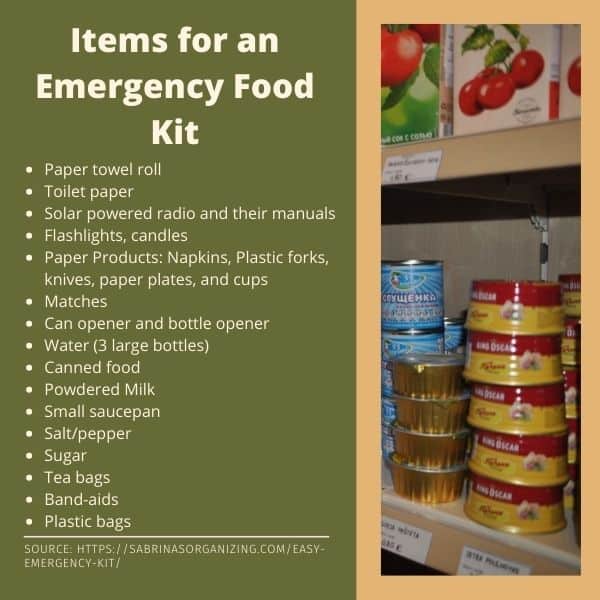 I hope this helps you create a home emergency plan, a to-go bag, and an emergency food kit for you and your family. Having these plans and items in place will make for an easier stressful time.
Visit our FREE checklists and Printables that will help you organize your life!
Now it's your turn. Do you have an emergency kit? Where do you store it? What do you think about doing this for your family? Does it scare you to think this way? Please leave a comment below.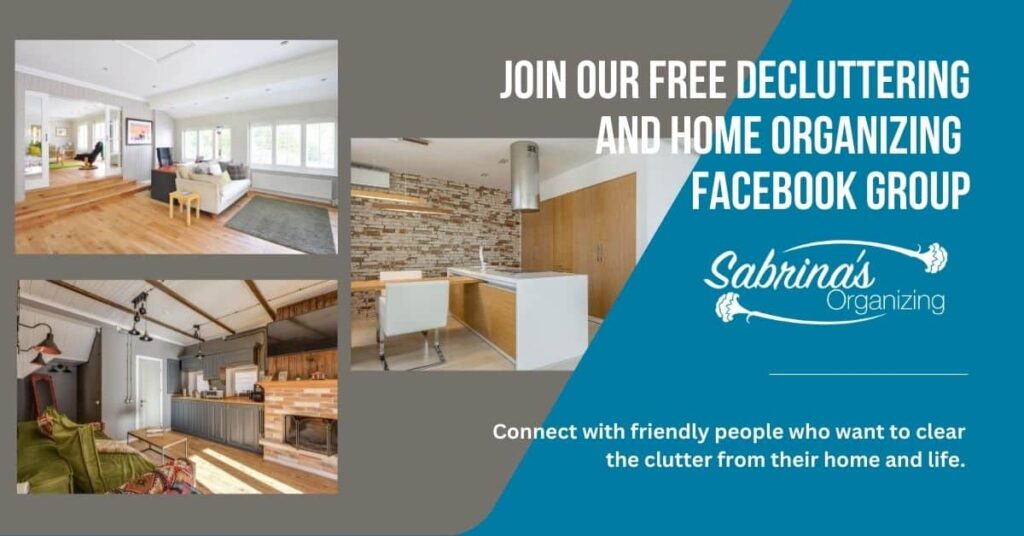 Help when you need it!
If you are in an emergency situation, I heard of ServiceMaster brands. They offer various services and are located through franchises throughout the U.S.A.
Visit these additional posts for more help.
24 USEFUL ITEMS FOR YOUR FAMILY'S ORGANIZED CAR
20 PERSONAL IMPORTANT DOCUMENTS TO KEEP SAFE
CREATE A REWARD AND CREDIT CARD BINDER TO HELP PROTECT IDENTITY
Please note these are affiliate links through Amazon, and at no additional cost, I will earn affiliate fees if you decide to make a purchase.
(Visited 681 times, 1 visits today)