****Visit our "Disclosure Policy and Cookies" for details. Affiliate links appear on this page from Google Adsense, Amazon, Order Out of Chaos, Impact affiliate members, Release, Repurpose, Reorganize, and Shareasale affiliate members.****
Have you ever looked at an important document and, while looking for it, feeling anxious and stressed you say to yourself, "Where did I put that paper? I can't believe I can't find it!  I need to organize these documents and keep them in a safe place!" And, after the situation passes, you never get around to gathering the relevant important documents to keep because it would take too much time or energy. 
In a recent Caring.com study, 58% of American adults admitted to not having created a will or living trust. Read more about the staggering stats. By putting all these important documents together, you can indeed see what you have and what you don't. As a result, it will quickly know the missing document tasks.
Below is a list of important documents images to give you guidance.
Personal documents to keep in a safe place
Here are documents you need to keep indefinitely:
Adoption paperwork
Auto/Truck titles
Birth Certificate
Current deeds and mortgage
Current insurance policies (life, home, renter, auto, etc...)
Death certificate
Divorce decrees
Relevant medical paperwork
Lease paperwork
Marriage license
Military paperwork
Naturalization/Citizenship paperwork
Old Drivers License
Passports (old and new)
Patents and copyrights
Social Security cards
Social Security Statements for retirement
Stocks and bond certificates
Tax returns
Wills (living will, power of attorney, etc.)
The image below also shares this list. Feel free to share it with your family and friends.  It's a delicate way to remind them that they need to take care of tasks.
Where to store these important documents?
These documents should be stored indefinitely and in a safe and dry place, like a bank's safe deposit box or a fireproof safe in your home.
If you wish to file it in a safe deposit box, get a box big enough to fit a file accordion folder (Affiliate Link). This way, you can add the organized papers in the accordion folder (Affiliate Link) and store the entire folder into the safe deposit box. A smaller plastic one with a lot of tabs works nicely. (The links below are from Amazon and I will receive a small commission if you click through and purchase.) 
If you don't wish to spend the money on a safe deposit box, you can purchase a safe to store these documents.
Visit our DIY post that shows you how to organize important documents in a fireproof safe.
In this fireproof safe, you can also add expandable pocket folders. It keeps things organized without using hanging folders that may break over time.  See these images from Amazon Associates below for an example: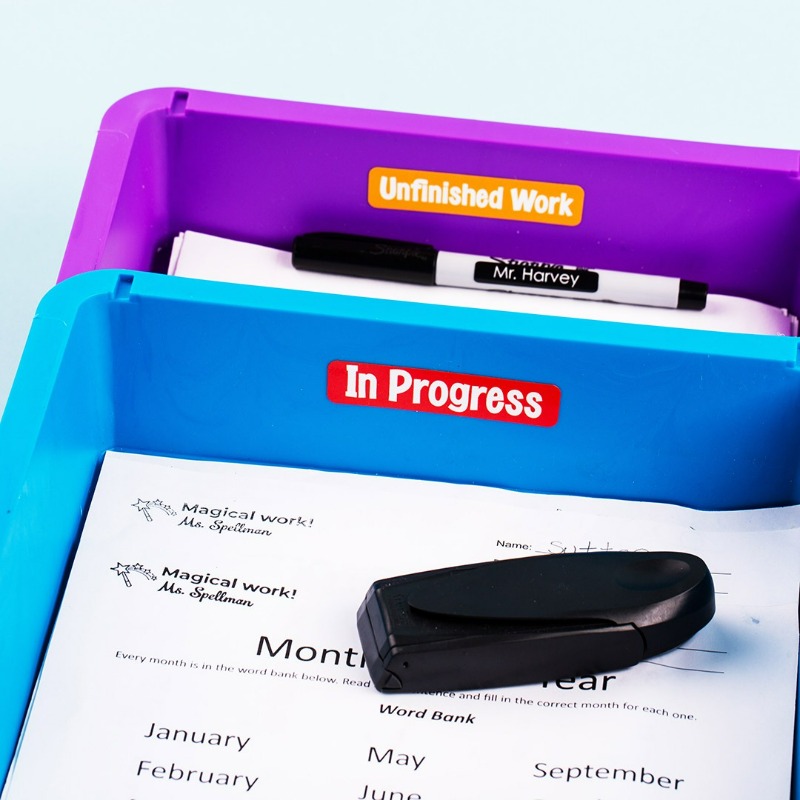 Make it a priority to gather and know where these items are, so later on, when you need them, you will be able to find them quickly.  I have many clients that aren't able to find relevant documents, and they had to pay to replace them or go without the document. Spending a little time gathering all these documents, will save you money and time, not only for you but also for other family members when they need to find them after you are gone.
If you are looking for more information about how to organize long-term files, check out this post. Tips for Organizing Long-Term Files
If you want to read more on the topic, visit these posts below:
Record Keeping
How long should I keep records?
What Documents Should I Shred and What Should I Keep?
How Long to Keep Tax Records and Other Documents
Please note these are affiliate links through Amazon and at no additional cost to you, I will earn affiliate fees if you decide to make a purchase.
(Visited 11,801 times, 39 visits today)