I am a stickler for saving space.  In our smaller home, space is a valuable commodity. So to save storage space, one place I often visit is my long-term file storage area. In this area, I store all my paperwork for taxes and other support papers. And, if I forget or am too busy to spend time doing this, I find that this area can get disorganized rather quickly. So, I make an effort each year to go through my long-term files.  Recently, I decided to do just that and have documented all the tips/thoughts that went through my mind while doing this purging process. This post talks about Organizing Long Term Files for personal and business. I hope it helps you get inspired to get rid of your papers.    
Jump to:
Tips to Organize Personal long term paper files
Utility bills do not need to keep unless you need them for home office expenses.
You do not need to keep utility bills as long as they are paid, especially if you have online access to these accounts. Wait till you get the next bill before getting rid of them, though, just in case there are issues.
Get rid of pay stubs as long as you have the W-2s with your taxes.
At the end of each year, you do not need all your pay stubs since the totals show in your W-2.  So, keep the last paystub of the year, and when the W-2 comes in, make sure your numbers match.
Keep your taxes in an accordion folder with all the other tax-related papers.
Read more here about HOW LONG TO KEEP TAX RETURN SUPPORTING PAPERWORK. The accordion folders below are from Amazon; feel free to buy them. (affiliate)
Reuse your manila folders. 
Reuse USED manila folders by turning them inside out and using the unused inside tab to write the content. You can also use manila folder labels to cover the previous labels on the folders. Be sure to pick the right size for your manila folder tabs. They can vary from 2 inches to 5 inches. I found this item on Amazon. You can click on it and buy it there. (affiliate)
No hanging folders are necessary for long-term files.
Hanging folders are great for inside filing cabinets. They help when you want to subdivide a category. For instance, I have a hanging folder called "Utilities." Inside the hanging folder, I have all the household utility companies in manilla folders for easy access. At the end of the year, I pull the manilla folders and place them in long-term storage if I want to keep them.
Use one bin and have at least two to three (or more) years in it to save space.  
It will be full, but it's just paper. -- Remember, space is valuable in any home, so fill them up. You can easily revisit these bins and remove unneeded papers after three years.
Use a clear bin and label the years on the front. 
Clear containers help you see quickly what is in them. These bins below are a six-pack from Amazon (affiliate). Click through if you want to get more details.
Shred letters that make you sad or angry.
Keeping memorabilia is nice, but keeping things that bring back memories of sad or angry times should be removed. If you want to revisit these times, then feel free to keep the papers.
Shred ALL bills you don't want to keep! 
If you like to print out your e-bills, maybe you want to rethink this process. Instead, store the digital copy in a folder marked "bills." When downloading the file, write the name of the bill and the month the bill is for as the filename.
Have an easy-faceted receipts accordion folder.
If you keep receipts, have a covered receipts accordion folder, so they don't fall out when you store them away. The items below are ones I found on Amazon (affiliate).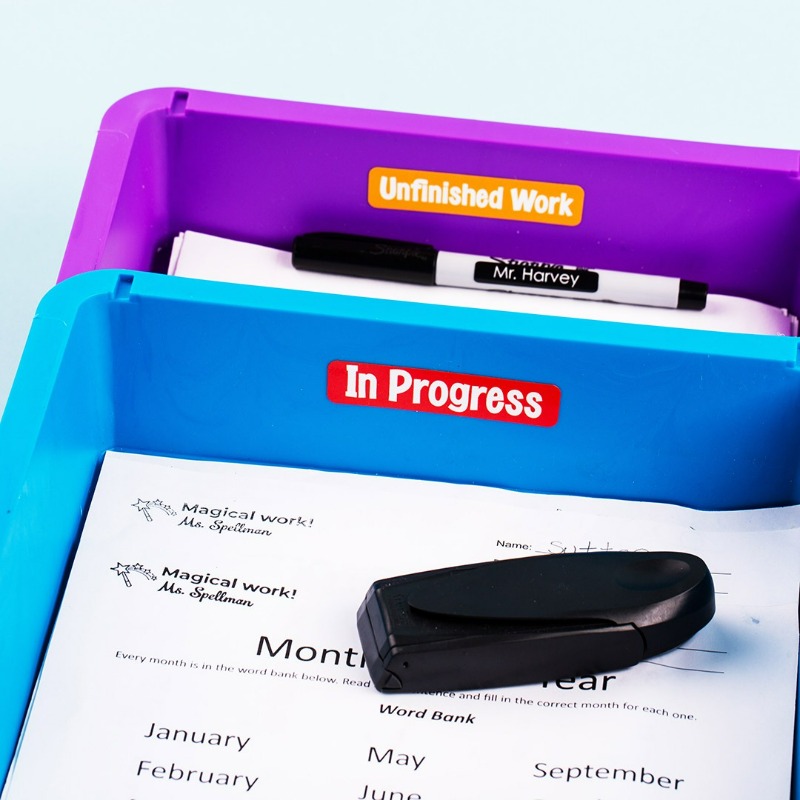 Tips to Organize Small Business Owners' long-term paper files
If you have a small business, this process is a little more complicated. Read below for additional tips to help keep your small business long-term papers organized.
Keep business invoices and business receipts/expenses as proof for your returns.
Never throw away invoices for your business. You can, however, have them as PDFs stored in a safe place on your computer. Don't use image files because if you ever have to print them, the printer will print them like a photo and use up a lot of your ink.
Keep your bank and credit card statements for your business.
Banks only store bank statements for a maximum of 3-6 months. So keeping a copy helps if you ever need to reference them.
Keep files for your business in a folder with a faceted top.
Keep your files for the business in an accordion folder with a lid so they can be easily accessible and will not get mixed with personal papers. If using an accordion folder, buy the ones with the cover. This lidded accordion folder will keep the documents in the box, and they won't get jostled around.
Keep your business paperwork separate from your personal paperwork.
Even if your business tax return is filed with your personal taxes, you should always keep the paperwork separated. It makes it easier and quicker to find the papers you are looking for instead of going through unnecessary ones.
Places to store your Organized Long Term Files
Now that you have all these files organized let's find a place to store them. There are several places in your home you can store these files. It should be a place that is not used often but accessible when you need to go in the file bins. Here are some places that may work for you.
Under the stairs is one good place for these files as long as they are in plastic bins to protect them from animals and water damage.
A closet is another good place to store these file bins. If you have them in sturdy plastic bins, you can stack them up.
A storage locker - This is a great option for small homes, apartments, or tiny homes. if you use a storage locker, it will need to be temperature controlled to protect the papers from damp temperatures. You will also need to pay a monthly fee for this space. Ensure the locker has a secure lock to protect your private information.
Visit our sister blog about the business organizing long-term file posts below.
How Long Should I Keep Business Records
7 Areas to Organize Office Files
Benefits and Tips to Revisit Paper Files Yearly
I hope this helps you get your long-term files organized. I was able to shred three bags of paperwork today. =) How many are you ready to destroy right now? Let's continue the conversation. Do you have any tips for organizing long-term paper files? Please leave a comment below.
(Visited 2,629 times, 13 visits today)