OK, we are not kidding anyone, we all know that not everyone looks at their paper mail every single day. We may be traveling for work or just created a habit of checking paper mail on Saturday's. We may only get a few pieces because we minimized our junk mail. Whatever your situation is, here are four ways to organize incoming paper mail until you are able to get to them.
Manage Your Incoming Paper Mail Tips
One option is to get a cabinet or sorter on top of a counter that is centrally located!
Label each bin according to your categories. Some categories you could use are To pay, to read, to recycle, to shred. This cabinet or bin does take some room. So, measure the space (length, depth, and height) and find something that will work for you. Click on the image below and buy them on Amazon.com (affiliate)
The second option is wall mount bins!
This type of sorter is great for people who do not have a lot of floor space. If there is a small entryway area, this type of bin works beautifully. It can be hung on a wall near the door. Buy as many as you need to sort your paper mail. It can hold other things like keys too.
Click on the images below and buy them on Amazon.com (affiliate)
The third option is to use bins with lids!
I had a client years ago that didn't want to see all the paper clutter in her hallway and this solution really worked for her. Pick bins that are large enough to hold 10x14 envelopes and that are shallow. This option also works for people that travel a lot and need to sort their paper mail less often.
Click on the images below and buy them on Amazon.com (affiliate)
This set includes four bins from Amazon and can be stored in your main area and you will still have privacy. (affiliate)
Another option is the use of drawer dividers and separates a large drawer to organize your paper files.
The trick for this solution is to have enough room to hold the larger envelopes. You may even need to use more than one drawer to sort. This option is great for people who have extra space in a common area like the kitchen.
Now that you determined what type of sorter you want to use for your incoming paper mail, here are additional tips on organizing your incoming mail to help save you time.
Time-saving tips to Organize Incoming Mail
Determine what categories or piles you usually use when you review your mail and write a list. Some examples of categories are to pay, to read, to recycle, to do right first, to mail, or to shred. If you have a business, there may be other categories you want to add as well, like to pay for the business, to file with business papers, to give to bookkeeper/accountant, and to give the paperwork to a virtual assistant. Use action words as labels so it reminds you of what you need to do.
Have a bin or box for each of those categories. Spending one-minute sorting into these categories each day will help you on the day you sort the all the mail.
Label the bins/boxes! Whether you use open bins or covered bins, you can use a cute cutout and hang or tape it to the bin. Or, you can write on the bin/box, whatever works for you so you will remember the categories easily.
Find a creative place to store the bins. Not everything needs to be out in the open. Storing these bins or the wall mount sorters in a kitchen command center or foyer works well. I found that if we sort it right when you enter the home it makes it easier to keep up with the system you implement.
Whichever bins you buy, store them in a place near the entrance or in the main area you usually review the mail. By tweaking the existing system, it will help you remember where to go and what to do. Happy sorting!
If you are looking to opt-out from credit inquiries and insurance inquires, you can check out this website: OptOutPreScreen.com Note: it does require some sensitive information. But, not that this is backed by the FTC (Federal Trade Commission).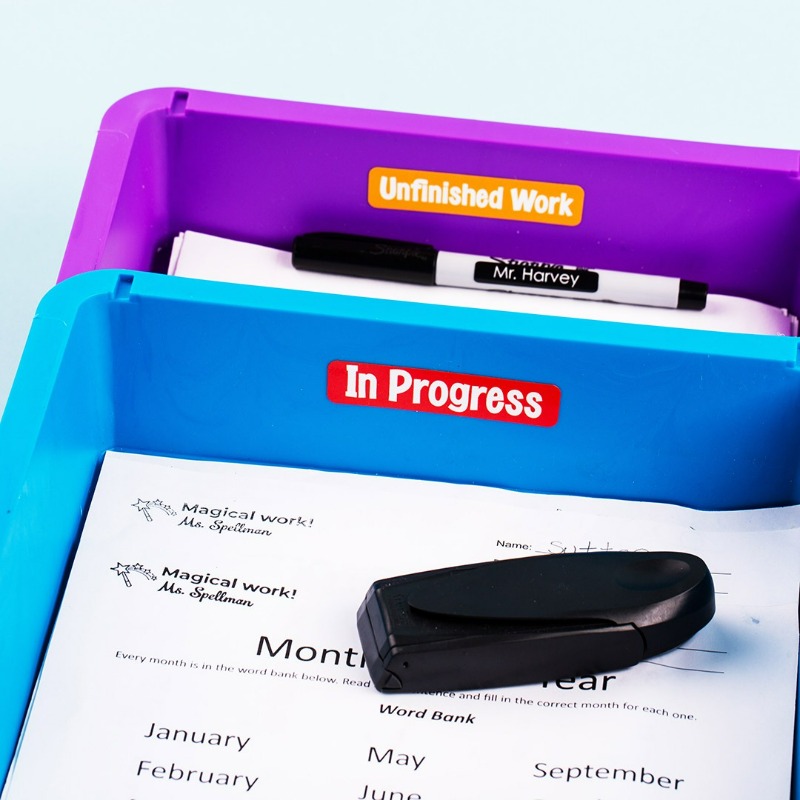 If you are looking for more information on paper sorting, check out these articles from other experts.
Organize Your Important Papers, Bills, Receipts, and More
Please note these are affiliate links through Amazon, and at no additional cost to you, I will earn affiliate fees if you decide to make a purchase.
(Visited 1,870 times, 4 visits today)