Dorm life is a be-all and end-all to college students. It's where they study, eat, and have fun; where they meet new long-term friends and partners. It's where they experience living alone and having to take care of themselves. All and all, dorm life is scary but also a fun time for students. This post will talk about organizing essentials for dorm life that will enhance the experience for each college student whether they are a freshman or a transfer student.
I remember going off to college, nervous, and realizing that I didn't know anyone. Everything was different from high school and my structured day. I now had to be more responsible and organized to get everything done. This resulted in me wanting to know where everything was in my dorm life. I was the first college student in my family to go to college and I had to figure out what I needed. My parents didn't know anything about living on campus while taking classes. We didn't have a lot of money and could only buy the organizing essentials that I needed at the time. So, I streamlined my needs and only purchased items that were necessary. Nowadays, the essential organizing items have changed a bit. I'm going to share with you the items that are organizing essential right now! I hope they give you some ideas to help you stay organized in your dorm.
***Disclosure: The links below are from Amazon.com. If you click-through and purchase an item or two, I will receive a small commission at no additional cost to you.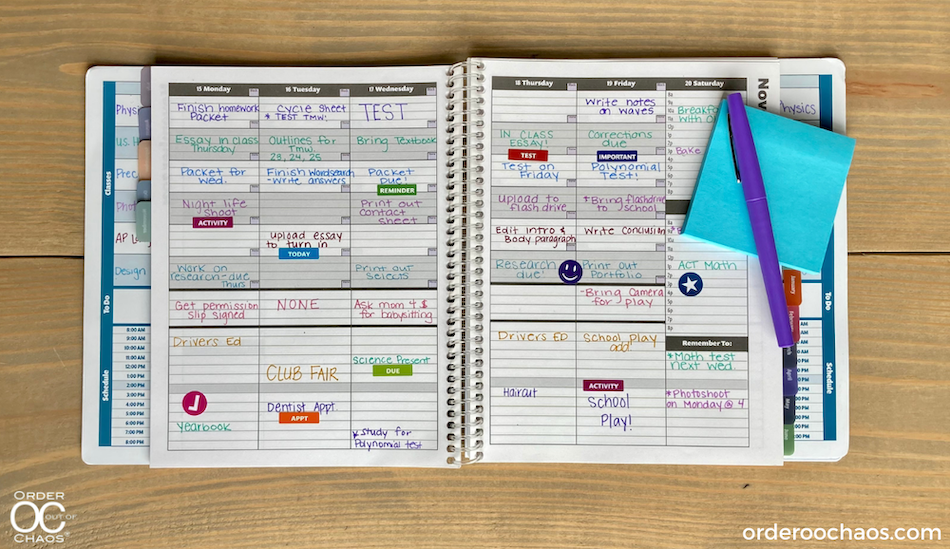 Here are some of my most helpful organizing essentials for dorm life. These items helped me make my college experience an organized and fun time.
Organizing Essential For Dorm Life #1 ~ Lock up your belongings.
Of course, security is essential in a dorm room. Important items to have are a laptop lock, tablet lock, and safe. The tablet lock, safe, and laptop-lock can be wrapped around the substantial college desks so no one can quickly come into your room and take your stuff. Determine how many of these valuables are important to lock up when they are not in the dorm before buying them all. Some safes are large enough to hold a tablet and a laptop.
Tip: Be sure that combination is mixed after disconnecting it so people can't see what the combination is when it is unlocked.
Below are some examples I found on Amazon.com (affiliate).
Organizing Essential For Dorm Life #2 ~ Have a Physical Alarm Clock.
A physical alarm clock works best. I prefer to use the phone alarm as a backup to the physical alarm clock to make sure I am up to when I need to up. Look for an alarm clock that isn't too bright at night time. No one likes a bright light shining in their face while they are sleeping.
Tip: Set your alarm to wake up AND your phone alarm. It is a great backup just in case your phone or alarm clock does not work.
Organizing Essential For Dorm Life #3 ~ A secure portable filing bin.
This item is where all the important papers that needed to be brought back and forth should go. Papers for college registration, work papers, and documents are just some examples. Pick a bin with a lid that locks will keep them from falling out and getting lost.
Tip: If you get a big enough safe, you can fit these files in there as well resulting in one less item to bring with you.
Organizing Essential For Dorm Life #4 ~ Under the bed organization.
Storing items under the bed is a great space saver. Measure the height from the floor to the bottom rail under the mattress. If it is not high enough for a good amount of bins, you can by bed risers to bring up the bed if it is pretty low.
Items that can be stored under the bed are shoes, papers, clothing, sweaters, and winter clothes. Pick under the bed storage bins with a zipper lid to protect your stuff from dust or critters.
Tip: Box everything up exactly how you want it to look under the bed so you know the height you will need. Then contact the dorm building director and ask them what the height is from the floor to the bottom of the bed frame.
Organizing Essential For Dorm Life #5 ~ Over-the-door storage:
If there is a standard door, an over-the-door storage unit works best. It has many compartments that are small enough to keep all the small items organized in a door room. Some items to store in them are beauty supplies, hair supplies, shoes, school supplies, and snacks.
Tip: check to make sure that the doors are not super thick. They may not fit over the door.
Organizing Essential For Dorm Life #6 ~ Supplies on the go.
Having a school supply carrying case works great for any student on the go. They can easily use it in the dorm and zipped up and taken to class or even home for the weekend.
Tip: Pick a case with lots of compartments that are small enough and pliable enough to flatten in any backpack. Only carry a few of each type of pens and pencils when possible.
Organizing Essential For Dorm Life #7 ~ Shower Caddy:
A shower caddy helps especially when there is a shared bathroom. Pick one with lots of compartments for different cleaning items. The more compartments the better I always say. Pick one with a handle to really make it easy to move around and carry.
Tip: Look for a caddy with flexible compartments of various sizes. It makes it easier to stay organized when you are in the shower.
Organizing Essential For Dorm Life #8 ~ Bedside caddy.
Depending on the size of the dorm room, not all dorm rooms have a nightstand or desk that can be placed next to the bed. So buying a bedside caddy that you can add to a bed frame will work to hold items by hanging them from the side of the bed frame. To be honest, this one is a purchase that was needed for my son, who had a small room, but my daughter was able to use her desk as a nightstand. While usually there is a frame around the bed, there may not be a headboard or footboard.
Tip: Pick one that you can easily hold all the electronics your child will most often use in bed. Measure the width, height, and thickness and review the measurements in the specifications of the product before purchasing.
Well, that's it! If you are looking for a dorm packing list, check out my FREE 3-page checklist for dorm organizing I wrote previously.
I hope this helps make dorm life a lot easier to manage for your child. What are your favorite organizing essentials you had in your dorm room? Please leave a comment below.
I found some more posts from other bloggers online that talk about essential organizing supplies needed for college. Feel free to click through below.
Real College Students Share Their Dorm Room Storage Essentials
20 Dorm Room Storage Ideas for the Most Organized Room Ever
Please note these are affiliate links through Amazon, and at no additional cost to you, I will earn affiliate fees if you decide to make a purchase.
(Visited 1,035 times, 3 visits today)