College is an excellent time for any child to become an independent adult. They take risks and learn about what works for them and doesn't without making huge mistakes.  These items will help your college freshman start their year off right. Keeping them on track will help them in college and life.  Here are the five essential products that will help every freshman whether they are living on campus or commuting.
5 Essential Products Every College Freshman Must Have To Succeed in College
An Alarm Clock with Daylight Savings Time and Battery Backup Features. 
Yes, I know, we all have alarms on every device we own these days.  But, having a separate alarm in their room near their bed works best to help eliminate the chance of forgetting it somewhere or disabling the alarm while they are out by accident. The clocks below are from Amazon.com (affiliate)
A calendar that you can take everywhere with you. 
It could be an electronic or paper agenda book.  The trick is to write down EVERY SINGLE TASK you need to remember in your planner.  This calendar includes meetings with people, appointments, dates for clubs, class assignments, work and home schedules, and even scheduling for doing laundry.  Having every task written down will keep their mind on the task at hand, and they will feel more in control of their college life. (affiliate from Order out of Chaos)
***AD*** The best academic planner for students! Order Out of Chaos Academic planner helps track time and tasks! Buy 1 or more today!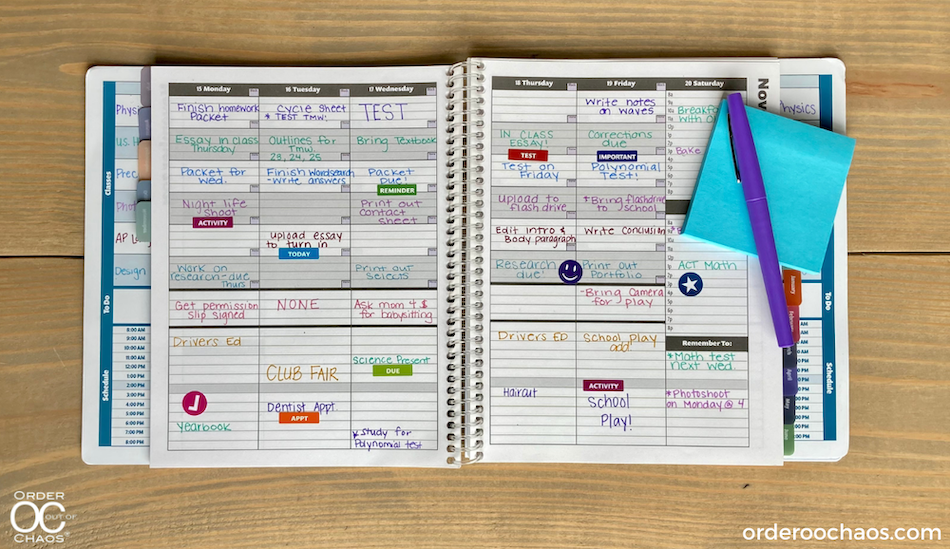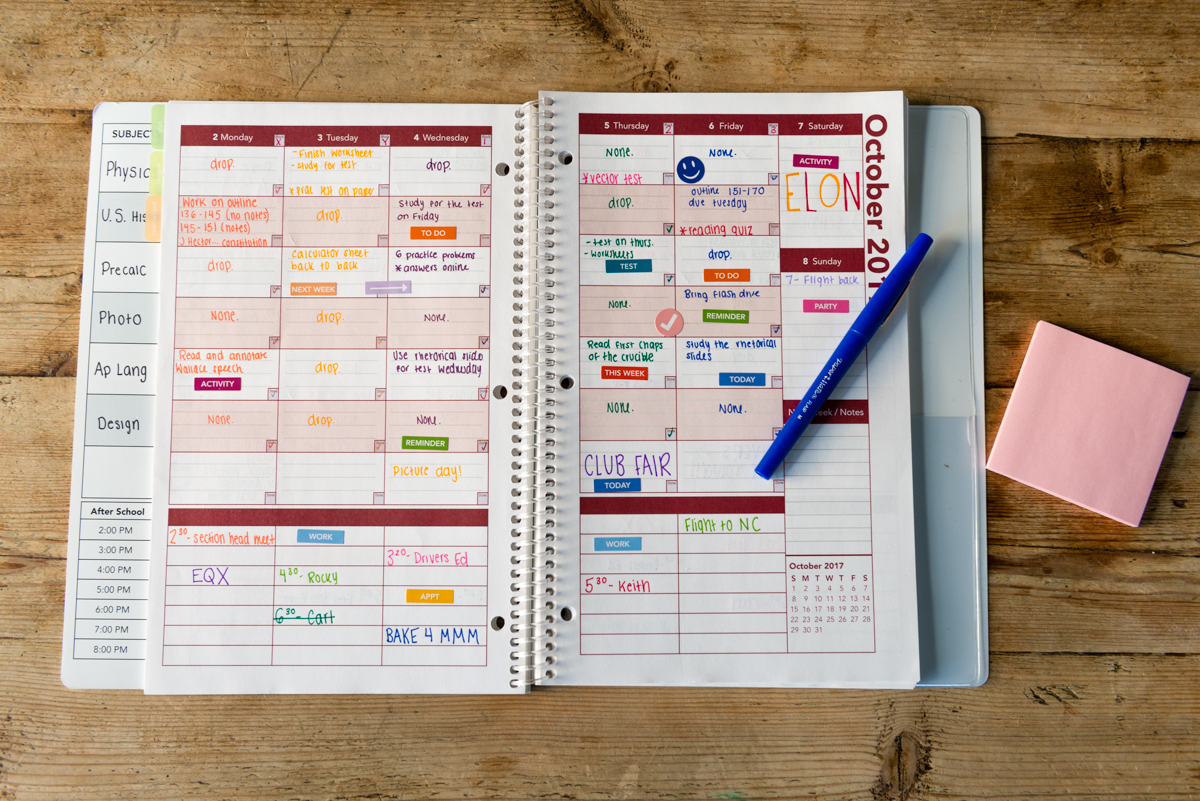 A healthy supply of school supplies in their dorm room. 
Have a stash of the supplies they may need for the entire school year.  Paper, binders, pens, pencils, index cards, staples, printer paper, notebooks, and folders will help when they need supplies for last-minute projects.  Having all these supplies in their room will save them time and money when they need a cover for a report or run out of paper in their binders.  College campus stores are usually more expensive than the local office supplies or dollar stores. Below are links for Amazon (affiliate). I will receive a commission if you decide to click through and purchase something from Amazon. There will be no additional charge to you.
A good quality laptop. 
Having the Microsoft Office Suite, including OneNote, Excel, Word, and other software, will help keep track of notes and assignment work.  Having a backup system that stores notes and files in the cloud will allow your child to access their files from any device they have, their laptop, tablet, or phone.   Make folders on their computer for each of your classes. Store them on the desktop so they can easily access the folders (and the items in them). Read this article from Forbes for more information and tips on finding the right laptop for your college student. Below are the ones I found on Amazon(affiliate).
Set up a student personal bank account.
Setting up a personal bank account for your child so you can transfer funds into your child's bank account in case of emergencies will make those "I need money calls" quick and painless for both parties.
You can also do a Venmo if they set it up with their bank account so they can transfer money to their friends when doing things together.
These five essential items will help your college freshman stay organized and help them become a huge success. Assisting them in organizing their life at school will hopefully show them the importance of taking responsibility and ownership of what needs to be done and done it.
Please note these are affiliate links through Amazon, and I will earn affiliate fees if you decide to make a purchase at no additional cost.
Visit our other posts to help prepare your student for college.
9 TIPS FOR A SUCCESSFUL ONLINE COLLEGE CLASS EXPERIENCE
7 POWERFUL TIPS TO HELP ADHD STUDENTS SUCCEED IN COLLEGE
HOW TO PACK FOR A QUICK COLLEGE MOVE-IN DAY
DIY FRESHMAN YEAR REFERENCE BINDER
(Visited 1,025 times, 1 visits today)