As a parent, you may feel nervous when your college freshman goes away to school. It's a new and changing world for them and you. With all the information that is bombarding the student, it can be overwhelming to keep track of everything when they need it. Today, I am going to share with you a DIY Freshman Year Reference Binder for your student that you can create at home for your particular situation. Follow along and make one for your freshman. Better yet, create one together with your freshman!
Jump to:
Speak with your freshman and ask them if there are particular areas that they are concerned about regarding starting a new school. Be sure to add solutions for those topics in the binder. A little guidance will help them feel less out of control in their situation.
Below is how we created my daughter's DIY Freshman Year Reference Binder and what sections we included in my daughter's binder.
I found that a 1-inch binder worked nicely for the papers my child needed. She went to a larger school with very little guidance and a lot of rules and many things to remember.
How to Make a College Freshman Reference Binder?
Purchase sheet protectors for the binder. To protect the papers, we found that using sheet protectors worked best to keep things tidy, and they were more likely not to fall out of the binder. Below are a variety of ones I found on Amazon.com (affiliate).
Purchase sticky file index tabs. These file index tabs are very handy, and you can easily add them to any sheet protector or page you want to stand out in the binder. You can get use the 2-inch ones, but you can either go with the 1-inch or 3-inch or various sizes. Below are some examples you can purchase from Amazon.com (affiliate).
***AD*** The best academic planner for students! Order Out of Chaos Academic planner helps track time and tasks! Buy 1 or more today!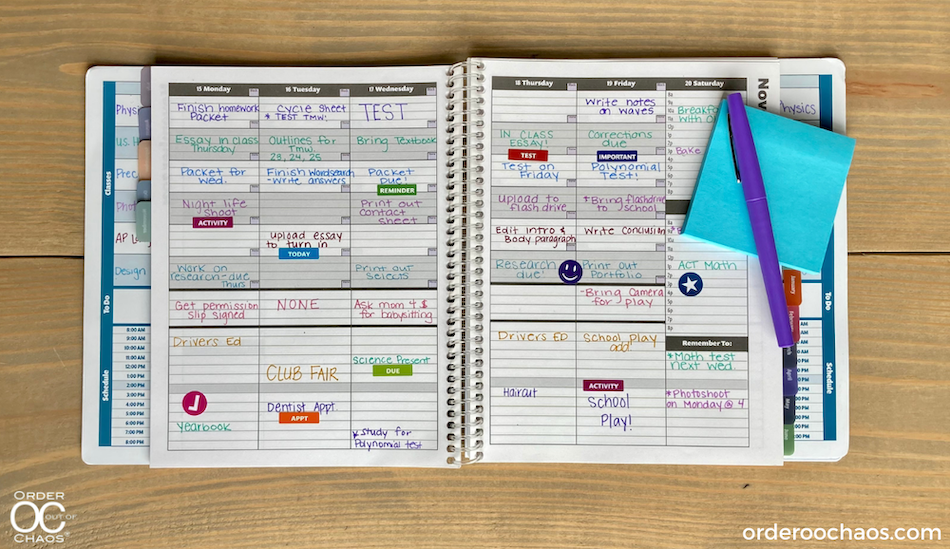 Get the right size binder. Gather the information first, then determine the size binder you need. Below are the binders I found on Amazon (affiliate) from .5 inches to 2 inches. Feel free to click through and buy on Amazon. I will receive a small referral fee at no additional cost to you.
Now, what should I add to the Freshman Year Reference Binder?
Well, I'm glad you asked. This binder will vary from university to university. Some colleges may give you more paper reference information, and other colleges may be more up-to-date with their online references. Add sections to the binder that isn't well-organized or easy to find on the university's website.
Course / Major Information Section of Binder
The first section I added was the course / major information.
This section included the courses my child needed to take for her major in college and any additional information that she received from the orientation that she felt was necessary. If the information were on the website, we would print it out so there was a paper copy of it instead of looking online. Below you can see an example of how I designed her divider pages. I used Microsoft Word application to create this divider page because it was convenient for me, but you can use any other word processing software like Google Docs.
Meals section of the Binder
The second section was Meals. This section includes places that serve gluten-free and vegan foods. I also added a list of items that are easy to purchase for a healthy snack. Check out my post here for details. EASY HEALTHY SNACKS FOR COLLEGE STUDENTS' DORM LIFE
Dorm and Move-in Reference Section of Binder
The third section was the dorm and move-in reference information. I included the Dorm Room checklist I created in the post: TIPS FOR A SUCCESSFUL COLLEGE YEAR. This section consists of an extensive 2 page printable that you can use to gather all the items together for the college dorm. Feel free to click and print it out for your binder. It's free!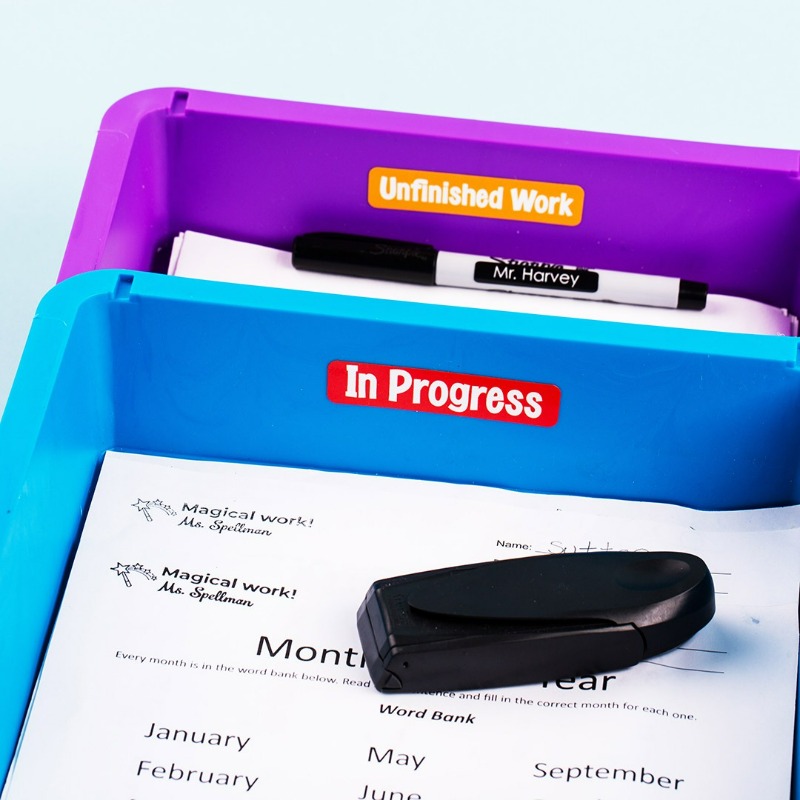 Campus Map Section of the Binder
The fourth tab was a Campus Map. This section was just in case she needed it to find a class or where a building was located. Since my child's campus was large and spread out over several blocks, this gave her a place to go to check out the school and where things were, so when she went out, she would hopefully not get lost.
Transit System Section of the Binder
The fifth section was showing the transit system in the city. She was in a metropolitan area, and it helped her to see how the transit system worked, so she knew where to go when she took it on weekends and holidays so they could explore the city. Note: if there are areas that are not safe, you can mark those areas on the map so they know it is not a great area to visit.
Self-Care Section of the Binder
The last tab was reference material for self-care. I created a post called Easy Self Care Remedies for College Students that were intended to help my children if they can't get a hold of me. Feel free to check out the link above. In this section, you can also add doctors in the area and where they can go that are covered under their insurance.
I also added extra sheet protectors, index tabs, and sheets for each section just in case she wanted to add something herself.
Other Index Tab Topics to add to your binder.
A list of things to buy to eat healthy.
Places in the area to check out for dinners.
Local clothing and other stores to visit.
Well, there you have it! A completed DIY Freshman Year Reference Binder your kids can take with them to college. This binder may be used for the first semester, and then it can be updated each year with new and additional information. What a great going-away gift for your freshman's first semester! I hope this inspires you to create it and share it with your college freshman.
Do you have any other ideas on what to add to this freshman-year reference binder? Please leave a comment below. We would love to hear from you.
Below are some additional posts you can visit for parents of college student tips I found online.
Ten Tips for Parents of College Kids
9 tips on how to be a good college parent
(Visited 931 times, 2 visits today)