My daughter recently turned 16, and we wanted to have a party.  It was a last-minute thing, and we pulled it together beautifully. She and her 15 friends, who comprised of Band and Guard kids, enjoyed the Black Light Room, as well as the Sweet Candy Bar. We incorporated Gluten Free and Dairy Free snacks for the few kids with issues. And, of course, I could then enjoy the festivities without worrying about consequences the next day. =) This post shows How I planned and decorated her glow-in-the-dark Sweet 16 party.
We could have done one theme, but what's the fun in that? Instead, we had two party themes: A play on words theme that related to Sweet 16 by creating a huge "Candy Bar." AND a Blacklight room activity that allowed the kids to have fun with neon colors and paints. Now, let me show you how we created this fabulous party theme. We called it "Marina's Sweet 16 Glow in the Dark Party"!
Jump to:
First, we started out by getting the stuff for the black light room. We purchased many of these from Amazon, but the Dollar and party supply stores were also helpful.  We were able to find many bracelets, wands, and necklaces there and found some adorable candy dishes and bowls for the Candy bar.
Sweet 16 party idea
Here are some of the items we purchased from Amazon. I couldn't find the exact black light, but I found another one.
Please note these are affiliate links through Amazon, and at no additional cost to you, I will earn affiliate fees if you decide to make a purchase.
Then, when everything came, we could assemble the items and see what we had. It was entertaining to go through the house with the black light to see what would glow in the dark. Did you know that Tonic water glows in the dark? It doesn't taste great, but it sure looks cool.
How to Decorate For A Party
We then set up the buffet tables and started prepping the arrangement. We created a menu that displayed on the table all the items we had on the candy bar, complete with if it was Gluten Free or Dairy Free so no one had any questions about what they can eat.
My daughter made cupcakes (I'm not the baker in the family =) ) and iced them. She used them to make the number sixteen on the table. Doesn't it look cute? The tier to the right holds more vanilla cupcakes, and the top level holds the mini cakes for gluten-free kids. Some cupcakes are gluten-free on them. I used the large muffin liners to keep each piece from touching the other pieces.
How to create a candy bar for your next party
To create the candy bar, we found plastic champagne glasses at Marshall's and filled them will movie candy we bought from the grocery store. We picked all types of candy so it not only looked colorful but would also fit in the glasses. I love it when a table displays different heights, so these glasses did the trick.
We also added chocolate brownies because who doesn't like chocolate? I cut them and placed them in cupcake liners. We added mini wafer cookies as well, just because I had them. To make another tier, I used double-stick tape and turned a plastic cup over, and added two plastic dollar store trays to the top and bottom. It worked great, and I removed it without issue after the party.
I had some small glass dip bowls to add to the other candy we bought. The type of candy we added were M&Ms, Dots, Sourpatch Kids, Skittles, taffies, mini Reese's cups, bubble gum balls, Jelly beans, and gummy bears. They look gorgeous when they are gathered together.
How to Create a Glow in the Dark Room
Now on to preparing the Glow in the Dark Room. We used our garage. And, since we made the party start close to 7 pm, it was prime time for the room to get dark. The little 24 inches of black light eliminated the entire room.  As you can see, we hung a white paper ball from the ceiling which looked like a disco ball. My daughter made up two (one you can see in the picture below) selfie glow-in-the-dark frames. The selfie frame below had a woven battery-wired light throughout the outer edge, and she used glow-in-the-dark paint so it would pop in the picture.  The kids enjoyed taking photos with it. The image below is the aftermath of the party. lol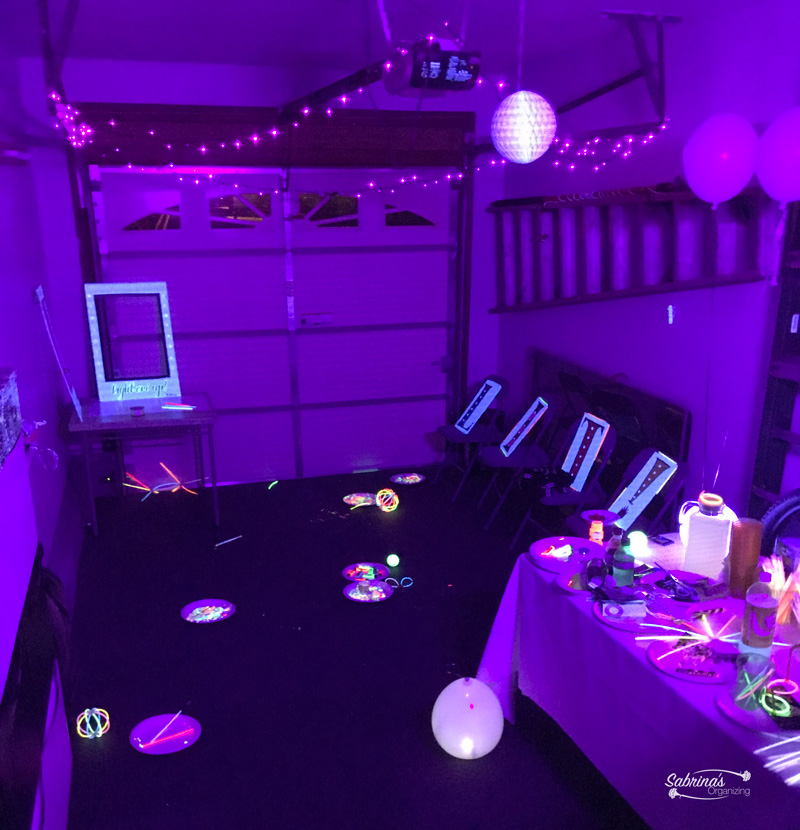 The Glow in dark buffet table was filled with necklaces, glow-in-the-dark bubbles, glow-in-the-dark wands, glasses, and bracelets. They could even make balls and balloons too.
I used a neon marker and labeled the paper plates so they could see what each of them was in the dark. It seemed to work, and most items were used or taken home with the kiddos.
How to make Glow in the Dark Sweet 16 Party Favor Gifts
Now on to the favor gifts. I decided to make it easy this year. I found cotton candy bins that were on sale for $1.00 each at the craft store. Woo hoo. So, I printed out a round label on full sheet labels after I wrote "Thank you for coming to Marina's Sweet 16 Glow in the Dark party" on them and attached them to the top. Don't they look cute? Again, by turning some of them upside down, I could raise up the gifts.
The party was a huge success, and it did take us time to set it up and get everything, but it was something my daughter and I appreciated the time we spent together to share with her friends and family. I hope this glow-in-the-dark Sweet 16 Party idea helps you get inspired to have a party and share your home with your family and friends.
Here's more information on glow-in-the-dark parties Glow-in-the-Dark Party Ideas
Need help organizing a large party? Check out our FREE checklists to arrange a LARGE party.
If you wish to visit our other theme parties, please feel free to see them below.
Please note these are affiliate links through Amazon, and at no additional cost to you, I will earn affiliate fees if you decide to make a purchase.
(Visited 12,658 times, 72 visits today)