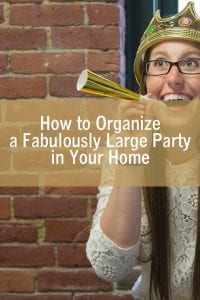 Each year, at the end of school, we have an End of School Year Party for our kids and their friends. This year, my son will graduate high school, so we decided to celebrate by having an even bigger End of School Year Party. When I mean big, we are talking about 40 people, mostly teens. Yes, I know we are crazy like that. Here are tips on how to organize a fabulously large party I use for our party.
Jump to:
To plan this party, I first needed to decide what the "theme" would be of the party. Ours is P.V. High School Graduation Party. Having a theme helps you focus and minimize the cost of overspending for the party and makes it easier to get items and decorate.
If you are planning a graduation party, check your nearby party store for local high school-themed products like paper plates, cups, napkins, etc. If you want to save some money, buy dessert plates and napkins. Or, you can buy napkins and go with plates the school colors. I found P.V. plates and other accessories at our nearby party store recently. I stocked up since I have two graduations back to back within two years.
Here are several printable checklists to use for planning your theme for your next party.
Start with this page below. This sheet includes a place to write your menu. Because we are having such a large group, we decided to make the menu simple. Since it will be happening in June, we decided to grill the meal. We are big grillers in our house. We even have two grills. Yup! Our menu consists of beef, turkey, veggie burgers, and hot dogs, plus side dishes, like salad, veggies, and chips. For dessert, a sheet cake is best for lots of people and some other sweets. For drinks, we like to make ice tea and lemonade when possible. It's easy to make, and it is affordable.
I also added to the printable below a section to write the grocery list of needed items. This section helps me remember the unique things that I need to buy.
Free Printables to help you plan your next large house party
Party Theme and Menu List Printable
Then, I created a list of invitees. Here is a checklist for you to use. Tracking your RSVPs helps you manage the cost of the food and minimize the waste and overspending - a vital area to track when having a huge party. There is also a column if you are asking people to bring something.
The Invitee List Printable for a Large Party
Then, we determine what the kids were going to be doing. For the graduation party, we probably won't have any games for the kids. But we don't determine this until about one month before. Having a plan does help keep the party going smoothly. This printable has a place for kid and adult games. I also added a section for how I will be decorating the home. I also added a section for notes and a place to list the supplies you need to pick up. This year's graduation party will have Chinese lanterns to add this activity to this sheet.
The Activities and Decoration Checklist For A Large Party
Then, the next printable is for helping plan the week before the party. I created it to determine what to do. Here is a checklist you can use. At the top of each column, add the date of each day up to the day of the party. Then, write down the tasks that need to be done each day. Include all the detailed tasks. I find that printing this out a few times does help me manage my time. Sometimes the rows are not enough to cover all the activities.
The Week Before A Party To-Do Checklist
To get your FREE copy of these printables, please sign up for our Party Planning Group. You will only receive emails from me regarding party ideas or party planning tips.
By creating checklists for your party, you will be less stressed, save money, and be able to get more done in less time. Isn't that worth printing these checklists out?
Check out these other tips from other experts and my posts about how to give a fabulous party. The "organize a fabulously large party" posts in caps are from Sabrina's Organizing Party Ideas section. Check it out!
MAKING A FABULOUS PARTY THAT EVERYONE WILL LOVE
HOW TO HOST AN ORGANIZING PURGE PARTY – STEP BY STEP INSTRUCTIONS
NEW YEAR'S EVE MAKE YOUR OWN PIZZA PARTY
NEW YEAR'S EVE TIPS TO RING IN THE NEW YEAR
10 HELPFUL WEDDING TIPS TO REDUCE STRESS
HOW TO CREATE AN ELEGANT MINIMALIST WEDDING
HOW TO HAVE A GLOW IN THE DARK SWEET 16 PARTY
InStyle's 20 Best Party Throwing Tips, Ever
10 Easy Techniques for Throwing an Awesome House Party
Throw the Easiest New Year's Eve Party Ever
Now it's your turn. What type of theme parties have you had? Do you have your checklists? Please leave a comment below and share it.
Please note these are affiliate links through Amazon, and at no additional cost to you, I will earn affiliate fees if you decide to make a purchase.
(Visited 4,601 times, 5 visits today)