OK, I know what you are thinking, "A Declutter Party? Will that help me get my place in order? I am so embarrassed with my home that I don't want to share the mess with someone else." Well, let me explain the party.
Jump to:
What is a Declutter Party?
A declutter party is when you gather with friends/family members, and each person brings some stuff to exchange or give to others. This allows you to get rid of things in your home and know exactly where they will go. People do not want to get rid of things because they don't know where it is going; this declutter party is meant to help with that.
Do you want to know how we can do this declutter party? Follow along.
Step-by-step instructions to host a Declutter Party
First, everyone has some form of a mess in their home. It could be in their closet, garage, shed, or living room. Everyone has their collection they keep, and no one should judge you for your space and how you keep it. If your friends and family genuinely care for you, they will help without judgment. So, put away the embarrassing thoughts. It can be done and will get you started on decluttering and organizing your home.
Determine the disaster area in your home you want to purge and organize.
These areas could be the Garage, Home Office, Kitchen, Large Walk-in Bedroom Closet, and Playroom.
Decide what needs organizing. Here are some examples:
Clear out your home office of old papers from the filing cabinets.
And clear out and organize your garage into workstations.
Clear out the kids' playroom and give the toys to a non-profit organization.
Whatever area you want to purge and organize, make sure you are specific in the details when sharing the party idea.
Enlist everyone in your household to help with overseeing the purging process.
Draw on their strengths. If your husband is great at doing the bills and knows what to keep and get rid of, have him oversee the old paper purging. Since your kids know what they love and play within their playroom, have them manage what goes and stays.
Decide what you want to give the visitors to eat and drink.
After all, it is a party. People are there to socialize and help out. So, you should offer them something for their help. My mother made pasta for friends who came over to help paint.  It's easy, cheap, and quick to make. People love homemade food. Something light and enjoyable for everyone to have while at the declutter party. Maybe some iced tea or something stronger; a few finger sandwiches and snacks work well.
Decide on a date, time, and estimated duration of the party.
Depending on how many people you decide to invite, it may take 4-6 hours for the process to complete if the room needs a complete overhaul. If the room is cluttered, you may want to do less time.
Determine how you will conduct the decluttering process.
Will you first check the paper or item, then hand it off to the next person for actions like shredding, recycling, etc...? Will you tell people to declutter an area without you seeing it? Do you want to play a game to see who can finish purging first? Decide the plan before people come over so as not to waste time.
Determine where you will be donating the items that are not being used.
Make a point to decide on a place to donate the items. Check their hours and add it to your schedule to bring the unwanted stuff over to the charity. Visit my charitable donations page for a huge selection of places to donate things.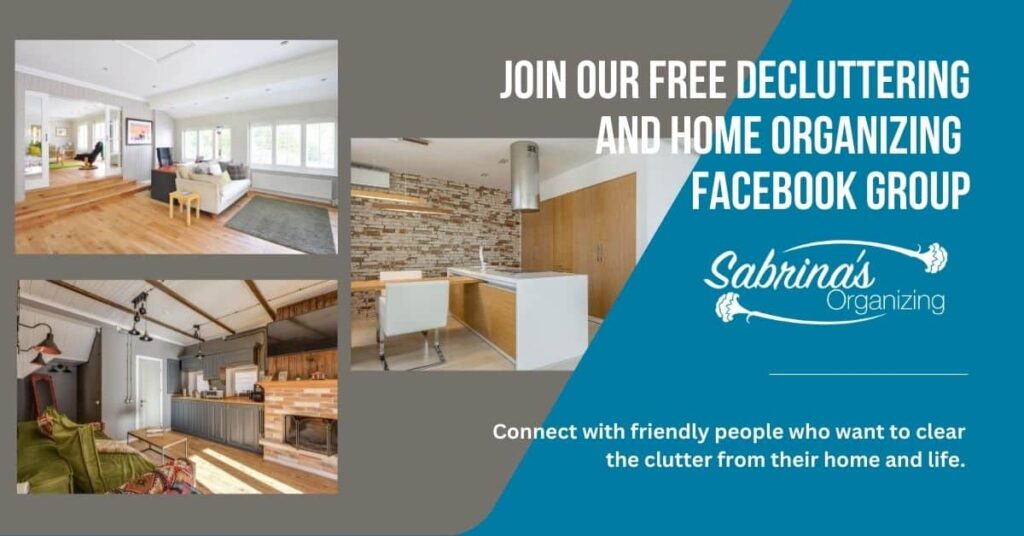 This declutter party will not only get your place in order, but it will also get it in order faster than if you do it yourself - way quicker. Plus, you can add new items to the area from your friends and family.  Note: the purpose is to eliminate stuff you don't want and make room for what you want.  So, don't keep too many items from your family and friends.
I would love to hear your comments and thoughts on the idea of a 'Decluttering Party.' Did it work for you? Did you clear your space quickly? What would you suggest to do for the party that is not on the step-by-step instructions? Please leave a message below.
Below are some other decluttering party ideas I found online.
Can You Make Decluttering a Party? by Basic Organization, a colleague of mine.
How to Host a Declutter Party by OWN Magazine
Please note these are affiliate links through Amazon, and at no additional cost, I will earn affiliate fees if you decide to make a purchase.
Visit our other Party ideas below for your next gathering
(Visited 5,711 times, 4 visits today)