****Visit our "Disclosure Policy and Cookies" for details. Affiliate links appear on this page from Google Adsense, Amazon, Order Out of Chaos, Impact affiliate members, Release, Repurpose, Reorganize, and Shareasale affiliate members.****
While my kids were growing up, keeping the house clean and free of as many germs as possible was no easy feat. It was very much a lesson in learning what was important to clean and what wasn't. So, I developed a system to help me clean up my entire home during the week so that the weekend would be free to relax and spend time with my family. This week, I will be sharing with you tips to get your home clean without having to spend time over the weekend. I also shared with you my printable that shows other chores on it if you want to customize your own cleaning system.
First, I determined what the priorities were in our home. Not everything needed cleaning every day. But, a few areas needed to be cleaned a few times a week, like the carpets and area rugs in the main living rooms.
Decide what your quickest tasks were for each room. Were the counters easy for you to clean? Was the dining area a quick clean after dinner? Did straightening up the playroom area help keep the area clean for the family?
Keep in mind if you have others living in your home and you need help, this is a great opportunity to get them involved in age-appropriate chores. Below is a brief list of tasks for each age group.
Jump to:
Chores by Age Groups
3-5 Years Old Daily Tasks: Toddler
Make bed
Take clothes to the laundry basket
Put toys away
Clean up toys in the playroom
Match Socks
Feed pets
Clear place after meals
6-9 Years Old Daily Tasks: Elementary Schoolers
Empty and load dishwasher
Set the table
Water plants
Clean up their room
Sweep Floor
Sort laundry
Wipe counter
10-14 Years Old Daily Tasks: Middle schoolers
Do laundry
Mow the lawn/pull weeds
Cook a meal
Wash a dish
Clean the bathroom
Clean floors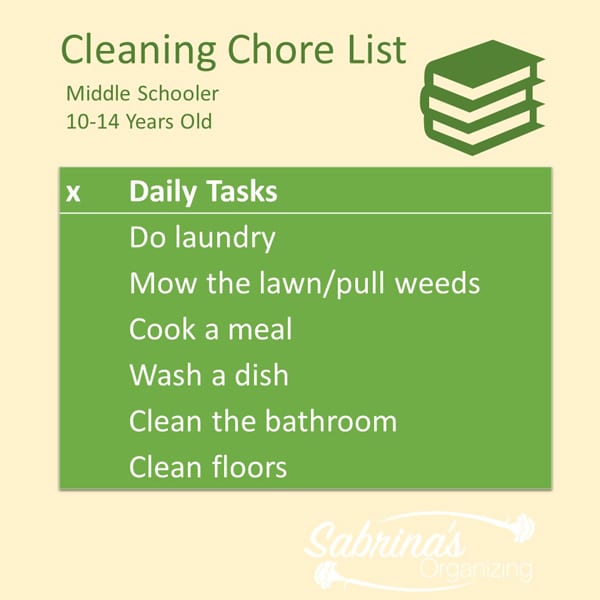 15-18 years Old Daily Tasks: High schoolers
Fold and put away laundry
Make lunch
Cook dinner
Take out the garbage
Iron their own clothes
Clean kitchen
That's not too bad, right? You can easily teach them how to do each chore and ask them to do it on certain days during the week. Leaving it up to them when it should get done may be good for some kids but ineffective for others. Give the child a deadline. And tell them that you expect it to be completed by that day every week. You will need to remind them of the tasks a few times in the beginning.
Now that you decided on some tasks for your kids. It's time to make your own schedule during the week. Make sure you write down the tasks for each day on a piece of paper. Doing this, it will help you remember them until it becomes a habit.
Assign the room to clean on different days during the week. Limit scheduling cleaning on the weekend. It's important to add time for rest and being with family.
Cleaning Routine Checklist By Day
Monday is Bathroom Cleaning day.
Bathrooms get messy very quickly because we use them every day. So, inform everyone involved that they must pick up after themselves and put things in their rightful home so when you are ready to clean the bathroom, there is little clutter in your way. Below is a list of things you need to do on this day.
Cleaning counters
Clean mirrors
Wipe toilets
Clean the shower and tub
Clean doorknobs and handles
Sweep and Mop floors
Clean vanity cabinet doors
Empty Trash cans
Wash towels, robes, and area rugs
Tip: Keep all the bathroom cleaning supplies in the bathrooms. Each bathroom should have their cleaning supplies.
Another option. Below are some other Monday chores examples I did when my kids were little.
Tuesday is Living Room/Family Room/Dining Room Cleaning day.
Since these rooms are usually near each other, cleaning them on the same day will save you time. These common areas are easier to clean when there is little clutter. The night before, ask everyone to help put stuff away so the next day will be super easy for you. Below are the areas that should be cleaned on this day.
Wipe tables down.
Dust furniture.
Sweep, mop, and vacuum.
Straighten items.
Return items and toys to their home.
Cleaning the windows.
Clean under the couch and chairs.
Wipe down baseboards.
Tip: Use large bins with lids so to store items efficiently, and you can gather the mess quickly.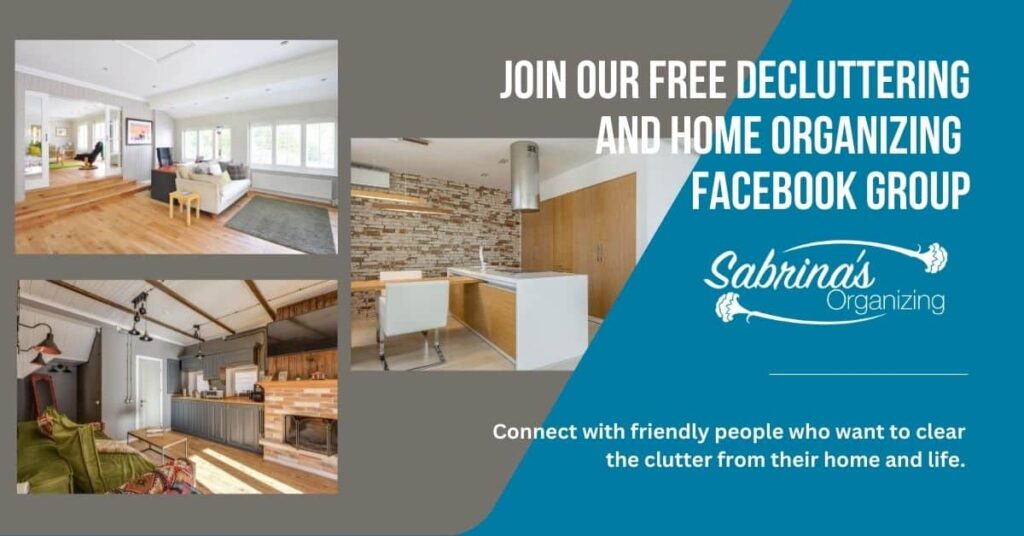 Here's another example of Tuesday chores I did when my kids were little.
Now, you are already in the middle of the week. The week is going fast, isn't it?
Wednesday is Kitchen Cleaning Day.
The kitchen will most likely be messy by this day of the week. It's a perfect time to clean it. Below are the areas that should be cleaned on this day.
Clean counters.
Clean the front of appliances to remove handprints.
Wipe down cabinets and doorknobs.
Straighten pantry (Affiliate Link).
Deep clean refrigerator by tossing old expired food products.
Clean sink, table, chairs, and stove.
Vacuum area rugs and clean tile floors.
Clean small appliances inside and out (for example, microwaves and toasters).
Tip: Clear out the pantry (Affiliate Link) every month of items that have expired. Move them to an area to use first to remind you that they need to be used.
Below are some other examples of chores I did on Wednesdays.
Thursday is Bedroom Cleaning day.
This should include all the bedrooms if possible. If your child has a messy room, ask them to straighten it up on Wednesday night so you will not waste time the next day. Below are the areas to clean on this day.
Vacuum rugs.
Put away the things that are left out.
Dust the furniture.
Straighten the closet and dresser drawers.
Dust and wipe down nightstands.
Clean under the bed.
Wipe down windows.
Dust curtains.
Clean ceiling fan blades.
Tip: Some tasks do not need to be completed each week. Make a note of the week you did the job, so you know when you need to do them again.
And here are some more examples of chores I did on Thursdays.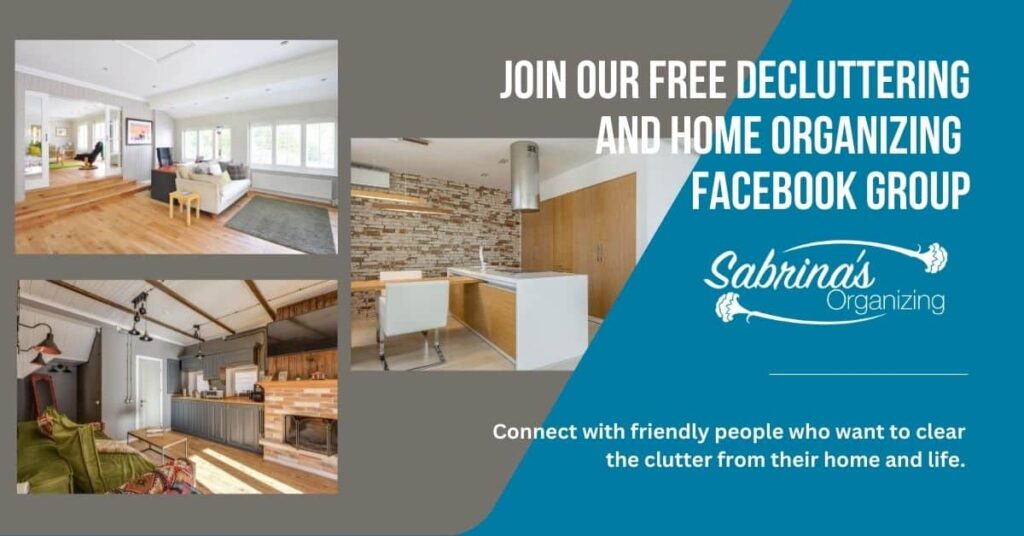 Friday is Random Cleaning Day.
This day will include all the other areas that you need to fill in for yourself. Some areas you could add are straightening up the garage, doing laundry, doing yard work, cleaning out the car, sorting mail, cleaning sheets, playroom, home office, or organizing areas of your home.
Tip: Pick tasks that can be done within one hour of returning home to free up your Friday to spend with family.
And here are some more examples of chores I did on Friday when my kids were little.
Below is a FREE shareable Daily Cleaning Checklist for you to keep and share!
Doing these tasks during the weekday or on the weekday evening, it will free up your weekend time. One hour a day is usually enough to do many of these daily tasks. If you find that some tasks take more time, schedule them for a time when you can do something else as well. For example, if you have to do laundry, do the bills simultaneously near where you do laundry. This will remind you to continue doing laundry in between the billing tasks.
Feel free to modify the tasks for your own purposes depending on your home and what your cleaning area priorities are.
Remember, these chores can be done throughout the day when the kids are taking a nap or doing something else. You do not need to block out a chunk of time to do all the tasks at once if you don't want to do that.
Visit these posts I found online that give you more tips on how to create a cleaning checklist.
The Ultimate Cleaning Checklist
The Ultimate Cleaning Schedule for Your Day, Week, Month, and Year
I hope this post gives you some direction on how to get your and your child's cleaning checklist organized for your home. Please leave a comment below on how you created your own cleaning checklist. We would love to hear from you.
(Visited 1,389 times, 136 visits today)