Imagine while working at your desk, you stand up and walk to file a paper across the room then travel back to the desk and type up a report and print the document. Then, get up again and go to the printer to grab the paperwork. This cycle could happen several times throughout your day leaving you exhausted and wondering where your day went while feeling like you accomplished very little. Strategically placing items in your work space at home or at the office will give you an advantage in managing your activities. Today, we will discuss ways to make your work space more organized to get more things done in a shorter amount of time.
6 tips to make your work space more organized
Everything used on a daily basis should be within arm's reach.
This includes paper planners, 3M Post-it notes
, checklists for projects, and daily project activities. To clear your desk quickly, pick up each piece of paper and ask yourself, "is this paper needed today or this week?" By sorting your papers in sequential order, you will instantly know what papers need to be on your desk and what can be placed in another area.
If you find that you have several papers that need attending to during your day, find an appropriate organizer that fits your desk size. I also found that placing a paper organizer on a side table next to your desk will help maximize the space. Upright file sorters work nicely to retrieve papers. However, you need to have the papers standing in manila folders. The below images are examples of upright file sorters found on Amazon.com (affiliate).
Use monitor arms and roll out keyboard/mouse drawers. 
If you use an external monitor and don't want it to take up valuable space on your desk, getting a monitor arm that attaches to your desk will help you keep your space clear. Make sure you read the maximum size monitor the arm can hold before purchase a monitor arm. Here are some from Amazon (affiliate).
Having a place to hide the keyboard and mouse will not only help you sit ergonomically correct and relieve tension in your shoulders, it will also give you more room on top of your desk. There are a variety of types of keyboard drawers so do some browsing before you purchase them. I found that anything that clamps on the side and top of the desk creates an obstacle when I need to use a flat surface because the clamps lay on top of the desk.
Sort your papers by groups or projects.
If you have many projects and they cause paper management problems, have one bin for each project. Labeling clearly on the containers with removable labels you can reuse the bin after the project was completed. I like to use front stackable bins to hold different projects similar to the ones below I found on Amazon (affiliate).
Have a drawer nearby for frequently used paper files.
If it holds sensitive papers, you can always add a lock to the cabinet for protection if needed. There are filing cabinets that have wheels that you can easily place under a standing desk or table for access.  To protect it, you can use a cable lock and attach the cabinet to the desk.  Here are some visual examples below.
Use lateral filing cabinets for maximum storage.
Two to four drawer lateral filing cabinets
are more substantial than the standard filing cabinets. Always think storage up to the wall rather than across the floor. This works especially well in smaller rooms.
Place the paper planner in a less distracting location.
If you use a paper planner or write down your to-do list, these papers should be at arm's reach. Glancing at your planner and checking off tasks gives you the satisfaction in seeing what you have done that day. If you find that you are doing other tasks throughout the day and find they are taking away time from important tasks, start writing those "smaller" tasks down in your planner. This will help you see how much you accomplish in your day. By not writing down the smaller tasks, you may not realize that there are to-dos that need to be incorporated in your day. Drawing awareness to those other tasks will give you clarity on how much time you need to allow for these activities.
The placement of the planner can be tricky. I found that placing the planner in front of me distracts me from getting the current task done. So, I place it to the left of where I am sitting so I have control over when I want to look at it for the next task.
Whether you have a home office or go to an office, making your desk work more efficiently for you will cut how long it takes for you to do tasks and reduce your day to day stress. Try it and let me know how it goes. Are there tips that make your desk more efficient? Feel free to leave us a comment below.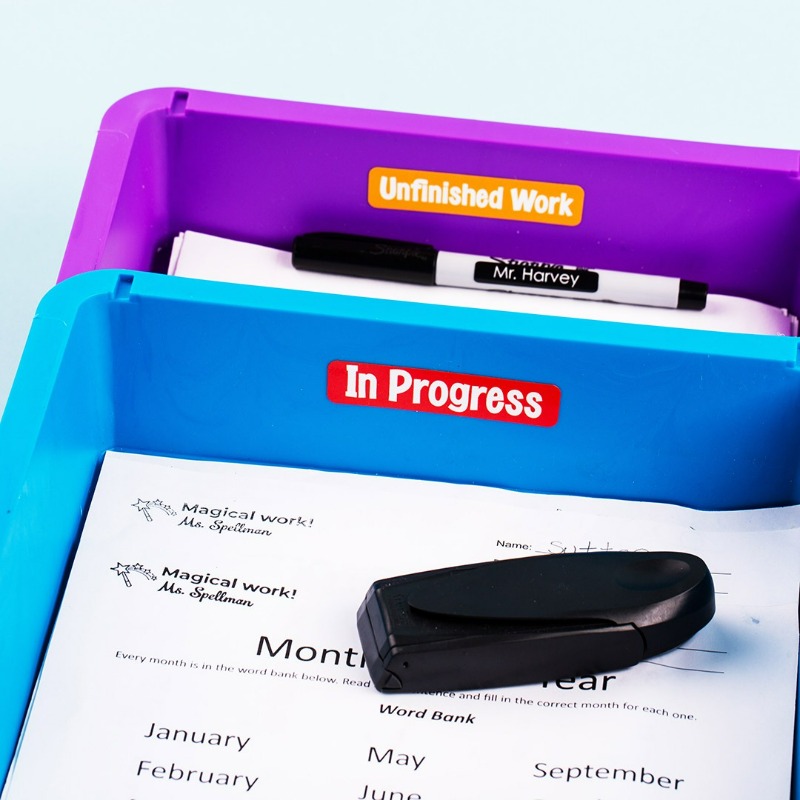 Want more information on this topic?
Read more posts on this site about home office organization.
Visit our other posts about office organization tips. Here are some other posts that may also help you with your office space.
31 Simple Ways to Maximize Efficiency in Your Home Office
How to Design the Ideal Home Office
If you have a small business, feel free to visit our paper management posts on Sabrina's Admin Services.
Please note these are affiliate links through Amazon and at no additional cost to you, I will earn affiliate fees if you decide to make a purchase.
(Visited 797 times, 2 visits today)