Many years ago, my mom passed and my brother and I were given the privilege and honor to clear out her lovely home. One day, while clearing out her books for donation, I came across this letter poem tucked into the pages of one of my mom's favorite books. I don't know where she got it. But since it is Mother's Day, I wanted to share this with you. After reading the letter poem, it resonated with me and my brother and helped us, push through and let go of the sadness and rejoice in her life.
Treasured Greetings from Mom in Heaven Poem

To Those I Love And Those Who Love Me,
When I am gone, release me. Let me go.
I have so many things to see and do.
You mustn't tie yourself to me with tears,
Be happy, we had so many years.
I gave you my love and you can only guess
How much you gave to me in happiness.
I thank you for the love you each have shown
But now it's time I traveled alone.
So grieve a while for me if grieve you must
Then let your grief be comforted by trust.
It's only for a while that we must part
So bless those memories in your heart.
I won't be far away, for life goes on.
So if you need me, call and I will come.
Though you can't see or touch me, I'll be near
And if you listen with your heart, you'll hear.
All my love around you soft and clear.
And then, when you must come this way alone,
I'll greet you with a smile and "Welcome You Home".
Author: Unknown
Isn't it lovely? Makes me tear up every time I read it. I have added an image below if you wish to share it.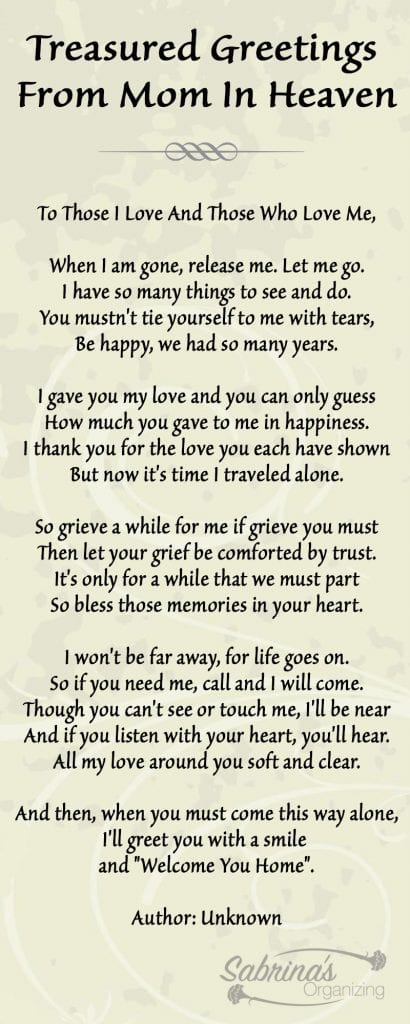 Though the letter poem can be for anyone who passed, I related it more to my mom.  I think I may add it to my personal documents so my kids will also have the opportunity to read it.
If your mom is still with you, feel free to check out our collection of gift ideas for mom here.
Gift Ideas for Mom
10 USEFUL ORGANIZATIONAL GIFT IDEAS FOR MOM
LAST-MINUTE ORGANIZING GIFT IDEAS FOR MOM
55 Best Mother's Day Gifts That Are as Unique as She Is
100 Affordable Mother's Day Gifts She Really Wants
I hope you have a wonderful Mother's Day with or without your mother!  If your mother has passed, please comment below what valuable lesson did she teach you.   I would love to hear from you.
(Visited 4,351 times, 5 visits today)