Can you find items when you need them? That may be because you or someone in your home never returned the thing to its original spot. We all have homes for something, whether we label them or not. I will share the essential organizing advice that no one told me as a kid that I figured out on my own. "Complete Each task by returning items to their home."
"Complete Each task by returning items to their home." Learn more: Complete Each Task -The Most Important Organizing Advice
Click To Tweet
I found it quite annoying that people wouldn't return an item they used to its home. So, to help me combat this anxiety, I found that putting stuff back where I found them helped me control my stress when I had to see it again. It is one thing that many people forget to teach their children because they are ready to move on to something else or are in a rush. But, taking a few minutes and saying words like, "Let's return the item to their home" will teach children a needed lesson to help them throughout their lives.
Jump to:
Can you relate to this frustration?
I would have issues finding scissors when growing up. Yes, scissors. You see, my mother and I cut coupons from our local newspaper every Sunday. It was my job to find these dreaded scissors that morning. Sometimes I would find them reasonably quickly. And other times, I would give up, and we would have to fold and crease the newspaper and tear the paper along the crease. With tons of coupons, doing this task each weekend would take us twice as long. The question I wonder while writing this is, did we save money when we had to waste so much time cutting the newspaper without the scissors? Probably not.
To complete a task is to finish the job all the way to the end. In this case, whoever used the scissors, should have returned the scissors to its home.
Remember to complete each task.
Yes, it may seem simple. And, of course, it is. But what is completing a task anyway? Here are examples of completed tasks.
***AD*** The best academic planner for students! Order Out of Chaos Academic planner helps track time and tasks! Buy 1 or more today!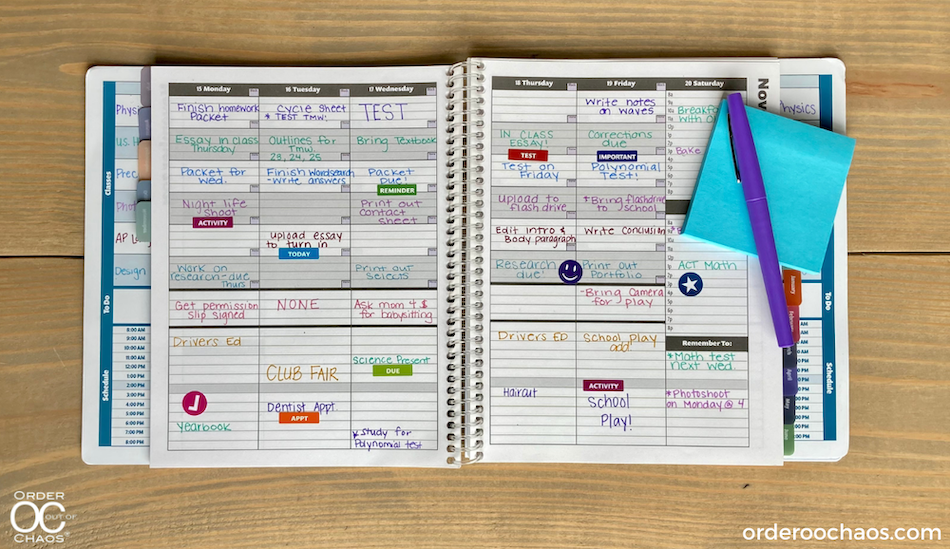 Examples of Completed Tasks
When you take your notes for school, you review them and jot down any further notes you may need to add but didn't have the time for in class.
Placing items in their "home" after you finish using them.
Putting toys or games on shelves or drawers after you play with them.
Reviewing and editing papers after you have written them.
Returning used scissors. (You know, I had to add that one to the list of examples.)
Putting dishes in the dishwasher or cleaning, drying, and putting them away after you use them.
Folding and putting away the laundry after you wash them.
Placing the binder back in your backpack and bringing it back downstairs for the next day.
Putting your shoes in the closet after you take them off.
Placing your dirty clothes in the laundry basket when you get ready for bed.
Making your bed when you get out of bed in the morning.
While these final steps of a task seem simple, they can create havoc when they are not done. In my example above, you can see how much time and energy it took my mom and me to do a simple task like clipping coupons. We had to create an alternative way just to do this job.
Why do I need to finish a task?
Completing a task has many benefits. Below are just five benefits.
You can relax when you complete your tasks.
There will be fewer tasks on your mind to finish.
You will focus more on the task because you handled all the other tasks.
Your rooms are more organized because everything has a home.
You can honestly say you finished a task.
How to teach myself how to complete each task?
When completing tasks over time, you will notice that you get back your home and your time little by little. But how do you retrain yourself to finish the tasks you are doing? Try these steps below.
Observe what is left after you finish a project.
Staying present is essential. When you feel you have finished a task, look at your space. Is there anything out? Not put away? It could be a small item, like a pencil not being placed back in a pencil case, or something larger that doesn't belong with the project but was used and needs to be returned.
Put those items in their rightful place.
Bringing your awareness to an uncompleted task will help you remember those last steps and maybe remind you of other things you may have forgotten to do.
Keep doing this every time you do a project.
Eventually, you will remember all the necessary steps and things you use for different projects. If you find it difficult to remember all the steps, you can create a procedure list/checklist to help you. Visit our collection of checklists for free printables.
Getting distracted easily, try this.
Suppose you get distracted easily while doing a project and feel the urge to move on before finishing the task. Try saying, "Wait, I need to finish this first." and "What else do I need to finish before I leave this ________?" before moving on to something else and not finishing the task.
Other tips to help you finish projects.
There are some other ways to help you finish different tasks to their completion. Below are some that may work for you.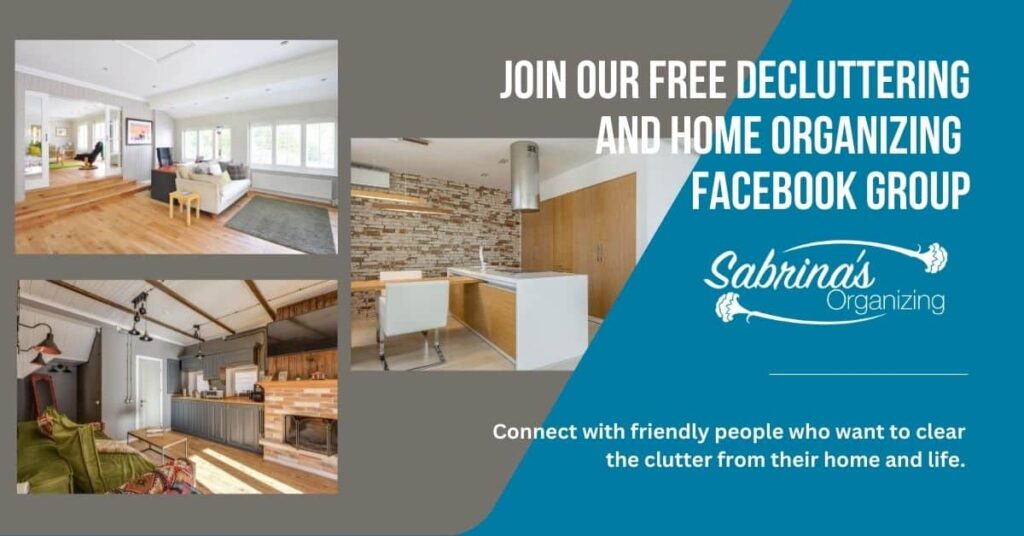 Create a time limit and deadline to finish a project or task. Assign how long you will allow for or when you must have the completed project finished.
Keep the task very streamlined and precise. By making these tasks more focused, you will see a quicker response and be able to remember all the steps needed to do the tasks. Feel free to try our 15-minute decluttering tasks examples to get you started.
Be patient with yourself because you may forget to do this once while learning to retrain yourself. My kids are not perfect. I need to remind them regularly to complete a task. They tend to work on something; before they finish, they get up and move to something else without picking up after themselves. My husband and I have repeatedly told them, "Complete your task, then move on to the next task." Eventually, they will get it.
Let me remind you if you have never had anyone tell you to complete a task. "Complete your task by putting away the items you pulled out."
Now, it's your turn. Does this resonate with you? Do you put stuff away when you finish using them? What stops you from putting something away? Please leave a comment below so we can continue the conversation.
If you need help being accountable for decluttering and organizing projects, feel free to reach out, and we can schedule time to work on that together! Sabrina's Organizing Virtual Organizing Consultations!
Please note these are affiliate links through Amazon, and at no additional cost, I will earn affiliate fees if you decide to make a purchase.
(Visited 1,417 times, 1 visits today)