****Visit our "Disclosure Policy and Cookies" for details. Affiliate links appear on this page from Google Adsense, Amazon, Order Out of Chaos, Impact affiliate members, Release, Repurpose, Reorganize, and Shareasale affiliate members.****
There are many layers and details to the organizing process. It's not all about purging or organizing. Many steps can easily stop you in your tracks from moving to complete your organizing project. These nine steps will bring you back into focus and take you forward to complete those unfinished organizing projects. Are you ready to complete those unfinished organizing projects you stopped putting off? Try these steps and watch how they will give you the strength to finish. Let's begin.
Jump to:
How to complete your incomplete organizing projects
Eliminate or reduce your distractions.  
Turn off the TV, your smartphone, and your computer.  Stay focused on only working with one item at a time. If you need to have some noise while doing your organizing project, try classical music (Beethoven), Jazz, or any music with no words instead
.  This tip helps minimize distractions and helps increase your focus.
Remember, less stuff equals less organizing. 
When working through your stuff, if you feel you are keeping too much, remind yourself that less stuff will give you the freedom you desire. After all, why are you organizing if you don't want more freedom from your stuff?
Use time wisely and only work at the assigned time.
Add appointments to your calendar that state what you want to purge or organize for that particular time. Accurately with the tasks you want to accomplish will allow you to stay on target. If the work takes several days, split the tasks into several 1-2 hour time slots. Detail what you need to do for each appointment. Use an alarm on your calendar to ensure you do not forget what needs to be done and stop when your time is up.  Going over on time will make you feel exhausted and more likely to get overwhelmed. Pace yourself, and you will reduce stress and eliminate clutter.
Have a person stay with you while you organize.
Hire a Professional Organizer in your area, and ask a friend or family member to spend time with you while going through the process. Make sure it is a person who has decluttered before. You don't want someone who doesn't often declutter because they may guilt you into keeping stuff you don't want or need.  Just the fact a person is there with you, you will make your time more productive because you don't want to feel like you are wasting their time as well.  

If you get discouraged or doubt you can do it, know it is OK.
We all get discouraged. If you get overwhelmed, take a step back and revisit the process you have already completed. Take a deep breath and keep moving forward in the process.    Write down what you are struggling with, and then move on to something else.
Keep track of the transformation of the space.
Take before photos of the space. Don't look at them. Just take them. After each session of work, take another picture. Then, look at the before picture, then the after picture. Examine how it makes you feel. Do you love what you did? Is there any regret? Are there any words that come up through the process? Write it down. Take another before and after picture the next time you work on the space.  Do this process every time you finish organizing to motivate you to move forward the next time.
Don't buy new organizing supplies. 
Organizing supplies should only be purchased if you don't have an item to use for your organizing project. Look first around your home and see if other items can be used in this area. Spending money you don't have may stop you from finishing the project, so take this thought off the table.
Get out of your head. 
We tend to have memories of all the items in our home, especially the items from trips, life events, and childhood. The key to these items is to determine the cause of the attachment. Ask yourself these questions:
Is it that you love the piece?
Does the article represent something you lost or value?
Does it bring sad memories when you look at it?
When you look at it, does it bring back memories of happiness?
All these memories will stop you from letting go of an item. So, instead, determine what you want to do if you feel like you are thinking too much about a particular item and can't get rid of it. An option would be to take a picture of the object. You can decide I don't want to remember this and let the item go. You can also keep the item and repurpose it in another area. But the key is to use the item, not just move it from one area to another.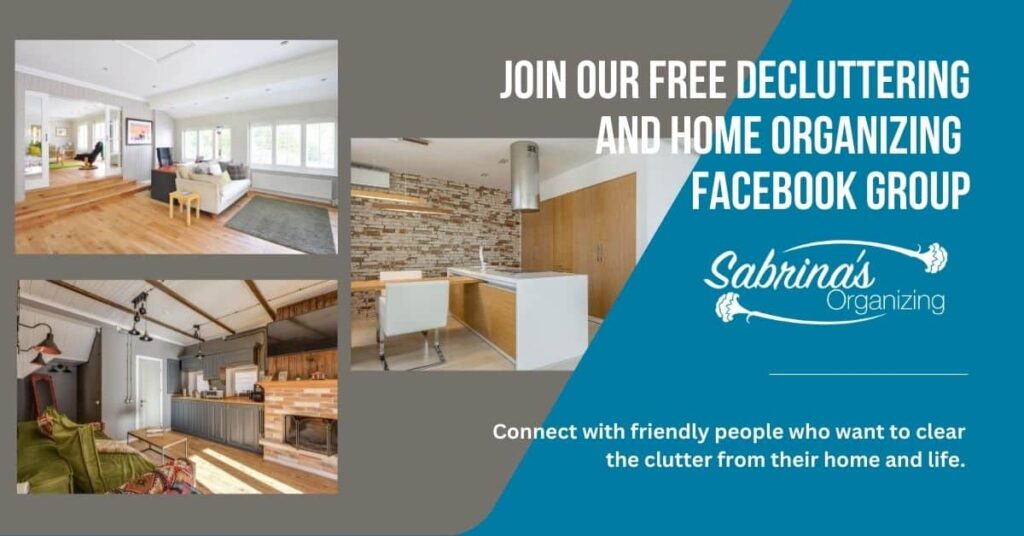 Regular and consistent work to accomplish the task. 
When we don't work on a project for a while, we tend to forget the reason we are doing the organizing project. So, to keep us focused and not distracted, doing the project consistently will keep you from stalling.
These steps can be used to combat the procrastination that happens when you get frustrated or overwhelmed in an organizing project. Not all the steps have to be used at once. You can pick and choose the order you try. There's no particular order required. Whichever order of these steps you wish to use is your prerogative.
As a result of completing these unfinished organizing projects, you will have transformed your space from a disorganized space to an organized, well-functioning one. Let's continue the conversation. When you get frustrated in an organizing process, how do you get yourself back on track?
If you need some support, please contact me through my Virtual Organizing service page. I would love to assist you through your obstacle.
If you click through on the above links and buy something on Amazon, I will receive a small referral commission. Happy shopping!
Feel free to check out our other posts about changing habits.
(Visited 3,819 times, 1 visits today)