****Visit our "Disclosure Policy and Cookies" for details. Affiliate links appear on this page from Google Adsense, Amazon, Order Out of Chaos, Impact affiliate members, Release, Repurpose, Reorganize, and Shareasale affiliate members.****
Do you have mini-organizing projects that need to be done in your home but don't have the time to do them? I define mini-tasks as tasks you can do in less than 15 minutes. The tasks below were created for my clients who are too busy to spend even an hour on an organizing project. Doing these 31 mini-organizing projects during the month will get you to a more organized and relaxed state by the end of the month.
Feel free to tackle these tasks in any order you want. I keep these items in order by area of the home to make it easier for you, but it doesn't matter what order you want to do the mini-organizing projects.
Jump to:
Kitchen - Tools Drawer
First, clear out the drawer. Look at each tool and ask do I use this kitchen tool. Be honest. You don't use every tool every time. There are bound to be a few you don't use anymore.
Kitchen - Junk Drawer
Empty out the drawer. Group items together and get some drawer dividers that fit properly. Add the items to the appropriate divider bins and re-organize your drawer.
Kitchen - Cutlery Drawer
Pull out all the items. Do you use every knife? All the knives in the drawer may have come from sets that you don't have anymore.
Kitchen - Pantry
Pull the items that are in the back of the pantry, like cans, bread, crackers, etc... and bring them to the front of the shelves. See if any expired. The older it is, the more likely the food inside the container will not taste good.
Kitchen - Command Center
In the command center of your kitchen, divide the piled papers and create a filing system for files to use in the kitchen.
Kitchen - Counter
Do you use every appliance on the counter? If not, find another home for them.
Living Room - Coffee Table
Do you have books on your coffee table? Go through them and clear out the ones you don't want any longer.
Living Room - TV area
in the Living Room, go through drawers in your entertainment center. Are there movies you don't watch?
Living Room - Bookshelf
Look at each book and decide what you want to keep and what you are OK giving away.
Dining Room - China
In the dining room, do you have extra platters (Affiliate Link), plates, wine glasses that you do not use? Get rid of them.
Foyer - Entry Drop area
Do you have a table where you place your bags or stuff in or out of the house? Clear the area and add a foyer table. Add something to store these items in.
Clear out all the items from the linen closet. Decide what you want to keep. Fold your towels and sheets the same way to save space.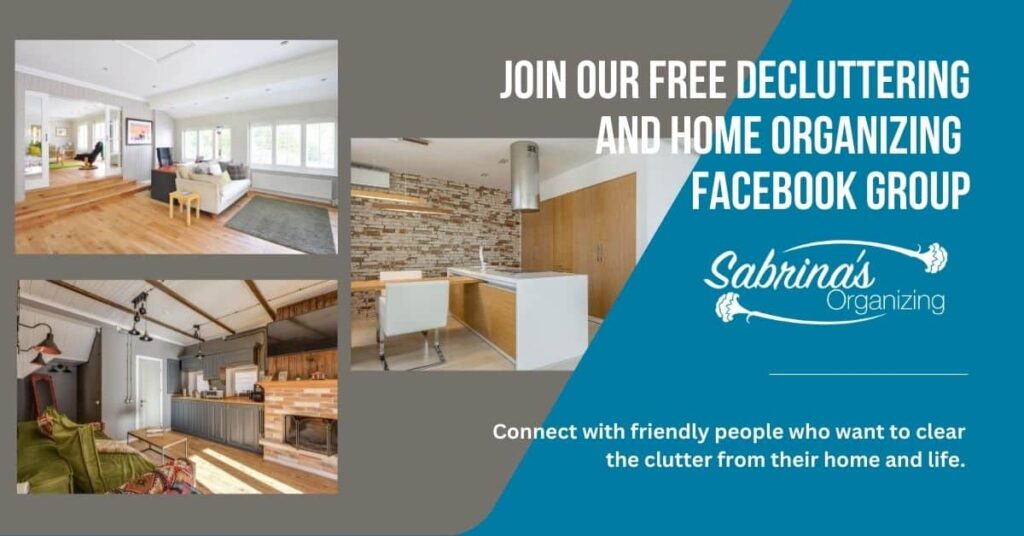 Bathroom - Under the sink
Take out the items from under the sink. Do you need contact paper to protect the cabinet? Do you need a basket that helps contain all the extra supplies?
Bedroom - Nightstand
Review all the items on and in the nightstand. Head to the dollar store and pick up some small supply bins that fit in the drawer. Group and assign a place for pencils, remotes, notepads, and anything else you have.
Bedroom - Dresser drawers
Pull out all the clothing from the drawers. Review each item and ask yourself these questions. Does the clothing have holes in them? Or, does it look dated? Does it look good on you?
***AD*** from Released Repurpose Reorganize: My List Simplified journal is a wonderful organizing tool for planning a move or a renovation. Use it to corral all the to-dos.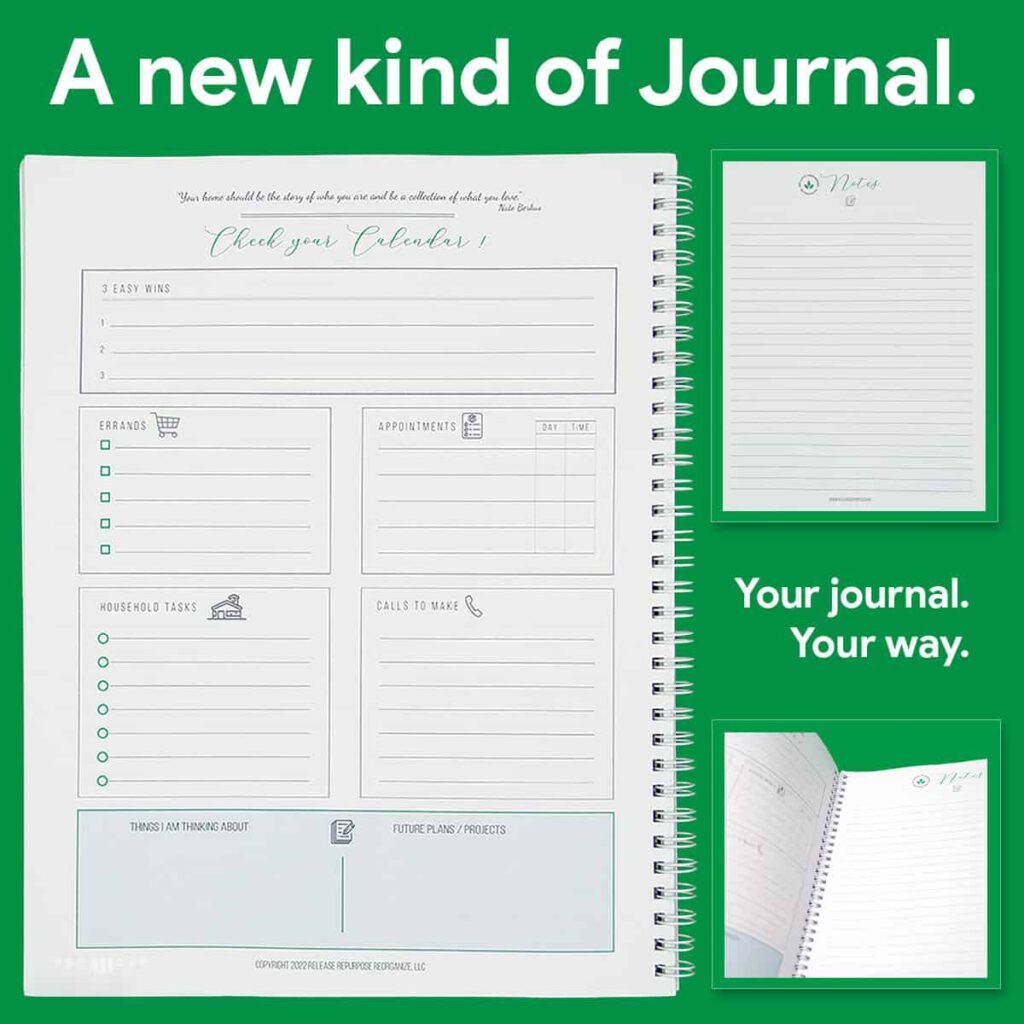 Bedroom - Workout clothes
Pull out all your workout clothes. Place it on your bed. Are any items discolored? Does any item have holes in it? Do you need to repair any item?
Bedroom - Work clothes
Place work clothes on the bed and match the outfits to see what items you may be missing. Does that jacket go with those faded pants? Write a list of items that need to be replaced. Then weed through and donate or trash the clothing you do not need.
Bedroom - Casual clothes
Go through and pull out your Pajamas, loungewear, and yoga pants (come on, you know have them).
Bedroom - Shoes
Gather your shoes in one place. Go through every pair by trying them on and asking yourself if you like them. Do they fit well?
Bedroom - Jackets
Pull out the jackets you don't like or you don't need any longer.
Home Office - Pen drawer
Do you have a nice pen you use all the time? Get rid of all extra pens and other items that are not your "go-to" items. We tend to save lots of pens over our lifetime.
Home Office - Current file
In your home office, are there any files that you have that are not supposed to be in there?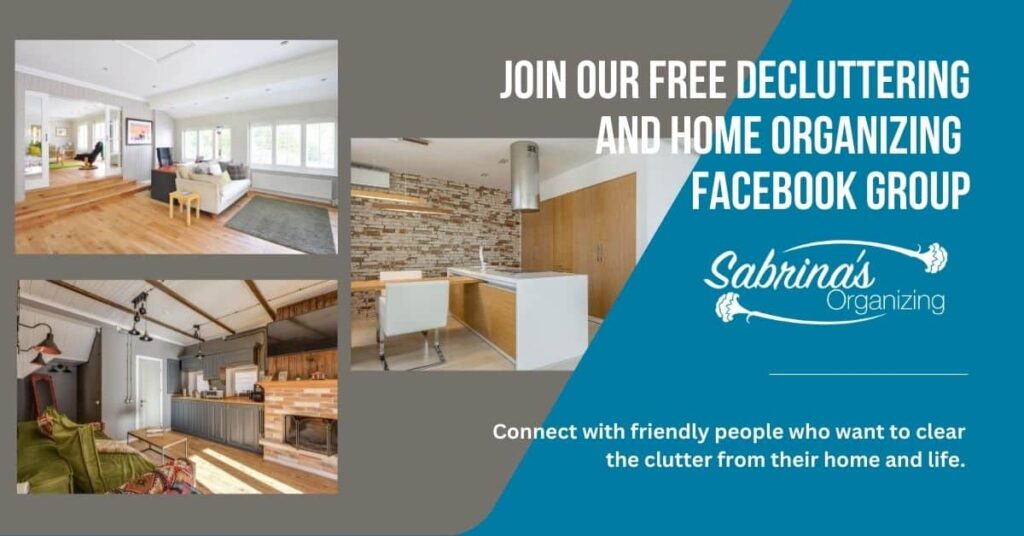 Home Office - Older file
Do you have your previous year's papers in one file? Should you? If someone has to go in the file, will they be able to find the papers they need?
Home Office - Supplies
In your home office, go through the supplies and write up a list of the items you use.
Garage - Tools
Gather your tools. Examine them and see if there are any that are worn or broken. Do you need all of them? Is there any you can get rid of? Group the tools into tasks like Sanding, painting, electrical work, plumbing work, etc...
Garage - Car Trunk
Go through your truck and get rid of any dried-up supplies and make a list of items you need to buy. Do you have a container to hold supplies? And, do you have an emergency first aid kit? Do you have an emergency car kit? Decide what you need and make a list to purchase soon.
Garage - Donation Items
We all store items to give away in our garage. If you have a pile like this, go through and tag the items with a piece of paper and write who it is for. Then, write down on one sheet of paper, what the item is and who it is for and right a due date next to it. Add it to your calendar as an appointment.
Laundry Room - Shelves
In your laundry room, clear off the shelves and see what you have. Were there items that you never used? Do you need to replace any items? Do you have appliance supplies you don't need anymore? Get rid of them. Clean the shelves and put the items away in order by use, like Use for laundry, use for cleaning, etc...
Basement - Paper Storage
Go through those bins that hold papers from years ago. Do you need them all? Are there bills that you have held on to for more than 7 years? Go through the oldest bins and get rid of the papers that are not essential to keep, for personal items to keep are tax returns, bank statements, and credit card statements.
Basement - Holiday Decor
Go through the bin of Halloween (fall) decorations and decide what you don't want. Organize the rest in bins that are appropriate for the size of the items.
Shed - Shelves
Lastly, in your shed, are there loose bags of lawn care items that need to find a better home? Do you need some containers to hold them? Will it last through the winter months? Decide how you want to sort these bag supplies and make a list of bins you want to get.
Below is the printable image to help you through the month. These mini organizing projects may remind you that other areas need to be reviewed as you go through the month. I added a section just for jotting down areas that will need to be revisited at another time. This will keep you stay focused on the project on hand.
Below are some additional tips when going through your home:
Put away only the items you like that are useful to you.
Be aware if you are more emotionally attached to a particular item. That's OK; you can decide what to do next by realizing your emotions. For example, instead of keeping the item, you decide to take a picture of the item and keep it in a digital journal for you to view when you want to reflect on the situation.
Be attentive when making decisions on what to do with the item.
If you don't want to keep it, determine where you want it to go then and there. Then, use sticky paper to write where you want the item to go.  If you want to keep it, decide then and there where you want the item to be stored in your home.  Be specific, like "This item goes in the closet in the basement on the top shelf."  This will help you take action on the item quickly.
If you want to get motivated, listen to some music. I created two Playlists on Spotify to help organize the kitchen and papers. Feel free to check them out here.
I hope this helps you with your mini-organizing projects. Let me know how it goes. I would love to hear about your experience. Please come back and leave comments periodically. Good luck.
Feel free to visit our other posts that share 15-minute organizing tasks for different areas of the home.
TWELVE 15 MINUTE KITCHEN PROJECTS THAT WILL KEEP THE SPACE ORGANIZED ALWAYS
ELEVEN EASY 15 MINUTE CLOSET ORGANIZING TASKS TO CLEAR OUT THE CLOSET
31 DAYS 15 MINUTE ORGANIZING LIST
15 ORGANIZING TASKS THAT TAKE 15 MINUTES EACH DAY
(Visited 10,824 times, 13 visits today)