Are you doing some organizing this week? Don't forget your linen closet! This area is one that many of my clients seem to put aside and forget to do. This will leave their family and their home disorganized. You may not want to, but this smaller closet space will help you get your morning routine off right by allowing you to find your needed supplies quickly. It will also save you money on accidentally purchasing more items than you need. But what things need storing in this closet? This post will help you get it organized in the best possible way. Here we go.
What items should be kept in a bathroom closet?
Jump to:
Bath towels, hand towels, washcloths (of course)
Group these items by type and stack them on top of each other on the shelf.
If you have guests often, you may want to have a separate upper shelf that holds a complete set like the ones I found on Amazon (affiliate) below.
Extra beauty supplies
If you are like us, you may buy doubles of things to ensure you have supplies for the entire family. Things like extra leg razors, nail polish supplies, extra make-up, etc... are handy to keep in bulk. These extra supplies can be stored in small open-top wicker baskets or bins to hide the quantity. Below are some I found on Amazon (affiliate).
Visit our HOW TO MAKE A CUTE GUEST WELCOME BASKET FOR THE HOLIDAYS post!
Extra General Supplies Utilized in the Bathroom
If you go to a wholesale store to purchase your bathroom supplies, you may have a stockpile of toothbrushes, toothpaste, toilet paper, and tissues. Bins with drawers work nicely with deep shelves in your linen closet for these items. Bins with lids also work well for toothbrushes and toothpaste. Keeping the bulk toilet paper rolls on the top shelves works great. I find that removing the packaging allows for easy access when you need it most. Below are some drawer sets I found on Amazon (affiliate).
Laundry Baskets
If you can fit laundry baskets in your linen closet, it's ideal to have one for darks, one for lights, and one for bleach items. If you do not have room for all three, have one or two. Below are the ones I found that have dividers for these sections.
Baby Cleaning Supplies
Baby's come with lots of things. Baby shampoo, baby powder, bathtub, moisturizer, etc... can add to an already stuffed linen closet. It's best to keep these items separated in their own bin. Having these items in one place will make bathing your baby easier. Some acrylic bins with handles with sides at least 4 inches high work nicely to store these items and grab them when you need them.
Bathroom Cleaning Supplies
A few rolls of paper towels, toilet bowl cleaner, tub and tile cleaner, floor cleaner, etc... should have a home in the linen closet. No one wants to go downstairs to get things to clean the closet. Also, if you have little ones, you may not want to place them under the sink. So, the linen closet is a perfect spot. The cleaning process will be quicker and easier if you have the supplies right there and ready to use. I use open-top acrylic bins for these cleaning supplies since they are sturdy and usually have handles.
Summer swimming supplies
Other items stored in a linen closet are beach towels, goggles, sunscreen, etc... They should have their own bin or area on the shelf. An open bin works great for bottle items that are quick to grab. Folded beach towels on a far corner of the shelf when not used to help keep them clean and away from possible use. I prefer to place the water shoes near the other shoes closest to the front door because they can make a mess if they are brought to the far end of the home. If you have a mudroom, you can add these supplies there instead of the linen closet. Summer swimming supplies can be stored in the garage however, the towels and sensitivity-to-temperature items should be stored in the linen closet.
First Aid Kit
If you have a smaller home, it works to keep the first aid kit in a portable container like the one I created for our home. Create a first aid kit and basket that holds all the supplies. This briefcase-like divider container works great for storing all these small items.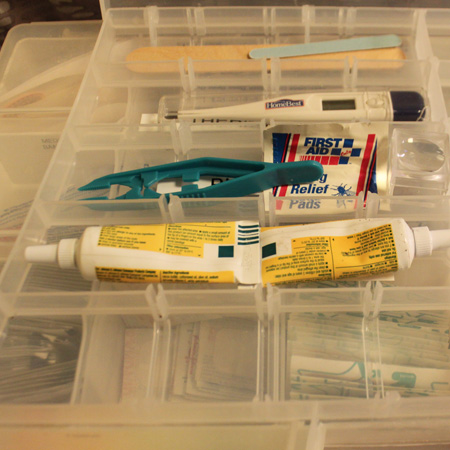 If you do not wish to make your own first aid kit, I found these on Amazon (affiliate).
Visit our other bathroom posts for more tips!
Visit these other posts that may help you with your bathroom.
BATHROOM ORGANIZING ESSENTIALS
THE IDEAL NARROW LINEN CLOSET LAUNDRY BASKET OPTION
If you have a larger bathroom and place the above items in your vanity or sink cabinet, you can also organize the closet with just linens like the image below from an organizing project of a client of mine.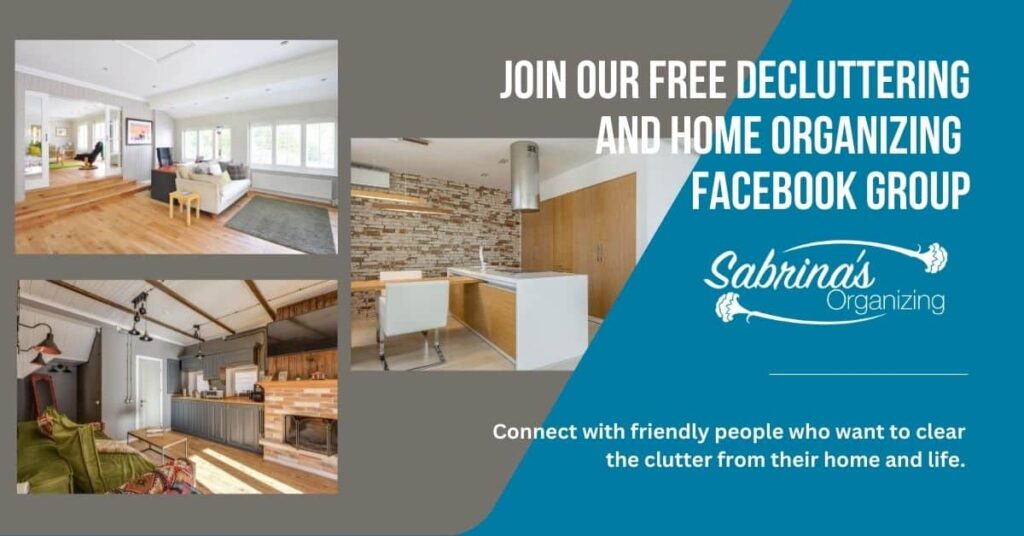 She didn't need to store anything but towels in her linen closet, but she still organized them by type. And, at the bottom, she had an open bin for her laundry baskets. This closet was in the hallway near her powder room. Odd place for a linen closet but it worked for her.
Updated 2023:
Recently, I started working with this linen closet client again, and she shared with me how her linen closet looks now. She did great! After so many years, her kids are now in high school and elementary school; they needed more area for larger towels. So, she reduced down to just two large bins.
Some home zones will need reorganizing as the kids grow and change; this area just needed a little modification to stay organized for her family. I'm so proud of her for keeping the continuously used area organized for so long.
If you are looking for support and advice on organizing your home, check out my Virtual Organizing Services. Reach out, and let's talk about your goals.
And don't forget to label the areas!
Now that you have all the items in your linen closet. It's time to label! It's a great way to reinforce your new system. Label the bins so you and everyone in your home can find things quickly and notice if things are missing or if supplies ran out. Like the image above, you need to label it if you can't see what is in it. But to stay consistent, be sure to mark it anyway. It looks so much better when everything is labeled.
Where to place items in a linen closet?
Below is a visualization of where to place the items in a well-organized linen closet. Remember: Above eye levels are infrequently used items and lighter items. At eye level should be the frequently used things, and below eye level should be the heavy items and larger bins.
Tip: Pull items out of the closet that does not pertain to the bathroom. It will drastically reduce the number of items in the closet and, as a result, make it less cluttered.
That's it! I hope this post inspires you to make your organized linen closet. Do you have any unique items in your closet? Please comment below if you have any issues with where to store them. I will get back to you as soon as possible. Happy Organizing.
Below are some additional tips from other experts about linen closet organization.
13 Tricks for Organizing Your Chaotic Linen Closet from Good Housekeeping Magazine
Organizing Your Linen Closet from HGTV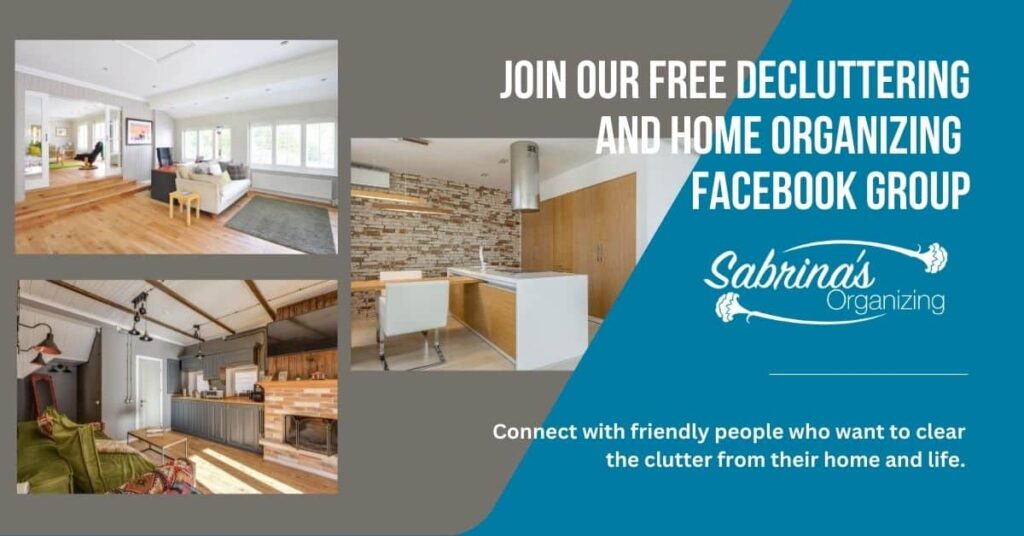 Please note these are affiliate links through Amazon and at no additional cost to you, I will earn affiliate fees if you decide to make a purchase.
(Visited 16,264 times, 74 visits today)