****Visit our "Disclosure Policy and Cookies" for details. Affiliate links appear on this page from Google Adsense, Amazon, Order Out of Chaos, Impact affiliate members, Release, Repurpose, Reorganize, and Shareasale affiliate members.****
We have one large bathroom in our home. In the bathroom, my daughter and I share a vanity area. Though my son and husband need some stuff, we also store it in our vanity, like cotton balls and Q-tips. I recently added all her makeup to my vanity in the bathroom, which made it a little tight in the vanity drawer. So, after rearranging the vanity drawer, I realized I needed to find a place to store the cotton balls and Q-tips that couldn't fit in the drawer any longer. So, here's what we did with our wall mason jar (Affiliate Link) organizer to help remedy this issue.
Jump to:
First, I went and picked up 3 Mason jars (Affiliate Link) from the nearby craft store. I plan on using them by hanging them from the wall so my husband and son do not need to go into the vanity drawer. I also wanted to make it decorative, looking like a piece of art on the wall.
What supplies and tools are needed to make a wall mason jar organizer?
Let's get the supplies we need to do this project. So, here is what I bought.
How to make a customized wall mason jar organizer?
First, I set up the wires and wrapped them around the jar's mouth. I tried different thicknesses of wire, and it seems copper wire 16 gauge works the best. I started with a thick silver gauge, but it was not sufficient. Then, I went to the thicker copper gauge, and that worked.
Here is where I added the hooks first.
I measured 3 inches from each side of the wood ends and 2.5 inches down from the top end of the wood. This is where I screwed in the metal loops.
Stain the wood pieces
Then, I went and stained the wood black and let it dry. You can also use chalk paint so you do not see the grain of the wood. I didn't put a gloss on it because I wanted to have a matted look.
After I stained it and let it dry, I added the copper wire to the hooks.
Label the jars
I decided that I wanted to label the jars. However, I didn't want to write on the jars themselves. So, I decided to write on the wood with chalk. I did this after the jar was attached to the copper wire.
**AD from Cricut Maker**
Wrap the wire around mason jars
Then, I wrapped it tight around the mason jar (Affiliate Link).
And I added these hooks on the back to hang on the wall. I also used a router to drill out the hole for the screw in the back of the wood piece to lay flat on the wall. It worked great.
After Wall Mason Jar Organizer
And here is the finished product hanging in our bathroom.  What do you think?
Well, there you have it. We love it! Everyone can get what they need without cluttering up the counter. YAY!
Now it is your turn: What ideas do you have for Mason jars (Affiliate Link)? Please leave a message below.
2016 Update on the Wall Mount Mason Jar Organizer:
My daughter picked up the writing fancy letters hobby that so many people like to do as a creative outlet. So I recruited her to update my labels. Below are the updated images with the new labeling on them.  Don't they look great! She did a wonderful job.
Visit our other mason jar projects:
Please note these are affiliate links through Amazon and other affiliates, and at no additional cost to you, I will earn affiliate fees if you decide to make a purchase.
**AD**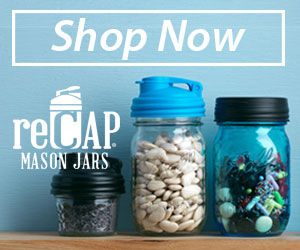 Visit our other wall-mount DIY Projects:
(Visited 2,662 times, 1 visits today)