We are all so busy these days. With work and shuttling kids around taking up most of our day, our organizing tasks are usually lumped in with every other chore that needs completing. However, organizing doesn't have to happen 24 hours a day 7 days a week. You just need to change your habit and make organizing one of your priorities. To do this, you will only need 15 minutes a day. By doing this consistently for 15 days, you will have organized 3.75 hours in 15 days! Wow, isn't that amazing! Try these small organizing tasks that take 15 minutes each day and see how you do in 15 days. For 15 minutes per day for 15 days, you will help your home and day be more organized and, as a result, help you save time and money.
15 Organizing Tasks that take 15 minutes each to Declutter Your Life
Day 1: Go through and remove unused items in your Utensil Drawer.
Pull all the items out of the utensil drawer. Clean it, replace all the things you want to keep and discard or donate the rest.
Day 2: Go through your Junk Drawer.
Visit our things to keep in the junk drawer list for ideas on what should be in this drawer.
Remember to remove everything and insert a drawer organizer to maximize your area. Below are some drawer organizers from Amazon (affiliate).
Day 3: Plan what you eat for the week and write it down.
Visit our HOW TO MAKE A DIY CHALKBOARD PANTRY DOORS for a DIY project on how to make a Weekly meal planning area. If you need help with meal planning, check out these posts below.
HOW TO MAKE A MEAL PLANNING SYSTEM THAT WORKS
SPEED UP WEEKNIGHT COOKING CHALLENGE
Now, let's move on to the car.
Day 4: Clear out the clutter in the car pockets.
Cars can get cluttered when you neglect to clean them out. If you are looking for ways to organize your car and things to place in it, check out our CAR ORGANIZATION CHALLENGE for tips on what should be stored in a vehicle to keep it organized.
If you have jewelry, the next task is for you.
Day 5: Put your jewelry on an organizer and sort it by color.
You can make one easily if you don't have a jewelry organizer. Check out our DIY jewelry organizers below.
HOW TO MAKE A NECKLACE ORGANIZER PICTURE FRAME
HOW TO MAKE AN EASY DIY EARRING ORGANIZER PICTURE FRAME
You can also find some fantastic ways to organize your jewelry in this post: 6 AMAZING WAYS TO ORGANIZE YOUR JEWELRY
Day 6: Another organizing task that takes 15 minutes is to Go through your magazines and get rid of some.
Magazines/newspapers are dated material. Finding this content only is super easy these days. So, recycle and get rid of them right now.
Day 7: Go through your coat closet and remove items you don't wear.
If you have more than one person using this coat closet, you can label the hangers by color coding them. Check out this post for an easy way to do this. HOW TO EASILY ORGANIZE FAMILY COATS IN A COAT CLOSET
Day 8: Go through your medicine cabinet and remove expired and unused items.
Visit our other "small items to organize" challenge: 29 DAYS SMALL ITEMS BIG CLUTTER CHALLENGE.
***AD*** from Released Repurpose Reorganize: My List Simplified journal is a wonderful organizing tool for planning a move or a renovation. Use it to corral all the to-dos.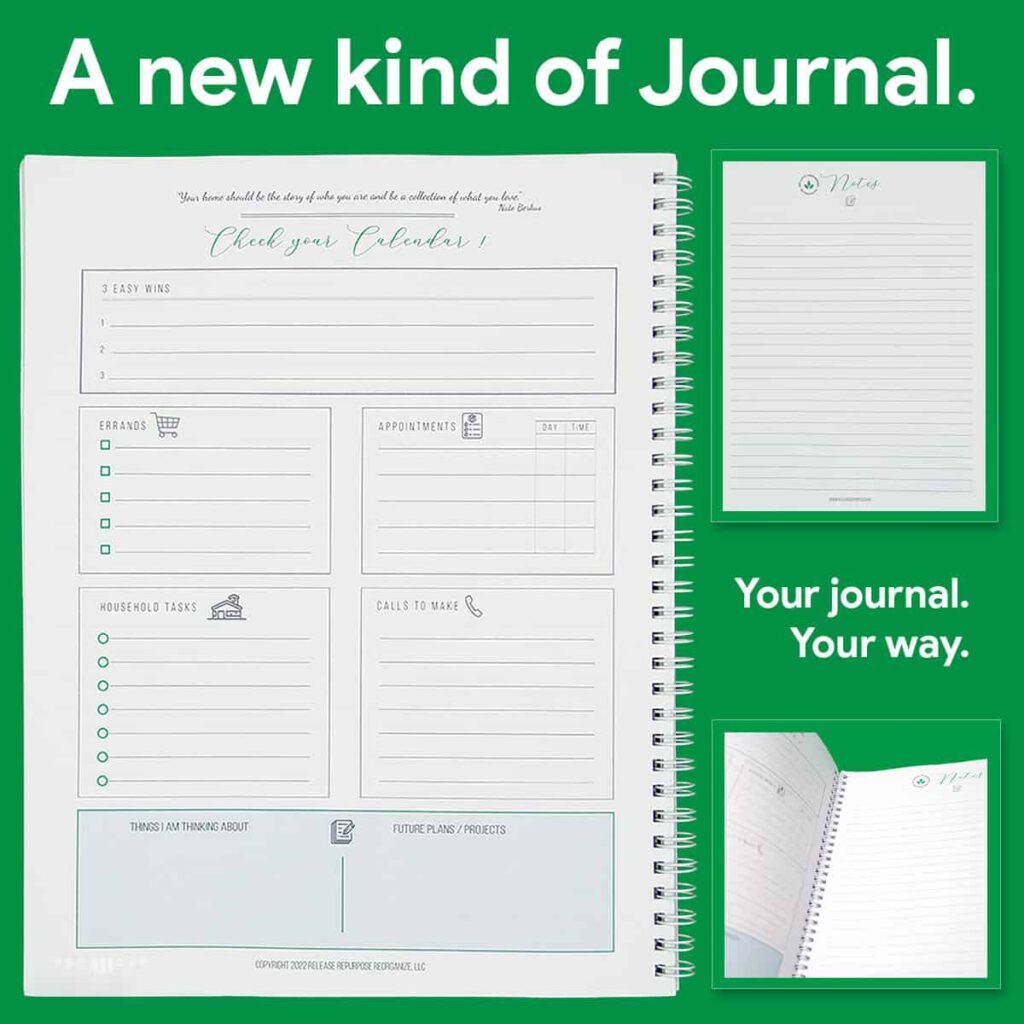 Going through and moving items that were pushed in the back or to the bottom will help remind you of what you have and give you ideas on what to make next. Visit our post called: HOW TO ORGANIZE A FREEZER LIKE A PRO.
Day 10: Go through your desk drawer.
Desk drawers can get cluttered quickly. The next task will help you get this area organized. Having drawer organizers will help keep items in the proper place when you close and open the drawer. Things move around consistently in drawers if you do not have them in small bins. Below are some I found on Amazon (affiliate).
Check out: 30 Desk Items To Throw Away For A Tidy Space from our sister site, Sabrina's Admin Services.
Day 11: Go through the brushes in your bathroom and get rid of them.
Brushes are just one item to go through. Visit our other posts below that will help you clear the clutter in the bathroom.
Day 12: Now, go through your mail when it comes in each day and recycle all the junk mail.
Make it a point to go through the mail that comes in and place it directly in the recycling bin or shredder. We share a post about organizing mail called 4 WAYS TO ORGANIZE INCOMING PAPER MAIL. Feel free to visit it and get tips.
Day 13: Now, sit down and write down the tasks you need to get done today.
Planning your day will help determine your direction and what you need to complete. Making a list is critical for a productive day. Prioritize the list after you make it by adding a number next to the list—1 for most important to 5 for least important.
Day 14: Move the food from the back of your pantry to the front of the pantry.
Pantry clear-out doesn't take long, but we tend to make it a bigger task in our heads. Visit our other pantry posts below for more inspiration.
And lastly, Day 15: Clear clutter from the living area of your home.
This area is where you and your family spend most of the day. Some examples are the living room, dining room, foyer or mudroom, and kitchen. Doing some tidying up will give you the power to tackle the larger areas.
THE POWER OF BEING NEAT AND TIPS ON STAYING NEAT AFTER ORGANIZING
Enjoy! You will quickly get through your decluttered spaces when you do one daily task. Here is an image for you to share and use.
After doing these 15 organizing tasks that take 15 minutes, you should see a massive difference in your home and life. Let me know how you do. I would love to hear from you.
Please note these are affiliate links through Amazon, and I will earn affiliate fees if you decide to purchase at no additional cost.
(Visited 8,473 times, 5 visits today)