****Visit our "Disclosure Policy and Cookies" for details. Affiliate links appear on this page from Google Adsense, Amazon, Order Out of Chaos, Impact affiliate members, Release, Repurpose, Reorganize, and Shareasale affiliate members.****
People move all the time! I had several family members, clients, and friends move across town, across the state, and even across the country over the years. They always ask me, "How can I make the process of moving less stressful?" Today, I am sharing my favorite go-to moving checklists to help you complete your move quickly and with minimal stress.
Sorry to say, YOU MUST make moving checklists to help you keep focused and remember every task that needs to be done. Even if you are not a list builder, you must make lists to help you. It will keep your stress at bay before, during, and after a move.
Jump to:
1st Checklist: Create a To-Do Timeline Checklist
The first checklist should be a timed one. You can divide it into sections for each month, week, or daily whichever works best for you. The more detailed you are, the better the checklist will work, so subdividing the lists into smaller ones works nicely. Ask yourself these questions below to help you make your To-Do Timeline checklists.
What tasks need to be done six weeks before we move?
Are there tasks I need to do in 3 weeks?
What do I need to do within two weeks of the move date?
Are there tasks I need to be completed within one week of moving?
What do I need to do the day before we move?
Looking at the home, what do I need to do on the day of the move?
What do I need to do the day after we move into the new home?
Are there tasks I need to complete within a week after the move?
What do I need to do within 2 weeks after the move?
How to Make a To-Do Timeline Checklist?
When you create this To-Do Timeline checklist, start with the date you will be moving. Then work your way backward, labeling each sheet that week's date. You can use any app you feel proficient in to create these timed checklists. Applications like Evernote, Microsoft OneNote, or a spreadsheet with tabs that are labeled the dates. Remember, it is important to view each week as you ensure the prior week was completed.
The day before task list
1 week before task list
2 weeks before task list
3 weeks before task list
4 weeks before task list
5 weeks before task list
6 weeks before task list
2nd Checklist: Make a Change of Address List
In this change of address list, include columns that read the following:
The company, government, and friends/family Name
Phone number, email address, or website to change address
A completed checkbox
This list can be created in a spreadsheet like Google Sheets or Microsoft Excel.
Companies and Agencies List to Change Address
There are many agencies and companies you need to inform of your new address. Below I subdivided the list into Federal, state, and local agencies; Household companies; Financial Institutions; Company and Business institutions; Company & Small Business Institutions; Insurance; Doctors; and everything else.
Federal, State and Local agencies:
The IRS Agency - Use form 8822
Social Security Administration - Medicare & Social Security
Voter's registration
State agency
Local Tax agency
Driver's license/car registration
Vehicle registration
Depending on your state, they may have ways to do this online or in person. Research these topics on your state's website.
Household companies:
Utility companies (water, electric, gas, sewer, and garbage)
Home security
Cleaning service
Cable and/or Internet service provider
Financial institutions:
Bank accounts companies
Investment/retirement account companies
Credit cards companies
Accountants/bookkeepers or tax prep service companies
Company and Small Business Institutions:
Your employer
Coworkers & Clients
Accountants/bookkeepers
Tax agencies and other financial companies that are associated with your at-home small business
If you have a small business out of your home, you will need to change the address for your small business as well.
Insurance Agencies:
Homeowners Insurance company or renter insurance company
Car insurance companies
Life insurance companies
Medical insurance companies
Disability insurance companies
Doctors:
Primary doctor
Dentist
Eye doctor
Foot Doctor
Urologist
Local medical networks like Penn Medicine, Main Line Health
Dermatologist
OBGYN
Local Hospital if you are staying in the same area
ENT Doctor
Bloodwork clinic
Pharmacy
Additional companies and people to inform:
Family and friends
Paper (i.e. local newspaper) and Digital Subscriptions (i.e. Amazon Prime)
Food delivery services like HelloFresh
Streaming services: Netflix, Hulu, Paramount+, Max, AppleTV, Peacock, Disney+, VUDU, PBS Video
Membership Clubs - i.e., Fitness Center
Places of worship
Magazines Subscriptions
Map Apps: Google Maps, Apple Maps
Transportation Apps: Uber, Lyft
Smart home apps: Google Home, Sonos speakers, Assistant, Apple Home, Amazon
By making a complete list, you can do this over a few weeks before, during, and after you move.
3rd Checklist: What to give away or donate list
The third moving checklist is an item-to-donate list. This list will help you remember what you are planning on doing with the items you want to donate.
What to do, give away and donate, and what to keep? Add these items to your list:
Include a column for the name of the item you want to get rid of.
Add a column for who to give it to.
Include a column for where to donate it.
Having one of these pages per room will give you the peace of mind that you selected all the items you wanted to get rid of so you don't take unwanted items to your next home.
Check out our Charitable Donation Locations page to find places to donate your things. It is updated every 3-4 months and has national as well as local charities.
If you need to recycle things but want to do it in an earth-friendly way, visit our Recycling and Shredder Event Page. This page is updated whenever I find out about new events that are happening in the current year.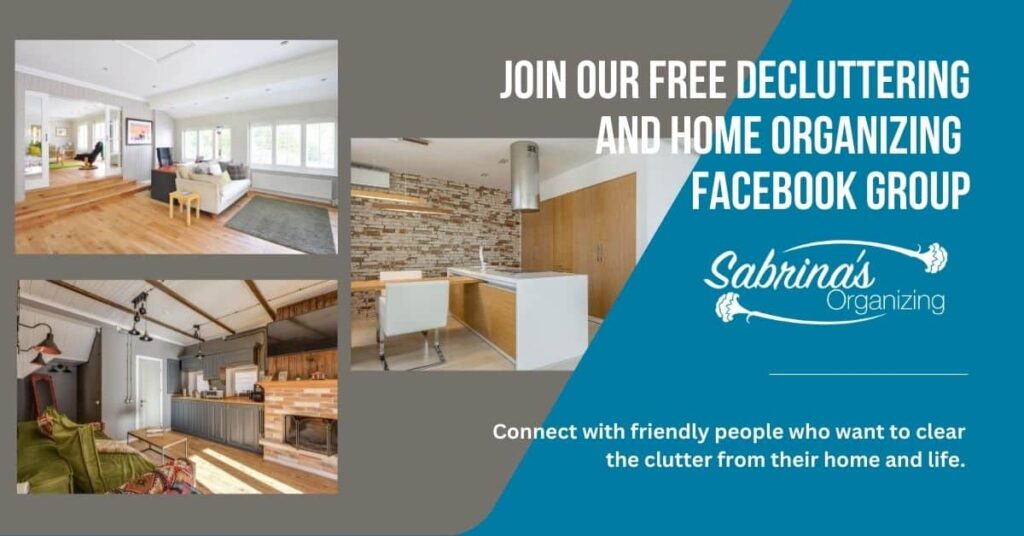 If you do decide to donate, keep a running list of items that you donate for tax return purposes if you want to deduct them from your taxes.
Ways to get rid of stuff before your move.
There are many ways to get rid of things, not just donate or recycle them. Below is a list of ways to get rid of things in your home.
Post items on Facebook Marketplace to sell. For a quick sale, don't overprice the item.
Post items on Craig's List or eBay. If you use eBay, you will most likely need to ship the items, so keep that in mind when pricing.
Give to someone. If you want to give the item away, take photos of the item you want to give away or donate. Then, share the image of the item with friends on Facebook or other social media platforms.
Have a yard sale. Share with a yard sale community online (if you feel comfortable with this.) Indicate it is a Moving Sale. While you may be lower offers for things, you can easily get rid of things quickly.
Rent a dumpster: If you have many things that need to be trashed, renting a dumpster is the best bet to get rid of it as soon as possible.
List of things to get rid of before a move
There are lots of things to review before you move. Below I have listed several things by room to see if you can reduce the items so you are not taking any more than you want to use.
***AD*** from Released Repurpose Reorganize: My List Simplified journal is a wonderful organizing tool for planning a move or a renovation. Use it to corral all the to-dos.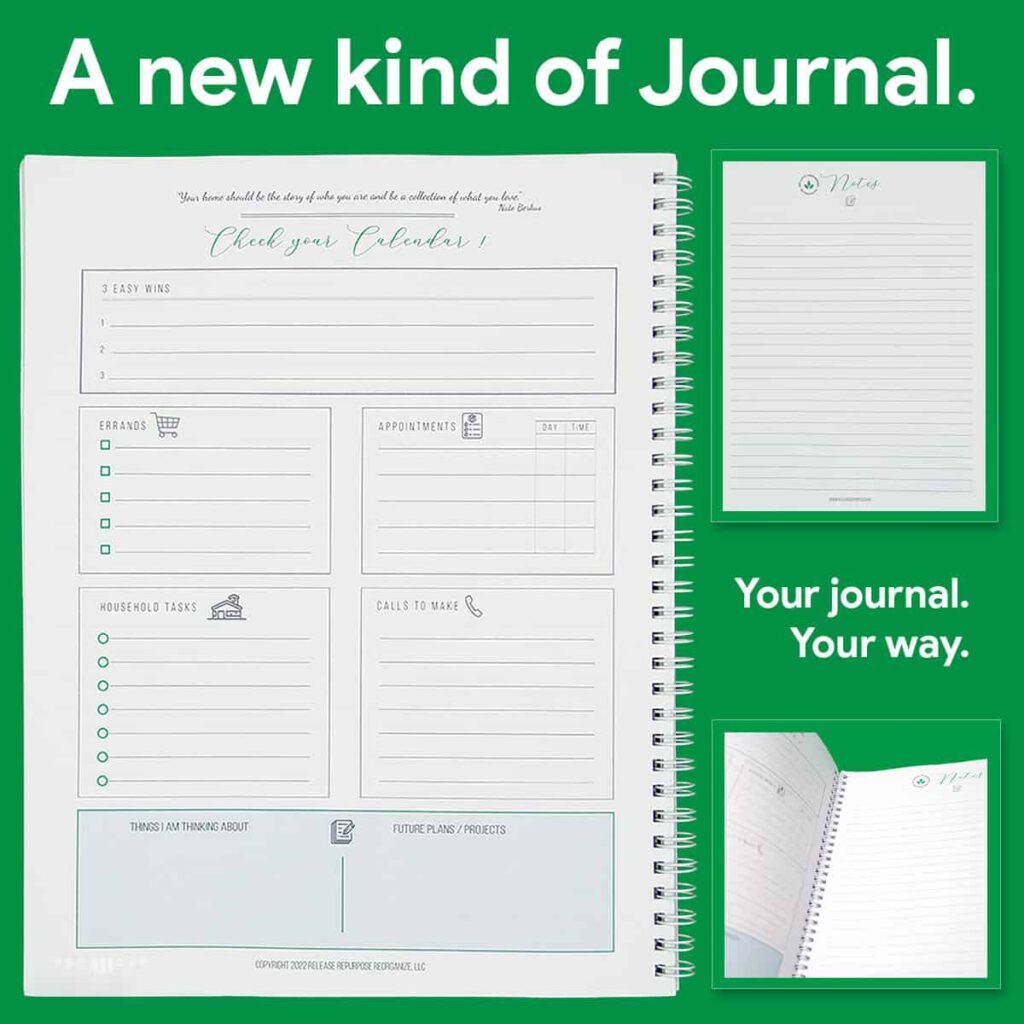 Old Items to Review:
Anything that is old or unused is on this list. Below are just some of the ones that we all have in our homes.
These items could be stored in your attic, basement, or storage unit.
Memorabilia you keep in a variety of places.
Old books, newspapers, and magazines
Expired food
Expired beauty items
Old sheets and towels
Bills and receipts paper - be sure to shred these items.
Manufacturers Manuals that you do not use.
Unused bedding.
Posters and other artwork that is not hanging.
Broken electronics
Go through the excess stuff in your home:
These items would be anything you have a lot of.
Craft items
Electronics or Devices that were updated.
Old Cellphones
Old tablets
Collectibles
Used Planners
Dishware
Glasses and mugs
Cookware
Cooking utensils (Affiliate Link)
Spices (Affiliate Link)
Pens and office supplies
Extra sheets
Extra luggage
Chargers, cables, etc...
These lists are by no means the complete list. They are areas to remind you of things that may have been hidden for a while. Feel free to leave a comment with other items you may encounter so I can add them to this list. Thank you.
Tips to help you get rid of stuff:
You may feel overwhelmed during this process. But rest assured, if you start early enough, you will be able to get through it all. Below are some additional tips before your move:
Take digital photos of your achieved photos and get rid of the originals. Then store it on your cloud service. And shred the item.
Add all your birthday gifts in one area. Then, make a video of the gifts, who gave them to you, and thank them. Then get rid of the gifts. Keep the video in a safe place or with your will for them to see.
Take a handful of your precious photos and make a heritage album. Include things like stubs from activities you went to see. Feel free to check out my Heritage scrapbook and how to make one yourself.
Decide what you are going to do with each item. Use a sticky note and write your decision on it, and set it aside into a pile that has all those similar decisions.
Only hold the item once, make a decision, and take action.
4th Checklist: Packing Boxes list
To keep your boxes organized, try a box content list. This is especially helpful if you are starting to pack early and may forget what is in the boxes. This also helps moving companies when they are asking you where a box may go—resulting in speeding up your move-out and move-in process.
To make this list, be sure to have a jumbo marker so you can really see the numbers on the boxes. Include these columns on the checklist:
The number on the box and checklist column
What is in the box? column
And where the box needs to go in the new house
To use this checklist, you will need to do the following: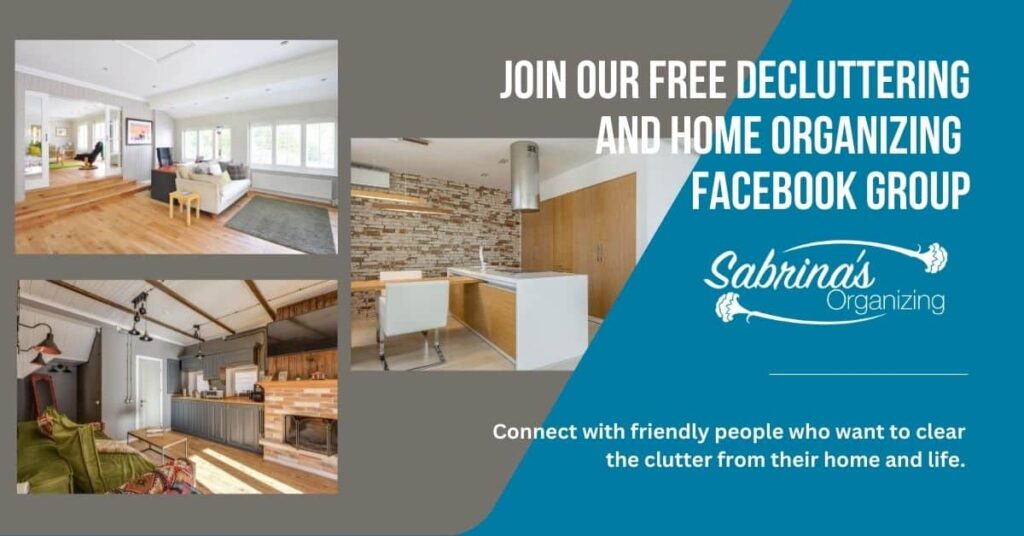 Write the number on the box large enough so you can see it from a distance.
Use a red or black marker and write the number or letter in the same place on ALL the boxes.
This will remind you what is in each box. It works great when you have to store items in a storage unit between moves.
Additional tips for packing boxes for a move.
Color code dots or use room-labeled tapes
Some people like to use colored dots to determine the room; however, if the dots fall off in transit, you may be dealing with a lot of headaches down the road.
Instead, you can use packing tape that has a room name on it. See the ones I found on Amazon(affiliate) below.
If you don't want to write what the item is on the box for privacy, you can create a QR Code system. Check out the Amazon links below for more details.
Amazon (affiliate) offers box sets you can purchase, and they will deliver it directly to your home. No need to go out! Below are just some I found on Amazon(affiliate). They have them by how large your house is. So if you have a 5 bedroom, they have a box kit for that amount.
Disclosure: If you click through and purchase something from Amazon, I will receive a small referral fee at no additional cost to you. Happy shopping!
If you don't want to make your own moving checklists, subscribe to our newsletter and receive the "All the Moving Checklists You Need for Your Move" ebook already made for you! Plus, ALL our other ebooks!
Additional moving tips for getting ready to move:
There are a lot more things to do than just these checklist items. So, start small and really look at your home. Below are some additional tips to help you make your move less stressful.
Walk around your home and put a sticky note on the items you want to give away and donate. If you have specific places where you want to give the item, write it on a sticky note. This will take some time but will help you when you are ready to take action.
Visit our other posts about moving:
These posts include other moving checklists that you may or may not need for your move. Feel free to check them out.
Make A Moving Process Seamless
That is it! I hope the moving checklists post and the moving checklists help you get started on your new life! Remember to pace yourself, and you will be able to get everything done and well on your way to your new life in your new home. Please share and leave a comment below on how your move went. Good luck!
Please note these are affiliate links through Amazon, and at no additional cost to you, I will earn affiliate fees if you decide to make a purchase.
Below are more move management posts!
(Visited 1,831 times, 1 visits today)