****Visit our "Disclosure Policy and Cookies" for details. Affiliate links appear on this page from Google Adsense, Amazon, Order Out of Chaos, Impact affiliate members, Release, Repurpose, Reorganize, and Shareasale affiliate members.****
This series is all about helping aging parents. It grapples with the difficult conversations you may need to have as you get older. Here I discuss how to have the downsizing talk with aging parents. As the title states, this series aims to help adult children simplify their aging parents' lives as they retire. Each post will discuss different aspects of this process. So, let's begin.
First, I am using the word downsizing to describe a retired person (or anyone for that matter) who wants to get rid of unused stuff and prefers to simplify their life. They could decide to move or live in their well-organized home. Not every retiree needs to move from their home if their home works effectively for them.
This series's first post will be about determining if downsizing is right for your parents.
Jump to:
The pros and cons of downsizing your parents.
There are lots of pros and cons to downsizing your parents. Here are the main ones.
Pros:
Making their lives easier. We all want to make our parents feel more comfortable in their later years.
Saving money. When your parents go to social security, they may not want to work any longer. So, minimizing their monthly expenses is a plus. Your mortgage shouldn't be more than 28% of your pre-tax income monthly is a good guideline for finding the right mortgage.
Selling their home makes it easier for them to relocate to a cheaper area. This gives them more flexibility to move to a warmer climate if they choose to do so.
Cons:
It may create undue stress on your elderly parent. Not all parents like to move, so keep that in mind when approaching the subject with your parent. Remember, your parent may have lived in their home for decades, and it may be overwhelming to think how they would get to the point where they can downsize.
The timing of your parents can be a major pitfall. If it is a down market, it may not make sense to sell their home.
When moving your parents to a retirement community, they may not care for it. Then, you will have to revisit the topic of "Where do you want to live?" again with them. The extra cost of having assisted living may be a lot more expensive than you think. So, be sure you get all the costs that could happen when looking into assisted living.
Below are some initial questions to ask your parents to determine if they would be receptive to downsizing.
Downsizing Questions to ask your aging parents to determine if they would want to downsize.
Bringing up the topic with your parents may be intimidating. But, with a little planning beforehand, it will help you stay focused on the topic and not on the emotional aspect of getting rid of their stuff. Start by writing a list of yes or no questions for your parents to answer.
Would they consider moving if you helped them through the process and made it easier for them? Yes or No
Where would they want to live: Would they like to visit some retirement communities? Yes, or No
Would they want to live in a smaller home? Yes, or No
Would they want to stay in their immediate neighborhood? Yes, or No Would they want to move near you? Yes, or No
Would they be willing to get rid of stuff in their home that will make it safer for them to move around? Yes or No
***AD*** from Released Repurpose Reorganize: My List Simplified journal is a wonderful organizing tool for planning a move or a renovation. Use it to corral all the to-dos.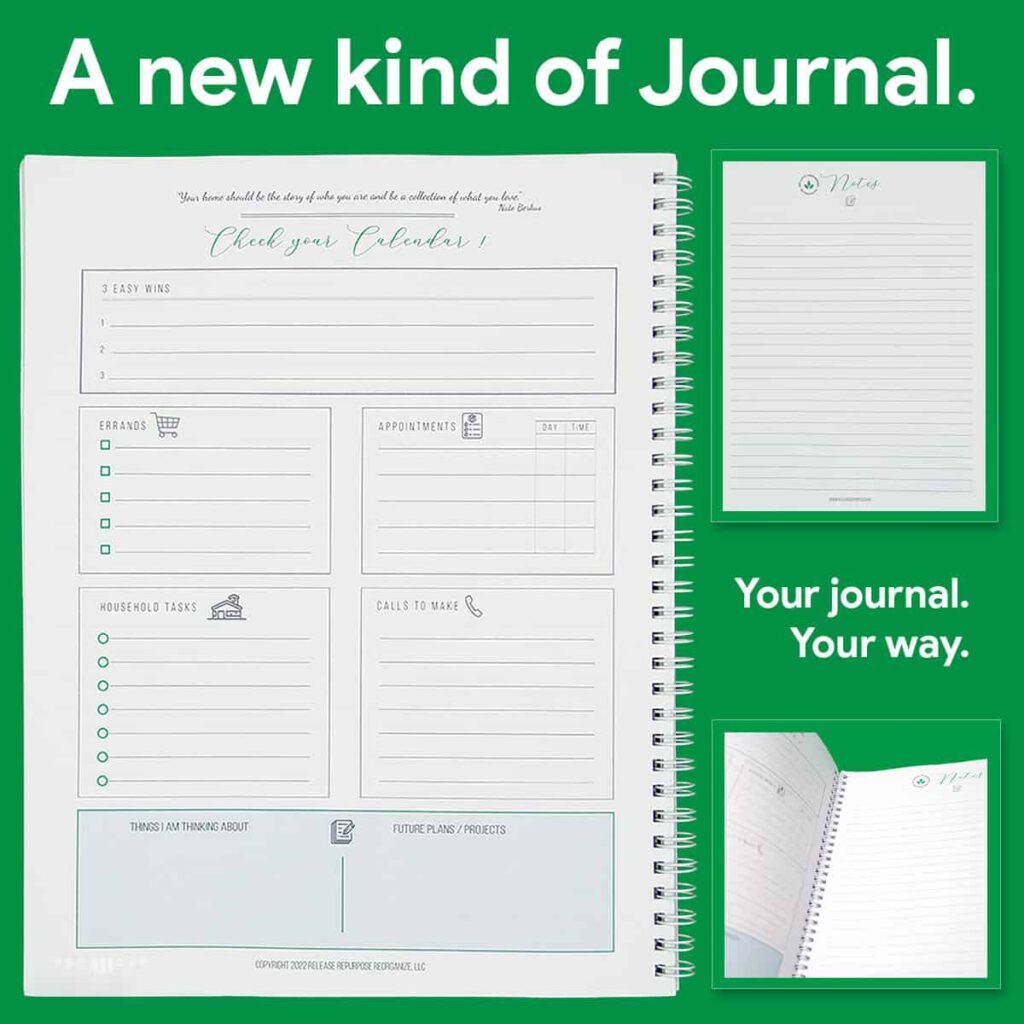 Would they be willing to donate, sell, or give away items (furniture pieces, household knick-knacks) that are unnecessary? Yes or No
These are just a few questions, but hopefully, it helps inspire you to get started on your yes or no list of questions.
What to do after the Downsizing Talk with Aging Parents?
After you have had the conversation and your parents agree to be open to the option of downsizing and moving, gather all the bills and paperwork together to see if it really would work for your parents to downsize.
If their billing system is poorly organized, you may want to make up your own tracking and budget. Below are two ebooks that talk about how to track expenses and income and how to create a budget.
HOW TO TRACK YOUR EXPENSES AND CREATE A BUDGET - PART 1
HOW TO TRACK YOUR MONEY AND CREATE A BUDGET - PART 2
Be kind and not criticize how your parents have handled their finances. Work through the process one bill at a time and calculate the average or fixed expense. Adding all these expenses and income, subtract the difference to determine what is left.
Is it cost-effective to downsize my aging parents?
Well, each parent's financial situation is different. So, to figure out if it is cost-effective for them to move, sit down and look at the numbers. Check out this site: "Figure Out How Moving Changes Your Finances." Moving isn't cheap.  And the undue stress may not make sense for your parents. So gather the information together, sit down with your parents, and go through the details.  
If my parents stay at home, how can I minimize their risk?
If your parents don't want to move or it isn't cost-effective for them to downsize, determine the extra cost to help them live a happy and safe life in their existing home. Here are some questions to ask:
Do they need a caregiver on a daily or weekly basis?
Do they need a 24/7 monitor system and/or security system? Places like ADT offers a Medical Alter System.
Does the house need to be repaired?
In the bathroom, does it need handicap railings put in?
Does the shower need to be changed to a standing shower?
Does the railing on the steps need to be reinforced?
Create a list of questions before you approach your parent to tell them about the modifications you want to make in their home. Always be respectful. It is, after all, their home. Feel free to visit our post "HOW TO CREATE A SAFE PLACE FOR YOUR SENIOR PARENT" for more safety tips!
If they do decide to stay at their home, don't modify and declutter all by yourself. Get help from a professional organizer. The process will be very emotional for them, and having a professional onsite during the decluttering will help a great deal and make the experience a pleasant one.
Looking for information about having aging parents moving in with you, I found this post on the Time Magazine website that is pretty helpful.
How to get rid of stuff to help my parents have a safer home?
You can donate many items. But, if you want to see if you can sell them, visit our other post, "Items to Sell For Cash Today."
I hope this helps you have the downsizing talk with your aging parents. Please come back next week for more tips to help you and your parent.
Have you dealt with this downsizing process with your parents? How did it work for you? Do you have any tips to share? Please leave a comment below.
The Complete Series:
Feel free to visit the rest of the posts in this series:
THE DOWNSIZING TALK WITH AGING PARENTS <<THIS POST!!!!
TIPS TO HELP YOUR PARENTS DOWNSIZE THEIR STUFF
HELPING YOUR PARENTS WITH MONEY MATTERS
TIPS TO HELP YOUR PARENTS WITH PAPER MANAGEMENT
HELPING YOUR PARENTS WITH ONLINE ACCOUNTS
TIPS TO HELP YOUR PARENTS WITH LEGAL DOCUMENTS
(Visited 1,586 times, 1 visits today)