There are many reasons why people move - Changing jobs, downsizing to a smaller home, their kids going off to college, wanting to be closer to work, wanting to be closer to their children, whichever reason will be a stressful time - sorry to say. But to make the process easier, I hope to help make your moving process seamless.
Jump to:
Let's start by getting rid of unused things.
Yes, I know that may be a lot to handle. Start with the storage areas of your home. We usually don't look in these areas more than a few times a year, so easing into getting rid of stuff from these areas will give you the motivation to work on more difficult areas when this area is completed. Try it and see.
If this sounds overwhelming, assign yourself an area of the home each weekend of the month and get rid of trash and recycling items, and remove and donate unwanted things. Below is a sample of what you can do each month before you place your home on the market.
Keep in mind:
I started out with the rooms you are not using immediately so to help you get motivated to work on the other areas of the home.
If you find you do not need items in a particular room, by all means, feel free to box them up as you go through the room.
During this decluttering process, depersonalize your home as well. This means removing your personal items like knick-knacks, excess papers, bulletin boards, markerboards, key racks, mail holders, etc... Picture frames work well as long as they are not too shocking for the home buyer.
6 Months before you move, go through the following areas:
Garage - Store used items in tinted totes with labels on them. Visit our garage organization posts for more organizing tips.
Attic - Stack up the bins in the attic and declutter the bins if it looks too cluttered.
Basement - Add bins and shelving and minimize the things. Visit our basement posts for more organizing tips.
5 Months before you move, go through the following areas:
Living room - remove personal picture frames throughout the house.
Dining room - remove excess fine china and plates.
Kitchen - reduce how much is in your cabinets. They will be looking in there.
Foyer - get rid of any dirty rugs.
4 Months before you move, go through the following areas:
Master bedroom - Clean out under the bed and clutter on the floor. Remove some furniture to make it feel larger.
Kids' Bedroom - Use bins to hold kids' frequently used things and place them in the closet when there is a showing.
Guest bedroom - Get lighter blankets to keep the room fresh and inviting. Remove any boxes and other things on the floor that you may have used the room for storage.
3 Months before you move, go through the following areas:
Bathrooms - Clean and declutter under cabinets and linen closets. Add frequently used items to a decorated bin with a lid. Clear out any clutter from a vanity. They may check your bathroom drawers.
Memorabilia - this area can be tough for people to declutter. Allocated a few weekends to get through things you want to declutter. If you have issues getting rid of something, take a photo of it and then donate it. You will always have the memories when you take a photo.
Coat closets - remove ½ of the coats and remove the shoe rack
2 Months before you move, go through the following areas:
Remove and declutter personal things. - Box them up and store them out of sight.
Playroom - ensure all the toys have a home and reduce toys that are not being used any longer. Having tinted bins will hide the clutter, but people can see the room for their purposes.
1 Month before you move, go through the following areas:
Home office - get rid of papers and other cluttered furniture you do not want to take with you.
Family Room - make space for things you use frequently in a drawer or cabinet so you can hide them away.
Front Porch and curb appeal - Doing this one as one of the last tasks will keep it fresh for when you put the house on the market.
Backyard - people love a well-organized backyard, so making this one the last task will help keep it serene when the house is being shown.
Box stuff you plan on keeping.
Keep a log of what is in each box. Create a sheet that has numbers going down the page and space to write what is in each box and where the container needs to go in the new place. Feel free to print this one out.
Pack a week's worth of clothes in a smaller bag for each family member.
Just in case you can't put the clothes away, you have them easily accessible. Sometimes moving companies run behind, so keeping some clothes with you will help you not have to run to the store and buy everyone outfits saving you time and money.
Pack a box with only kitchen essentials in it.
In the kitchen essentials box, add a frying pan, saucepan, plates, forks, bowls, tea towels, mugs, sponge, dish soap, a spatula, and spoons. This will be your go-to kitchen supplies so you can quickly cook a meal if you don't have time to take care of the kitchen in its entirety.
Since this box will be taken with you, it can easily be a plastic bin with a lid like the ones I found here on Amazon (affiliate).
Go through your papers that have been stored away.
Go through those papers in boxes from previous tax years, previous paperwork from different jobs, artwork, and documents from your kids who no longer want them. Get rid of any physical papers that you will most likely not look at in the immediate moment when you move. You can start to scan the important ones if you have time.
Pack a box of important papers/hard drives/laptops
Some items to keep with you and not ship with the moving company are credit cards, bank paperwork, laptops, legal documents, insurance policies, a printed list of your passwords, and any personal paperwork. They should never be out of your reach. Visit our important document post for a complete list.
Also, keep things like your expensive jewelry and other valuables that you may have. Keeping them with you is better than having the movers move them.
Create a Plan with a Moving Calendar.
This step may seem overwhelming, but as you write the steps down, you will find it clearer what the order is of the moving process.
Create a moving calendar. Start with your move date and then go back and decide what you want to do before your move date. It can be something like below.
Then make a to-do list for a month ahead of the move, two weeks ahead, a week ahead, the day before, the day of the move, and the week after the move. There will most likely be tasks that need to be done when you are at your new place, too, so keeping a running list will remind you what needs to be done and when. Feel free to print this one for your preliminary planning.
If you do not want to make your own moving-to-do timeline checklists (learn more about how to make it by clicking through), below you can sign up and get our free ebook. Plus, our other FREE ebooks to help you get your life organized!
***AD*** from Released Repurpose Reorganize: My List Simplified journal is a wonderful organizing tool for planning a move or a renovation. Use it to corral all the to-dos.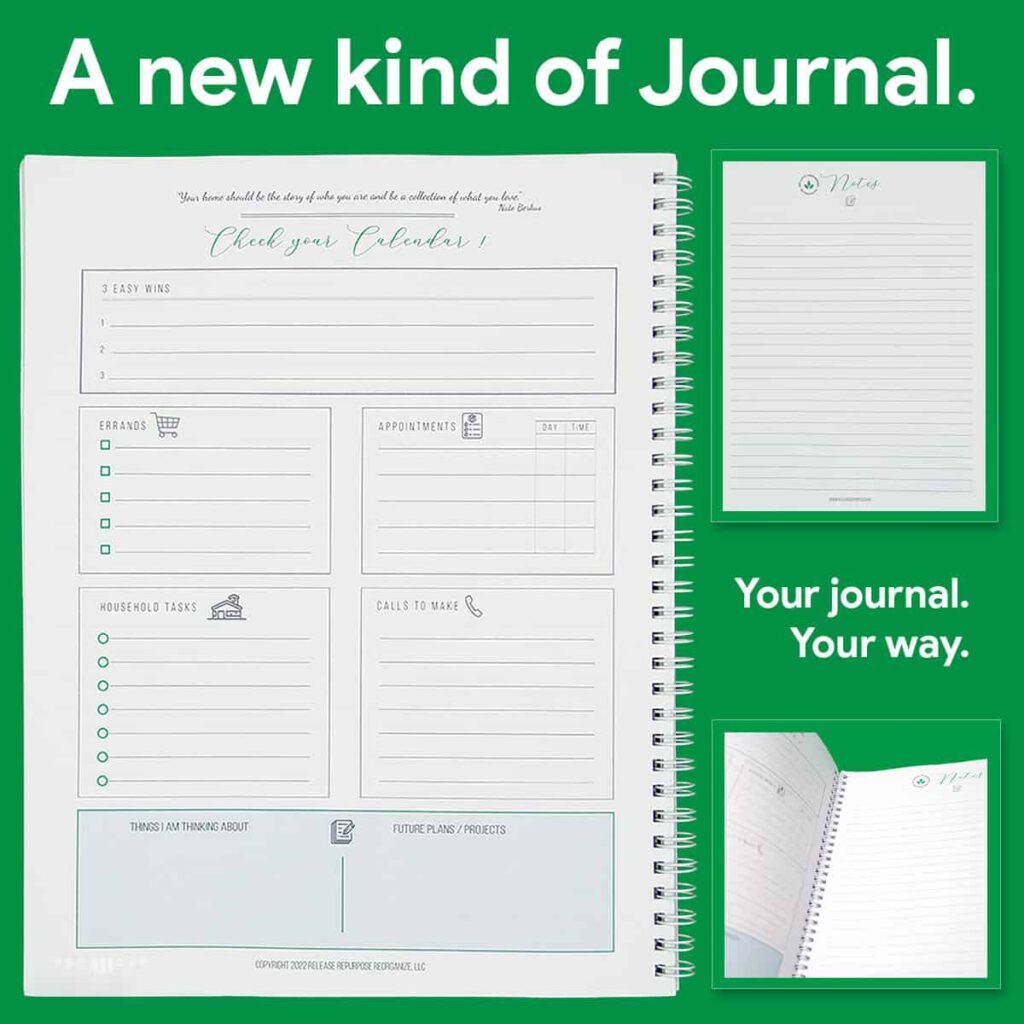 ---
---
Schedule the movers as early as you can.
They book up fast, especially the good ones. Doing the above tasks before scheduling an appointment with a moving company is a good idea. Some moving companies go by weight when determining the cost, so hauling stuff you don't want in your new place is a waste of money. Suppose you have specialty items, like a piano, not all moving companies will move these more oversized items. Be sure to ask the movers about these items or ask them if they know someone who will carry them for you.
There are numerous national moving companies in the US. Below are some I found in a Forbes article. I've contacted a few, like Allied Van Lines and Mayflower Transit, for when I moved my mom's things back to the east coast for the west coast, and they were very informative.
Since they price by weight, it's best to declutter before calling them so they can give you a good estimate when they visit to see your current place.
Disconnect and Reconnect services after you schedule the movers.
When you get your date to move, schedule the utility hookups like cable, telephone, gas/electric, etc. They may need some time to schedule these hookups, so be sure to contact them the way in advance of your move-in date.
Below are some utilities and services you may need to disconnect after you move out.
Cable / Satellite
Internet
Electric / Gas / Oil
Water
Garbage / Recycling
Landline Telephone
Home security system
Landscaping and lawn care
House cleaning
Now that you disconnected the services for your old home, now you need to reconnect services at your new home. Schedule these as well around the time of the movers.
Cable / Satellite
Internet
Electric / Gas / Oil
Water
Recycling / Garbage - check to ensure you need to do this at your new place.
Home Security Service
Landscaping and lawn care
House cleaning
During this time, you may want to make a list of companies you need to update with your new address. Visit our other post for an extensive list.
Get rid of as much food as possible before you move.
It's best to start fresh in your new home. So for a week or two before your move, eat everything that is in your current house. If you have a lot of food, try having a party and invite your friends over to help you chow down. Also, consider donating nonperishable items to the nearby food bank. By doing this, there is no wasted food!
Get rid of your toxic items before moving.
In a home, there are things like paint, oil, and other items that need to be removed in an environmentally-friendly way. You can hire a company to take them all, like 1-800-GOT-JUNK?
or you can find recycling centers near you on Earth 911.
Visit our Recycling and Shredder event page AND Locations to Donate Your Stuff page for places to give your unwanted items.
That wasn't too bad, was it? I hope not. Now that you are all packed up and about to move, let us review what you need to do when you get to your new home.
When you get to the next home, remember to pace yourself and get as much done as you can without stressing yourself out.
Start with the essential areas, as the bedroom and kitchen areas work great. If you can't get to the other regions for a while, that's OK. It will eventually get done. Working in one room at a time helps you get to know your new place and decide where things will go. If you only have time on weekends, schedule time in 4-hour time blocks. This way, you won't be too overwhelmed, and you will see the transformation. And be sure to schedule time to take care of yourself. Visit our posts:
20 WAYS TO TAKE CARE OF YOURSELF IN 20 MINUTES
ANOTHER 20 WAYS TO TAKE CARE OF YOURSELF IN 20 MINUTES
Well, that's it for now. I hope this helps you make your moving process more seamless.
Please note these are affiliate links through Amazon and other affiliates, and at no additional cost to you, I will earn affiliate fees if you decide to make a purchase.
Below are some additional posts I found online about moving that may help you. Feel free to click through and get more information.
(Visited 3,022 times, 4 visits today)